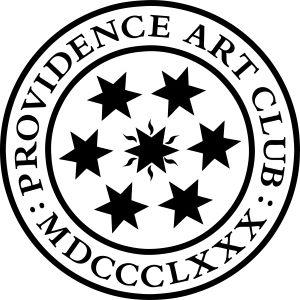 Providence Art Club National Open Juried Exhibition 2022
Providence Art Club
c/o Michael Rose, Gallery Manager
11 Thomas Street
Providence, RI 02903
Contact Email:
michael@providenceartclub.org
Call Type:
Exhibitions
Eligibility:
National
State:
Rhode Island
Entry Deadline:
4/28/22
Application Closed
REQUIREMENTS:
Media
Images - Minimum: 1, Maximum: 2
Total Media - Minimum: 1, Maximum: 2
Entry Fee (Entry Fee): $35.00

Providence Art Club
National Open Juried Exhibition 2022

Call for Entries:
The Providence Art Club invites artists from throughout the United States to submit their recent work for an exciting open juried exhibition opportunity. Each year, the Art Club welcomes non-member artists from across the country to submit work for an open exhibition. This year's show will celebrate the best in contemporary art by makers from throughout the United States regardless of theme, style, or media. Founded in 1880, the Providence Art Club is one of the oldest arts organizations in the nation and the first such Club to be co-founded by women and men. Recognized as one of the top three galleries in Rhode Island by the Providence Journal, the Art Club received a coveted Best of Rhode Island Award for Best Art Gallery in Providence in 2019, 2020, and 2021. Entering our 142nd year, we look forward to sharing the best in current visual arts from throughout the country with our unique audience in the Northeast.
Awards:
Fourteen Prizes totaling $6,000 in awards
Best in Show Prize of $1,000

Eligibility:
Open to any artist living and working throughout the United States, its territories, protectorates, and provinces.
Calendar:
Thursday, April 28: Application Deadline
Friday, May 20: Accepted Artists Notified via Direct Email
Friday, May 27: Accepted Artists' Biographical Material and Hi-Res Jpeg Due
Monday, June 6 - Thursday, June 16: Accepted work received at the Gallery (weekdays 12-4pm, or by appointment). Shipped works must be accompanied by a paid return mail label.
Exhibition Dates: June 19 – July 15, 2022
Exhibition will be open Sundays – Fridays, 12-4pm daily.
Physical exhibition will be accompanied by an online gallery.
$6,000 in awards will be announced during the exhibition via video.
Monday, August 1 – Friday, August 5 (12-3pm daily): Removal of Work, Arrangement of Shipping. Works must be picked up, or shipping must be arranged, by August 5. Works left at the Club will become subject to a storage fee at the discretion of the Gallery Manager.
Please note that the Club will be closed from July 16 – July 31 for summer break. No staff will be on site and works cannot be retrieved during this time. If you need your work returned prior to the Club's summer break, please contact Michael Rose.

About our Exhibition Juror:
Claire C. Whitner, Ph.D.
Director of Curatorial Affairs and the James A. Welu Curator of European Art
Worcester Art Museum, Worcester, MA
Dr. Claire C. Whitner is a curator and art historian with specializations in German Modernism and seventeenth century Dutch art. She completed her undergraduate degree at Johns Hopkins University, and earned her Ph.D. at the University of California, Los Angeles (UCLA) with a dissertation focused on the emergence of modernist poster design in Berlin at the turn of the century. Since 2018, she has served as Director of Curatorial Affairs and the James A. Welu Curator of European Art at the Worcester Art Museum (WAM).
As a key member of the Worcester Art Museum's leadership team, Dr. Whitner brings together WAM's curators and conservators to collaborate on new exhibitions and installations that address a central element of the Museum's mission: connecting visitors, communities, and cultures through experiences with art. Whitner takes a leading role in shaping the Museum's collecting efforts, working with the Director and curators to identify and secure gifts and purchases that address specific collection needs. She also oversees the Museum's ongoing work to reexamine installations in permanent collections galleries.

Prior to joining WAM, Dr. Whitner served as Assistant Director of Curatorial Affairs and Senior Curator of Collections at the Davis Museum at Wellesley College, where she oversaw the re-installation of the museum's permanent collection. She has also held curatorial and research positions at the Museum of Fine Arts, Boston, the Skirball Cultural Center, and the Getty Research Institute at the J. Paul Getty Museum. She is a member of CODART, an international network for curators of art from the Low Countries.
We are thrilled to welcome a curator, art historian, and museum leader of Dr. Whitner's caliber to select works for this important show!
Entry Fee: $35
($25 for PAC Members, for Coupon Code, please email Michael Rose)
*Note: This Entry fee is for up to two images or two pieces of work. You are only required to submit one image with your entry, but you may submit up to two. For example, you may submit two different works and upload two images (1 image per work) or you may submit one work and upload two different images of that single piece.
Rules and Regulations:
Entries must be original artworks completed within the last four years. All works in the exhibition must be for sale (no "price on request" allowed). Works not properly prepared will not be installed. Hanging apparatus must be secured to the artwork. Three-dimensional works may not be heavier than 100 lbs. The Providence Art Club reserves the right to reject works that are deemed unstable, that differ from the submitted digital image and or description of work, or that are not professionally presented. Please contact Gallery Manager Michael Rose with questions about preparation.
Sales Commission:
25% for PAC members; 40% for non-members
Notification:
Accepted artists will be e-mailed directly on May 20. Names of artists who were accepted will also be listed on the Art Club's social media channels, and later, on the Club's website.
Delivery:
Accepted submissions should be delivered to the Providence Art Club, 11 Thomas Street, Providence, RI 02903 from Monday, June 6 - Thursday, June 16. Regular gallery hours are Sundays – Fridays, 12-4pm and any other time by appointment. Shipped works should be addressed to the attention of Gallery Manager Michael Rose. Works delivered late will not be included in the exhibition.
Shipping:
Shipping costs are the responsibility of the artist. A paid return mail label, including insurance (please ask your carrier to determine this amount), must accompany work. We suggest air float style boxes, or similar packaging for ease of unwrapping and rewrapping. Please do not use loose packing peanuts in shipping. If artwork cannot be repacked in original materials, the artist must supply additional packaging. If packing materials and shipping payment are not included, the work will not be installed or returned.
Removal:
All exhibited work must be picked up (or return shipping arrangements made) between Monday, August 1 – Friday, August 5 from 12-3pm daily. Works left at the Club after this date will become subject to a storage fee at the discretion of the Gallery Manager. Please note the Club is closed for summer break from July 16 – July 31.
Insurance:
The Providence Art Club carries a blanket policy covering fire, theft, and breakage. The insurance value is considered 2/3 of the sale price, but no more than $250. Artists are encouraged to provide insurance riders for their work if it is of high retail value.
Virtual Exhibition Photography:
Accepted artists will be asked to provide a hi-res JPEG image of the accepted work along with their biographical material by Friday, May 27. This will be used in publicity and also will be featured in an online gallery that will run concurrently with the physical exhibition in the Club's historic galleries at 11 Thomas Street on Providence's College Hill. Images should be emailed to michael@providenceartclub.org.
Application Troubleshooting:
The gallery staff of the Providence Art Club are not available to assist individual artists with photographing their work or filling out the entry form. This is the responsibility of the artist. If you have questions about the CallForEntry platform, please seek assistance at CallForEntry's help page: https://www.callforentry.org/artist-help-cafe/
For Questions:
Contact Gallery Manager Michael Rose at michael@providenceartclub.org, or via phone at 401-331-1114 x 5 and he will be very happy to speak with you.
Artist must submit a minimum of one JPEG image for consideration and may submit a maximum of two images. Refer to the full call for entry for details.
This call is open to artists living and working anywhere in the United States. Submitted works must be recent and listed for sale during the exhibition. Refer to the full call for entry for details.
Print this Page
View Legal Agreement