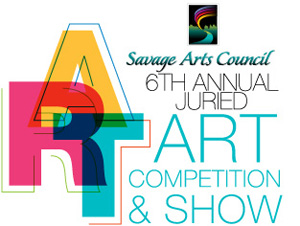 2012 Savage Juried Art Competition and Show
Contact Email:
savageartscouncil@gmail.com
Call Type:
Unspecified
Eligibility:
Unspecified
State:
Unspecified
Event Dates:
6/14/13 - 7/21/13
Entry Deadline:
5/30/13
Application Closed
REQUIREMENTS:
Media
Images - Minimum: 1, Maximum: 2
Total Media - Minimum: 1, Maximum: 2
Entry Fee (Savage Arts Council: Juried Art Competition and Show): $40.00

Media Fee (per sample over minimum):$5.00

The Savage Arts Council presents the Sixth Annual Savage Juried Art Competition and Show, and invites all professional and amateur artists in Minnesota to apply to compete and exhibit their works. The Savage Juried Art Competition and Show is a celebration of visual arts created in Minnesota. The Show is open to the public June 14 – July 19, 2012. Artists across the state come together to showcase the wide variety and depth of art created throughout Minnesota. $1,225 in prizes will be awarded. Please join us in celebrating the original art of Minnesota. Schedule of Events: • Online Applications Accepted 04/17 to05/30/12, • Artists Notified of Acceptance: 06/03/2012 • Drop off of All Accepted Entries: 06/08/12 3pm – 7pm, and 06/09/12 10am- 4pm • Show Opens to the Public at Savage Art Studios: 06/14/2012 • Awards and Reception at The Hamilton, Savage: 06/16/12 – 2:00pm • Artwork Picked Up at Savage Art Studios: 07/21/12 All accepted artwork will be on display at the Savage Art Studios or at one of our participating community business locations: Sterling Bank, Cal's Market, Klein Bank, Savage Public Library and Savage City Hall. A map to these locations will be available at time of drop off. Inquiries: Savage Arts Council 4735 W. 123rd Street, Suite 200 Savage, MN 55378 Website: www.SavageArtsCouncil.org Email: savageartscouncil@gmail.com Categories Entries of original artwork are accepted in the following five categories *: • Oil • Pastels and Drawing • Photography • Three Dimensional (Sculpture, Pottery and Glass) • Water Media (Watercolor and Acrylic) *Savage Arts Council reserves the right to consolidate or eliminate categories based on participation. Awards – Total Prizes: $1,225 • 1st Prize: One per category $100 • 2nd Prize: One per category $50 • 3rd Prize: One per category $25 • Honorable Mention: One per category • BEST IN SHOW: One award $225 • THE MARION W. SAVAGE People's Choice Award: One award $125 Standards • Artwork must be original art . • Copies of other artists' work will not be accepted, nor will copies of published photos or work from photos not taken by artist. • Artwork must be completed within the last two years, and not done in a workshop, class nor under supervision of an instructor. • Artwork must conform to standards set by Savage Arts Council. • Artwork must not have been previously entered in a Savage Arts Council competition. • All artwork for show consideration must be entered online at www.savageartscouncil.org. Deadline for entry is May 30, 2012. There will be no late entries accepted this year. All accepted artwork must be labeled on the back with the artist's name, phone number email address, work title, category entered and price. Labels can be downloaded and printed from the above website. Eligibility This is a juried show open to all Minnesota amateur and professional artists. Each artist may submit two pieces. Not all works entered will be accepted by the jury into the show. 2D Artwork Matting and Framing Requirements: • Frames must be sturdy and must have hanging wire mounded one third the way down from the top of the frame. No saw-tooth hanging hardware will be accepted. • Maximum exterior frame size is 40" by 40" or 80" total (HxW). • Frame sizes exceeding 53" total (HxW) must use Plexiglas not glass (if needed). • Recommended: Rubber pads on bottom corners. • SAC reserves the right to reject any artwork because of unsuitable framing. 3D Artwork Requirements: • Maximum size must fit through a standard door and within gallery ceiling height of 8 feet high. • Must be able to be displayed on the floor, on a pedestal or in a showcase. No hanging 3D art accepted. • Artists are required to bring their own pedestal or display system to display their work. • Artist will be required to place sculpture for awards and for show. • The Savage Arts Council cannot guarantee special lighting or electric will be available for judging or display. APPLICATION DEADLINE Deadline for Online Applications: May 30, 2012 No Applications will be taken in-person or by mail ENTRY INFORMATION & FEES • The application fee for Savage residents is $30 for one entry, $35 for two entries. • The application fee for non-Savage residents is $40 for one entry, $45 for two • Entry fees include one-year $20 Savage Arts Council membership. • If entering two pieces into show, both pieces must entered at the same time during the online application process. • Artists are responsible for personally delivering (in person or by mail) and insuring artwork accepted into the competition and show by the jury. Mailed artwork must arrive in a container that can be used to return the artwork at the completion of the show. Artist will include a postage paid mailer to ensure artwork can be returned at their cost. Accepted artwork can be mailed to: Savage Arts Council, c/o Savage Art Studios, 4735 W. 123rd Street, Suite 200 , Savage, MN 55378. A handling fee of $10 will be charged for all mailed entries. Personally delivered artwork will be received at The Hamilton Community Room, June 8th and 9th. Next door to Savage Arts Studios. • All application fees are nonrefundable. ACCEPTANCE INFORMATION Notification of the jury's decision will be emailed on June 3rd, 2012. All artists must provide a valid email to be notified. DELIVERY OF ACCEPTED ARTWORK Friday, 06/08/12 3pm – 7pm Saturday, 06/09/12 10am – 4pm In-person delivery of accepted artwork to: The Hamilton Community Room (next to Savage Art Studios) 4735 W. 123rd Street, Suite 400 Savage, MN 55378 EXHIBITION CLOSE AND PICKUP Pick up artwork from Savage Art Studios Saturday, July 21st, 10am – 4pm. Savage Arts Council and Savage Art Studios will not be responsible for the safety of artwork not picked up. A late fee of $10 per day will be charged for each artwork not picked up. About our judge, Fred Somers: Mr. Fred Somers is an internationally recognized painter and teacher who lives and works from his farm-home studio near Northfield, Minnesota. His oil and pastel paintings have received numerous awards including 2011 Artist Magazine 1st place Landscape Painting, and the 2009 Prix de Pastel from the International Association of Pastel Societies, where he is a member of the Masters Circle. Fred's pastel and oil paintings are included in more than 400 public and private collections in the US and abroad. After teaching at St. Olaf and Carleton Colleges in Northfield, he became a full-time artist in 1975. Fred continues to teach workshops for pastel and oil artists here and in Sweden where he has been honored as American-Swedish Artist of the Year. His paintings and articles are published in books and magazines. "I am continually finding the wonders of the abstract in reality, in addition to exploring realism. I seek to express time and space and things eternal. Paint what you love. Walk in the Light." More information on Frederick D. Somers can be found at: Somers Studio and Gallery 9775 Dennison Blvd. So Northfield, MN 55057 www.fredericksomers.com email: studio@fredericksomers.com About Savage Arts Council The Savage Arts Council, a nonprofit organization, consists of a diverse group of people, all volunteers, who are interested in promoting the Arts in Savage and our surrounding communities. For six years, we have been bringing the Arts to the greater Savage and Scott County communities. The funds earned from this event enable us to produce the show and work towards our goal of promoting the Arts in our community. This Juried Art Show and Competition is partially funded by a grant from the Metropolitan Regional Arts Council. The Savage Arts Council is committed to organizing and promoting artistic projects and events within the City of Savage and surrounding communities, and to providing regional leadership in the Arts. Visit us at http://www.savageartscouncil.org.
Print this Page
View Legal Agreement