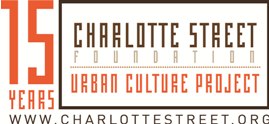 Charlotte Street Foundation OK-KC Regional Exhibition Exchange
PO Box 10263
Kansas City MO 64171
Contact Email:
info@charlottestreet.org
Call Type:
Unspecified
Eligibility:
Unspecified
State:
Unspecified
Entry Deadline:
8/3/13
Application Closed
REQUIREMENTS:
Media
Images - Minimum: 0, Maximum: 10
Audio - Minimum: 0, Maximum: 3
Video - Minimum: 0, Maximum: 3
Total Media - Minimum: 1, Maximum: 13
FOCUS: OK↔KC—a collaborative project of Oklahoma Visual Arts Coalition and Charlotte Street Foundation --is designed to challenge, support and connect artists working in Kansas City and Oklahoma; to engage arts professionals from both outside and within the region with artists from these communities; and to foster increased exposure for, and critical dialogue about, the work of artists practicing in our region. THIS MULTI-COMPONENT EXHIBITION PROJECT INCLUDES: • A curated group exhibition of Oklahoma and Kansas City artists in Tulsa, Oklahoma • A curated group exhibition of Oklahoma and Kansas City artists in Kansas City, Missouri • Residencies of up to 2 weeks in Tulsa for selected participating Kansas City artists, leading up to the Tulsa exhibition • Residencies of up to 2 weeks in Kansas City for selected participating Oklahoma artists, leading up to the Kansas City exhibition • Public programs in each city organized in conjunction with the exhibitions • A catalogue including commissioned essays about the exhibition project and participating artists See below for more details about each of these components and honoraria for selected artists. CALL TO ARTISTS: Kansas City based visual and cross-disciplinary artists whose work can be presented in a gallery context are invited to apply to be considered for participation in this project through this call. Artists must be 21 years or older, must both live and work within a 60 mile radius of downtown Kansas City, and should be artists without a substantial history of national exhibitions and solo shows. Applicants should be interested and prepared to actively engage with curators, critics, and peer artists involved in the project, as well as with arts patrons and members of the public in each city. All applications should be submitted through CaFE (callforentry.org) and are due Friday, August 3 at midnight. Required materials include: - Artist statement (300 words or less) - Up to 10 images or 5 minutes of video documenting work created within the past 2 years - Detailed list of work samples - Current resume Studio visits to a short-list of artists will be conducted by chief curator Liza Statton (see details below) in Kansas City, September 2012. Artist applicants should be available for studio visits in September. Artists will be notified of inclusion shortly following studio visits. Please note: This call is for artists living and working within a 60 mile radius of downtown Kansas City ONLY. Oklahoma-based artists interested in this project should visit www.concept-ok.org for details and applications. DETAILS ABOUT PROJECT COMPONENTS & PROCESS THE EXHIBITIONS: The core component of FOCUS: OK↔KC will be a curated group exhibition featuring the work of up to 10 artists total from Oklahoma and Kansas City (approximately 3-5 artists from each). These artists will be selected through a competitive process including in-person studio visits by the exhibition's chief curator, Liza Statton, to a short-list of applying artists. The first iteration of the exhibition will be presented at the new Hardesty Art Center, Tulsa, Oklahoma, December 16, 2012-February 2013. The second iteration of the exhibition will open at Charlotte Street Foundation's la Esquina gallery, 1000 West 25th Street, Kansas City, spring, 2013 (exact dates to be determined). The selection and presentation of works may vary substantially from one venue to the next, encouraging artists to develop new and/or site-specific works. ARTIST EXCHANGES & RESIDENCIES: An important goal of FOCUS: OK↔KC is to foster new connections and to encourage participating artists to challenge themselves and one another. As part of the project, select artists will be invited for residencies in the partner city of up to two weeks leading up to the opening of the show. During this time they will be provided studio space and/or access to the exhibition space for the creation of new work, and will receive visits from artists and arts professionals involved in the project and from the broader community. CURATOR & CRITIC EXCHANGES & RESIDENCIES: FOCUS: OK↔KC is further designed to engage curators and critics based outside of Oklahoma and Kansas City with the work of artists from our region, and to foster a lively critical conversation among curators, critics, and artists from here and elsewhere. The lead curator for the project is Liza Statton, an independent curator currently based in New York and Australia, and former curator of Artspace, New Haven, CT. She will review the work of all applicants then conduct in-person studio visits to a selection of artists in order to choose artists for the exhibition. Statton will then oversee the installation of the exhibition in Tulsa, spearhead public programs in conjunction with its opening, and contribute an essay to the exhibition catalogue. Charlotte Street Foundation's 2012-13 Curator-in-Residence (to be announced July 2012) will work in collaboration with Statton on the planning of FOCUS: OK↔KC and will oversee the implementation of the exhibition in Kansas City, including facilitating the creation/presentation of new and site-specific works as applicable as well as public programs in conjunction with the show in Kansas City. In addition, it is planned that writers/critics from each city will be invited to participate in this project, including through contributing essays to the project catalogue and, potentially, spending time on the ground in the partner city in conjunction with exhibition planning, participating artist residencies, and/or exhibition openings. PUBLICATION: A full-color catalogue will be produced in conjunction with this project, including color reproductions of featured artworks, profiles of each artist, and critical essays by the curators and additional writers/critics from each community. VENUES: In Tulsa, FOCUS: OK↔KC will be presented in the new Arts & Humanities Council of Tulsa Hardesty Arts Center's 1,500 square foot loft gallery. It, as well as a larger survey show of Oklahoma artists, also organized by OVAC as part of its broader Concept/OK project (of which FOCUS: OK↔KC is a part), will be the inaugural exhibitions at the Hardesty Arts Center, and will run December 16, 2012-February 16, 2013. In Kansas City, FOCUS: OK↔KC will be presented at Charlotte Street Foundation's la Esquina, an approximately 2500 square foot gallery space at 1000 West 25th Street on the Westside of downtown Kansas City. Exact dates (spring 2013) to be announced. HONORARIA FOR PARTICIPATING ARTISTS: Artists selected for this project will receive honoraria of $1500 each as well as some travel support to participate in the installation of works and exhibition opening in Tulsa. Kansas City artists completing residencies in Tulsa in advance of the exhibition will be provided with housing. CURATORIAL TEAM: CHIEF CURATOR: Liza Statton is an independent curator based in Australia. Most recently, Statton was the Gallery Director/Curator at Artspace located in New Haven, CT 2008-2010, where she organized solo and group exhibitions that included emerging artists living and working in the New Haven area and the Eastern United States. Previously she served as the first Eugene V. Thaw Curatorial Fellow at SITE Santa Fe, and as a curatorial assistant at the Massachusetts Museum of Contemporary Art (Mass MOCA). Statton received her MA from the Williams College Graduate Program in the History of Art in partnership with the Sterling and Francine Clark Art Institute. CURATOR IN RESIDENCE (KANSAS CITY): Charlotte Street Foundation's new curatorial residency program aims to provide exceptional opportunity for curators from elsewhere to deeply engage with Kansas City's energetic, growing arts community, developing their own curatorial voices and practices through hands-on experience producing a series of publicly accessible exhibitions and programs responsive to and inclusive of artists from the KC region. In the pilot year, one outstanding regional/national emerging curator—to be announced in July, 2012--is being awarded a stipend, program budget, and related support to develop original contemporary arts programming for Charlotte Street Foundation venues in Kansas City. PROJECT PARTNERS: OKAHOMA VISUAL ARTS COALITION: Organized in 1988, the nonprofit Oklahoma Visual Arts Coalition (OVAC) supports Oklahoma's visual arts and artists and their power to Enright communities. OVAC promotes public interest in the arts and helps people of all ages understand the visual arts.www.ovac-ok.org. More about the Concept/OK exhibition can be found at www.concept-ok.org. OVAC has received support for this project from National Endowment for the Arts, George Kaiser Family Foundation, Oklahoma Arts Council, and The Andy Warhol Foundation for the Visual Arts and Allied Arts. CHARLOTTE STREET FOUNDATION: Charlotte Street Foundation (CSF) nurtures, supports and recognizes outstanding artists in Greater Kansas City; presents, promotes, enhances, and encourages the visual, performing, and interdisciplinary arts; and fosters cultural, economic and community development in the Kansas City region. Cultivating an environment in Kansas City where artists thrive, CSF plays a catalytic role in fueling the growth of our region's arts community and defining Kansas City as a nationally leading center for artists and the arts. http://www.charlottestreet.org. .
Print this Page
View Legal Agreement