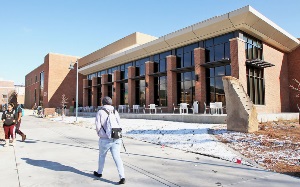 Colorado Mesa University, Tomlinson Library Request for Images
Contact Email:
ruth.bruno@gmail.com
Call Type:
Public Art
Eligibility:
Regional
State:
Colorado
Event Dates:
3/1/16 - 4/1/16
Entry Deadline:
4/1/16
Application ClosedNumber of Applications Allowed:
4
REQUIREMENTS:
Media
Images - Minimum: 1, Maximum: 3
Total Media - Minimum: 1, Maximum: 3
Colorado Creative Industries seeks to acquire public art through direct purchase of existing artwork – original artworks that have already been completed – for Colorado Mesa University's (CMU) Tomlinson Library. The amount of funding available for the purchase of artwork is $108,738. CMU is looking to acquire more than one artwork and artworks under, and up to, $15,000 will be considered. This opportunity is open to artists who live in Colorado or Utah.
ABOUT COLORADO MESA UNIVERSITY AND ESCALANTE HALL
Founded in 1925, Colorado Mesa University is a comprehensive regional public higher education institution offering liberal arts, professional, and technical programs at the master's, bachelor's, associate and certificate levels.
Colorado Mesa University takes great pride in providing educational opportunities and tools that help students succeed in today's complex and interconnected world. CMU's focus is on providing quality academic programs, built on a strong liberal arts core that support students' interests and regional employment needs, as well as technical programs that respond to vocational workforce demands. Today, enrollment exceeds 10,660 students. The university offers more than 70 undergraduate programs of study along with graduate programs in business administration, education and nursing. Campus expansion to accommodate an ever-growing student body has resulted in state-of-the-art learning facilities on 86 acres in the heart of Grand Junction. CMU's main campus encompasses 86 acres in the heart of Grand Junction, Colorado. Nestled between mountains and high-desert canyons, the area is home to some of the best outdoor recreation in the country and enjoys 300 days of sunshine a year.
Recognized as an architectural gem in American School and University magazine, Tomlinson Library was dedicated in 1986 and in 1988 named for outgoing college president John U. Tomlinson to honor his commitment to improved library services at the college. The newly renovated Tomlinson Library is three stories and features a 200 seat dining hall and 24-hour study space. The renovation of the library equipped it with modern technology and doubled its number of computers to 300. The library now has 25 study rooms with flat-panel screens for document viewing, as well as web cams and microphones for conferencing. Tomlinson Library fosters academic success and excellence through its professional and support staff, who provide information literacy instruction and actively develop quality services, resources and facilities. Today Tomlinson Library contains over 300,000 volumes, including a large government documents collection, and a world class geology library. It is equipped with state-of-the-art computer technology and is considered one of the finest small college libraries in the state.
BUDGET: $ 108,738 total, individual artworks up to $15,000
OPPORTUNITIES
FOR PUBLIC ART
Colorado Mesa University is looking to acquire multiple artworks from multiple artists for Tomlinson Library. There are a variety of opportunities for artwork, and the Selection Committee will consider both 2D and 3D artworks for various locations on the library's interior. The Selection Committee will consider artworks of all media, including but not limited to, paintings, photography, mixed media, and fabric/textile artworks. 2D artworks may be sculptural in nature, as long as they are wall-mounted and do not protrude more than 4". There are various different wall sizes available to hang artwork in the building, so artworks of various sizes will be considered. Please consider some of the following wall dimensions when submitting artworks.
18'8"x 8'6"
24' x 8'5"
13' x 9'9"
15' x 8'
7' x 2 story height
Artworks smaller than these wall sizes will be considered, but artists are encouraged to submit large scale 2D artworks that could fit in some of these spaces.
There are also opportunities for 3D artworks and sculpture for the interior of the building. In the library's main three story atrium space, there are four triangular pedestal areas that could hold artwork(s). There are two of these platforms areas on the 2nd floor and two platforms on the 3rd floor. These spaces are 7'x7'x 9'9" (triangular shaped) with a height of 9'. Artists may submit applications with 4 artworks for these four spaces, if they have works appropriate to address them all.
There are other opportunities for sculptures in the Library, at the first floor entry to the atrium and various areas in the library. These artworks should be intended for an interior space. If submitting a 3D artwork for one of these sites, please note that the listed price
should include
all relevant installation costs or necessary display elements.
For images of the building and potential artwork sites, see
here
.
Current faculty/staff, students and Alumni of CMU are highly encouraged to apply.
The Art Selection Committee will consider the following:
Artist's location – Panel is interested in considering regional artists only. Artist must be based in Colorado or Utah
Artistic excellence
Technical competence
Scale, material, form and content
Resistance to general wear, vandalism, or theft
Ease of maintenance, minimal and low cost maintenance
COLORADO ART IN PUBLIC PLACES PROGRAM
All works of art purchased pursuant to this request are owned by the State of Colorado via Colorado Mesa University. De-accession of the public art, if necessary, will follow the policies and procedures established by the Colorado Creative Industries.
ELIGIBILITY
All applicants must be residents of the state of Colorado or Utah. The Program is open to all artists regardless of race, color, creed, gender, gender variance, national origin, age, religion, marital status, political opinion or affiliation, or mental or physical handicap.
SELECTION
PROCESS AND SCHEDULE
The Art Selection Committee will review all complete submissions of artworks in consideration for acquisition of the building. The schedule is as follows:
Friday, April 1, 2016, 11:59 pm MST
- Deadline for receipt of artworks submittal via CaFÉ™ system
April 2016 –
Selection panel meets to select artworks for purchase
April/May 2016
- Notification of purchase selections
May 2016
– Delivery of artworks to location
APPLICATION PROCESS
All applications for this project are being accepted through CaFÉ™ (
www.callforentry.org
). No hard copy submissions will be accepted. The applicant will be asked to submit digital images of available artwork (see below for more information), a resume, and a statement of interest. There is no application fee to apply or to use the CaFÉ™ online application system.
Digital Images
. In order to be considered for this project, the applicant must electronically submit digital images of available artworks through the CaFÉ™ system. Artists may submit
1-3 images
of the same artwork, in order to show various details. Please include images that show the frame, if applicable. Artists may submit
up to 4
available artworks for consideration. The maximum amount of images for all artworks submission allowed is
12
. Each artwork submitted will need to be submitted as its own application.
Instructions on how to use CaFÉ™ and format images/video can be found at
www.callforentry.org/image_prep.phtml
. Assistance in using the CaFÉ™ system is available during regular business hours by calling 303­629­1166, 1­888­562­7232 or e­mail
cafe@westaf.org
.
Resume
: Submit a current résumé that outlines professional accomplishments as an artist.
Statement of Interest
: A statement of interest in 250 words or less must be submitted via CaFÉ™. It should briefly outline the artist's interest and/or information on the available artwork, if explanation is relevant.
QUESTIONS
For more information or clarification, please contact Ruth Bruno, Public Art Program Manager, Colorado Creative Industries at 303­892-3813 or
ruth.bruno@state.co.us
.
ADDITIONAL SOURCES OF INFORMATION
http://www.coloradomesa.edu/about/values.html
http://www.coloradomesa.edu/library/
Print this Page
View Legal Agreement