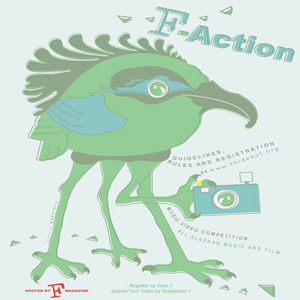 F-Action Music Video Competition
F Magazine
Attn: MVP Competition
3800 Debarr Road
Anchorage, AK 99508
Contact Email:
competition@fhideout.org
Call Type:
Competitions
Eligibility:
Local
State:
Alaska
Entry Deadline:
9/14/13
Application Closed
REQUIREMENTS:
Media
Video - Minimum: 0, Maximum: 1
Total Media - Minimum: 0, Maximum: 1
Entry Fee (F-Action Music Video Competition): $25.00

Current F Magazine board members and contributors are eligible – all entries will be judged by Outside directors and producers. Music Videos made prior to 2013 are accepted and welcome. Multiple entries are accepted, but must be submitted individually. Registration deadline is July 1, 2013 - 10pm. The filmmaker or primary video representative must pay the submission fee and submit a registration form. Submission deadline is Sept. 1, 2013 - 10pm. The music video must be submitted here on line, as well as on disc and postdated by the deadline of Sept. 1, 2013. Format must be DVD or Blu-Ray. The Music The music does not have to be created by Alaska residents, however, residency is preferred and will be taken into consideration by the judges. Music must be original – no cover tunes are permitted (music written and recorded by a musician or band other than the one used in the video). Film maker must have the signed approval of the band/music representative uploaded on this site or postmarked no later than September 1, 2013 The Video The music video must be no longer than 10 minutes long. Closing end credits are included in the 10 minute limit, and must include the names of all individuals and entities involved in the process of making the video, including the musicians and all individuals and entities involved in the production of the music recording. The end credits cannot play until the end of the music video. The F-Action Music Video Waiver/Registration Form must by signed by the representative/owner of the music video, giving F Magazine the exclusive right to premiere the video during the months of November and December 2013, permission to screen the video through 2014, and permission to broadcast video on the F Magazine website for infinity. You must upload your video on this site as well as send a hard copy to F Magazine via Post. To upload your videos: File Types Accepted: 3GP, WMV, AVI, MOV, ASF, MPG, MP4, M2T, MKV, M2TS Resolution: minimum 640x480, maximum 1920x1080 Aspect Ratio: 4:3 or 16:9 Bit Rate: recommended above 240Kbps Frame Rate: minimum 12 fps, recommended 30 fps. The frame rate of the original video should be maintained without re-sampling. In particular, pulldown and other frame rate re-sampling techniques are strongly discouraged. Codec: h.264, h.263, mpeg-1, mpeg-2, mpeg-4, Windows Media Video, and motion jpeg mpeg-1 muxed, Apple Lossless Container: 3gp, asf, avi, mov, mpeg, mpeg-2, mp4, ogg File Size: 100 MB maximum Please note: your video file will be converted to a flash file to enable system playback. The representative/owner of the music video entry retains full ownership of the music video and may simultaneously submit entry to other film/music competitions. Judging Judging is based on a rubric that specifically looks at: A) Content- 25 percent • Creativity- the overall originality of the video; use of original ideas and style • Coherence- does the video tell a story, or add context to the song B) Quality of Production – 25 percent • Visual Aesthetics – the appearance of the video • Cinematography- quality of the audio, lighting, camera steadiness C) Technical Skill – 25 percent • Camera operation • Video Editing D) Final Product – 25 percent • Cohesiveness • Overall Creativity • Overall Accuracy of Information • Overall Video Quality AWARDS Judges will pick a 1st, 2nd & 3rd place winners, and there is the editor's choice award - aka The F Bomb. The awards celebration will be held in November at Out North Contemporary Art House. This is a gala event with live music to silent films and a screening of the winning videos. Subsequently, the winning entries will go to several film festivals around the state, and will be entered in film festival Outside for consideration.
Print this Page
View Legal Agreement