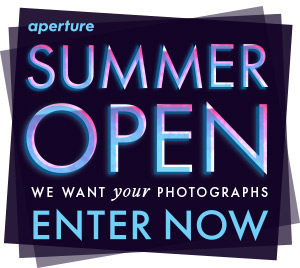 2014 Aperture Summer Open
547 W. 27th Street, 4th Floor
New York, NY, 10001
Contact Email:
summeropen@aperture.org
Call Type:
Photography
Eligibility:
International
State:
New York
Entry Deadline:
4/11/14
Application Closed
REQUIREMENTS:
Media
Images - Minimum: 1, Maximum: 10
Total Media - Minimum: 1, Maximum: 10
Entry Fee (Aperture Foundation: 2014 Aperture Summer Open): $75.00

ENTER THE SUMMER OPEN USING YOUR ENTRY CODE RECIEVED UPON PURCHASE OF MEMBERSHIP WITH APERTURE FOUNDATION. PURCHASE MEMBERSHIP HERE.
Approximately forty photographers will be included in the first Summer Open exhibition, to be held at Aperture Gallery in July 2014.
Deadline and Timeframe:
Entries for the 2014 Aperture Summer Open will be accepted from Friday, February 14, 2014 until Wednesday, April 9, 2014 at 12:00 p.m. (noon) EST.
Absolutely no exceptions will be made for late submissions. Please allow ample time to complete your entry, submitting well in advance of the deadline.
Photographers included in the exhibition will be contacted by June 1, 2014. You will be responsible for delivering your work(s) to Aperture, at your expense. If selected for the exhibition, additional information regarding the terms of loan of your work(s) will be provided.
Entry Requirements:
Membership with Aperture Foundation is the sole requirement for entry into the Summer Open. It also covers entrance into the 2015 Portfolio Prize. (Please note that subscription to Aperture magazine does not constitute membership with Aperture Foundation).
To purchase your membership, please visit aperture.org/join. Upon purchase, you will receive a unique entry code that will allow you to enter the Summer Open.
If you are already an Aperture Foundation Member, you will receive an e-mail containing a unique entry code that will allow you to enter. If you do not receive this code or are unsure of your current Member status, please contact summeropen@aperture.org.
Photographs entered should be contemporary (made within the last five years). They may be part of a series (some photo series may be selected for exhibition), or stand-alone photographs.
To complete your entry, you will need the following:
Your name, address, and phone number
Final exhibition print sizes (paper sizes and image sizes)
Date of photographs, plus (if relevant) caption or title
Between 1 and 10 images. The image-preparation specifications can be found here.
The name your work should be credited to, if different from above
Statement of up to 150 words about the work submitted (optional, but if photographs from a series are being submitted, series details will be helpful).
The concept for the first Summer Open exhibition is that the photographs will be presented democratically, unmediated by frames. Photographs selected will be shown unframed using magnets. Some photographs may also be selected for presentation on digital monitors.
Terms and Conditions:
Aperture Foundation reserves the right to reject entries that are submitted without the required information, or that do not meet the criteria of eligibility, without any obligation to enter into any further discussion regarding curator's decisions, and without obligation to refund the entrant's membership fee.
The curator's decisions shall be final. No correspondence shall be entered into by Aperture Foundation, nor its representatives, regarding the decisions of the curator(s).
Aperture Foundation reserves the right to reject submitted print(s) of photograph(s) selected for inclusion in the exhibition for any reason, including print quality.
While copyright of all work submitted for this exhibition remains with the respective entrants, the entrant grants to Aperture Foundation a worldwide, irrevocable, and perpetual license to reproduce representative examples of the submitted entries in any of their publications, websites, and/or in any promotional material, strictly in connection with the exhibition, and with reference to the photographer as relevant in each case.
Aperture Foundation accepts no responsibility for entries that are lost in transit.
Representatives of Aperture Foundation are not available to review unsolicited materials received except as entered via the Summer Open exhibition.
Details of particular entries may be at the discretion of Aperture Foundation and may be released to the press to promote the exhibition, including before the announcement of the short list for the exhibition. (Some entries will be featured on the Aperture Foundation blog).
Applicants warrant that the entry submission is the original work of the artist and, as such, the artist is the sole and exclusive owner and rights holder of the submitted work, and that the party submitting has the right to submit the work for exhibition and grant all required licenses. Each entrant agrees not to submit any entry that (1) infringes any third party's proprietary rights, intellectual property rights, industrial property rights, personal or moral rights or any other rights, including without limitation, copyright, trademark, patent, trade secret, privacy, publicity, or confidentiality obligations; and (2) otherwise violates the applicable state, federal, provincial, or local law.
Aperture Foundation reserves complete creative control over the exhibition's design, including selection, layout, hanging, and framing. It is understood that prints in the exhibition may be hung without frames and with pins or magnets, or displayed on digital monitors.
If selected for the exhibition, additional information regarding the terms of loan of your work(s) will be provided.
No exceptions will be made for late submissions.
Please contact summeropen@aperture.org with any questions.
Print this Page
View Legal Agreement