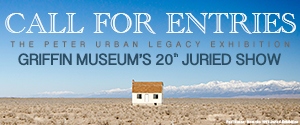 Griffin Museum of Photography:20th Juried Exhibition
67 Shore Road, Winchester, MA 01890
Contact Email:
frances@griffinmuseum.org
Call Type:
Exhibitions
Eligibility:
International
State:
Massachusetts
Entry Deadline:
4/11/14
Application Closed
REQUIREMENTS:
Media
Images - Minimum: 1, Maximum: 8
Total Media - Minimum: 1, Maximum: 8
Entry Fee (20th Juried Exhibition Handling Fee): $18.00


The Griffin Museum of Photography's 20th Juried Show: The Peter Urban Legacy Exhibition

Juror: Aline Smithson
Exhibition dates: July 10-August 31, 2014
67 Shore Road, Winchester MA 01890
AWARDS: $2,500 Peter Urban Legacy Award, $1,000 Arthur Griffin Legacy Award, $500 Griffin Award, and Honorable Mentions.
ELIGIBILITY: This Call for Entries is open to all photographers. Entrants must be members of the Griffin Museum of Photography (with an expiration after 4/1/2013) The Griffin Museum invites photographers working in all mediums, styles and schools of thought to participate. Experimental and mixed techniques are welcome. We encourage submitting images from a singular body of work for a cohesive selection for the Juried Exhibition. A unified body of photographs indicates to the juror you've carefully considered your selected edit and are committed to your photography.
Artwork selected for gallery exhibition will be limited to FRAMED SIZE of 30x40in.
JUROR: Aline Smithson
After a career as a New York Fashion Editor, Aline Smithson is currently represented by galleries in the U.S. and Europe and published throughout the world. Aline founded the blogzine, LENSCRATCH, has been the Gallery Editor for Light Leaks Magazine, and a contributing writer for numerous publications. She reviews and teaches workshops at photography festivals across the United States, is a juror for a various organizations, and has been teaching at the Los Angeles Center of Photography since 2001. In 2012, she received the Rising Star Award from the Griffin Museum of Photography for her contributions to the photographic community.
ABOUT THE EXHIBITION & PETER URBAN: The 20th Annual Juried Exhibition at the Griffin Museum will be named in honor of Peter Urban, a celebrated, Boston-based photographer who passed away in 2009 after a long battle with cancer. Urban was renowned for his success in both the commercial and artistic realm. Arlette Kayafas, who represented Urban's art at Gallery Kayafas, said that while some photographers find it difficult to move from advertising to artistic endeavors, "Peter was the exception, because his commercial work was like his fine arts work. When he worked with clients, he saw them as the human beings they were. Peter's work was always about people.''
In the spirit of Peter's success creating a career with a balance of commercial and artistic work, his family has partnered with the Arts & Business Council and the Griffin Museum of Photography to produce opportunities for other photographers to grow their careers.
"It is only right that the Griffin's twentieth juried exhibition be named in honor of Peter Urban," says Paula Tognarelli, executive director of the Griffin Museum of Photography. "Peter's first solo exhibition was at the Griffin in 2005. His gallery talk that accompanied his show was to a capacity audience. You could feel the love in that room that day."
Alongside the juried exhibition, the Arts and Business Council is organizing a series of professional development workshops presented by a diverse range of thought leaders. These workshops will share instrumental ideas, methods and tools to help build the business and legal foundation of a thriving artistic practice.
HANDLING FEE: The handling fee is $18 for 5 images. We have kept our handling fee very low for many years. This year we have raised this fee from $15 to $18 to offset using a programmed juried system that will enhance the submission process and jury process for the photographers and the juror.
SUBMISSION DEADLINE: March 31, 2014
HOW TO ENTER:
1. Make sure you are a member of the Griffin Museum (for inquiries, please contact frances@griffinmuseum.org)
2. Create a free account with CaFE.
3. Pay your handling fee, submit artist statement and upload images.
4. After all edits, submit finalized entry through CaFE
SUBMISSION REQUIREMENTS:
• Must be a member of the Griffin Museum of Photography. Purchase membership: http://www.griffinmuseum.org/blog/shop/product-category/memberships/
• Upload 5 images (uploaded to CaFE specifications)*; 8 images can be submitted for members at the dual level ($75) or above.
• Artist Statement (up to 5,000 characters)
• Handling fee
*Image upload instructions provided by CaFE once you are a registered user. Exhibition print sizes will not determine eligibility, however will be considered when selecting the number of framed pieces that will be included in the exhibition.
ALL FILE SIZE REQUIREMENTS AND OTHER STEP BY STEP INFORMATION FOR THE APPLICATION CAN BE FOUND THROUGH CAFE.ORG ONCE YOU LOGIN WITH YOUR FREE ACCOUNT.
MAILED SUBMISSIONS:
Please include title sheet, information page including: Name, E-mail, Address, Phone and proof of membership or membership renewal form.
Prepare your images to the same specifications.
Burn images to CD (not DVD) and mail to:
Griffin Museum 20th Juried Submission
67 Shore Road
Winchester, MA 01890
ACCEPTANCE NOTIFICATION:
Selected artists will be posted on the website by May 28, 2014. Please do not call the Griffin Museum to inquire whether your images were chosen.
IMPORTANT DATES:
• Entries due: March 31, 2014
• Notice of Acceptance: May 28, 2014
• Gallery Exhibition at the Griffin Museum: July 10th-August 31, 2014
• Opening Reception: July 10th, 2014 @ 7pm
EXHIBIT PRINTS: All accepted images submitted for exhibition must be printed and framed professionally with either glass or plexi. The Griffin Museum recognizes that some work is non-traditional and incorporates the framing as an integral part of the presentation. Artists will be responsible for shipping their framed images to The Griffin Museum in advance of the gallery show and for supplying a pre-paid return shipping label. The FRAMED size may not exceed 30x40in.

SALES: All work accepted for the gallery show must be for sale. The Griffin Museum will retain a 35% commission on the sale of any work.
USE RIGHTS: Artists maintain copyright on all of their work. By submission, artists grant The Griffin Museum the right to use their images for the purpose of marketing the exhibition and other Griffin Museum programs; and for reproduction online and in a print exhibition catalogue. Artists grant the use of their image(s) as stated without further contact or compensation from the Griffin. Artist's recognition is provided with any use. Submitting artists will be added to The Griffin Museum's monthly newsletter subscriber list. They may opt out using a link on each newsletter at any time. Any questions, email frances@griffinmuseum.org
Please retain this information and your filename information for your files until after announcement of the jury selection.


Print this Page
View Legal Agreement