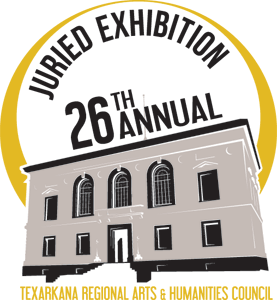 TRAHC's 26th Annual Juried Exhibition
Contact Email:
adonohoe@trahc.org
Call Type:
Exhibitions
Eligibility:
National
State:
Texas
Entry Deadline:
6/18/14
Application Closed
REQUIREMENTS:
Media
Images - Minimum: 1, Maximum: 9
Total Media - Minimum: 1, Maximum: 9
Entry Fee (TRAHC's 26th Annual Juried Exhibition Entry Fee): $35.00

TRAHC's 26th Annual Juried Exhibition Prospectus
GENEROUSLY SPONSORED BY
E-Z Mart, Inc.
ELIGIBILITY
The exhibition is open to all artists 18 years and older. All work must be original in concept and not copied from another artist's work. Accepted work will be exhibited at TRAHC from July 11 - August 9, 2014. No video, film, installations or artwork that requires special installation or assembly. Entries are limited to a maximum of three works executed in the past year (June 2013 - June 2014.) Entries must be received by Midnight MST June 18, 2014. Only entries submitted online through Callforentry.org will be accepted.
FEES
$35 flat fee for up to three entries. All fees are non-refundable and payable through Callforentry.org. Payment can be made by credit card online.
NOTIFICATION
Results of the judging will be emailed after June 20, 2014.
All notifications will be sent by email through Callforentry.org. These emails occasionally end up in one's junk mailbox. Please check accordingly and add the Callforentry.org email address to your address book.
ACCEPTED WORK
Accepted artists will receive instructions for shipping and hand delivery. Shipping costs and insurance are the responsibility of the artist. All entries will be handled with the greatest care, but neither TRAHC nor it's representatives will be responsible for loss or damage.
A pre-paid return-shipping label via FedEx or UPS is mandatory. Reusable shipping containers only.
Artists living within 50 miles of Texarkana may hand deliver accepted artwork during TRAHC's open hours Tuesday - Saturday, 10 am - 4 pm.
All accepted artwork is due by June 28 at 3:45 pm.
SPECIFICATIONS
All works accepted for the exhibition must be original, completed, and ready to hang. Substitutions of accepted works will not be allowed and all delivered work must match the image juried.
Frames, mats, and wiring must be professional quality and in good condition. Wiring must be in good condition and substantial enough for the weight of the artwork. All paintings must be framed or gallery wrapped. Photography and two-dimensional works on paper must be framed and under glass or polycarbonate. All freestanding sculptures must have felt pads attached to the bottom.
Accepted artwork may not be removed from TRAHC prior to August 12, 2014.
SALES
Any artwork for sale to the public will incur a 20% commission if sold. Prices quoted on the entry form may not be changed after acceptance. No work may be removed from TRAHC until the close of the exhibition.
Artwork listed as "Purchase upon Request" will not be accommodated.
LIABILITY
Works are entered at the artist's own risk. Artwork will be handled with reasonable care. TRAHC and its representatives will not be responsible for loss, theft, or damage of artworks while in the gallery's possession or in transit.
REPRODUCTION
TRAHC reserves the right to photograph or use any of the works for publicity purposes. Images of accepted entries will become the property of TRAHC to be used for the catalogue and other printed materials, archives, website, and for educational purposes. All copyrights for the artwork are retained by the artist.
AGREEMENT
The submission of entries to this competition shall be understood to constitute an agreement on the part of the artist to all rules and conditions as set forth in this prospectus. Entries not meeting the criteria listed herein will be disqualified, and the entry fee will not be refunded.
Due to TRAHC's extremely limited storage space, artwork left more than 30 days after August 12 (September 12) will be deemed the property of TRAHC (unless arrangements have been made in writing and agreed up on by both parties.)
ENTRY PROCEDURE - ONLINE ONLY
All submissions will be through Callforentry.org (www.callforentry.org). Entries and payment must be submitted on or before June 18, 2014, with no entries accepted after this date.
Upload requirements for image files:
File format: JPEG only
File dimensions: No smaller than 1920 pixels on the longest side
File resolution: 72 ppi/dpi (standard web resolution)
File size: 3 MB maximum
Image must be correctly oriented (vertical or horizontal)
No digital enhancement is allowed
Maximum of 3 photos per entry
Further information on the image requirements for submission and resources for editing the digital image size can be found on Callforentry.org's Help section.
Any artist living within 50 miles of Texarkana may book an appointment with Amy Donohoe to help them photograph and upload their entry to Callforentry.org. No appointments may be made after June 14, 2014.
QUESTIONS
Amy Donohoe
adonohoe@trahc.org
903-792-8681
www.callforentry.org
Additional copies of the prospectus are available for downloading at www.trahc.org
AWARDS
Yates Collection Purchase Award…..$1000
Best of Show………………………….$1000
First Place………………………………$750
Second Place………………………..…$500
Third Place……………………………..$300
Fourth Place……………………………$200
JUROR
Due to unforeseen circumstances, artwork chosen for this exhibition will be selected by the Texarkana Regional Arts and Humanities Council.
CALENDAR 2014
June 18 Submission deadline
June 19 Judging Phase 1
June 20 Notifications emailed
June 20 - June 28 Receipt of shipped and hand delivered artwork
June 28 Accepted artwork due at 3:45 pm
July 10 Judging Phase 2
July 11 Exhibit opens
July 11 Opening Reception, 6:30 - 8 pm, Awards presented at 7:30 pm
August 9 Exhibit closes
August 12 - September 12 Return of shipped and hand delivered artwork
Print this Page
View Legal Agreement