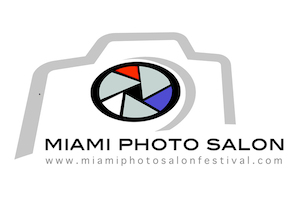 2014 Miami Photo Salon Festival During Art Basel Week Miami
ATTN: Miami Photo Salon Festival
C/O Cuban American Phototheque Foundation
4260 SW 74th Avenue
Miami, Florida 33155
Contact Email:
MiamiPhotoSalon@gmail.com
Call Type:
Exhibitions
Eligibility:
International
State:
Florida
Entry Deadline:
8/8/14
Application Closed
REQUIREMENTS:
Media
Images - Minimum: 1, Maximum: 25
Total Media - Minimum: 1, Maximum: 25
Entry Fee (Miami Photo Salon): $20.00
Entry Fee (3 images one time entry): $45.00

Media Fee (per sample over minimum):$20.00

Description: Miami Photo Salon is an International Photography Festival that takes place during Art Basel with plans to continue yearly. This project creates a salon-style venue for photographers to showcase and exhibit work to international audiences in Downtown Miami, where foot traffic between visiting art fairs bring in thousands of visitors, both from the local community and international tourists. Dates for the event December 1-6, 2015. There is a limit of 25 images each photographer may submit to the MPS festival.
-Entry fees are non-refundable and non-transferrable.
-Multiple entries or different bodies of work are allowed.
-Collaborations are also permitted.
Theme:
"He intuited global truths. He thrilled at his oneness with humanity" (Sally Jacobs).
Contemporary World: Singularity and contradictions. Present-day society in our global village. Images can be found anywhere in the world.
From a fragmented reality to a complex puzzle, the planet around us is a dance of images, colors, sounds, and shapes, that form an encrypted message about who we are and how the world we live in is.
Eligibility: The contest is open to all photographers age 18 or older. Work must be original and created on or after January 1, 2010.
Fees: There is a non-refundable entry fee of $20 per photograph.
There is a special price -non-refundable entry fee- of $45 per 3 photographs.
Additional images may also be submitted for $20 for each additional image. No applicant may submit more than 25 images.
Selected Artwork: Selected artists will be required to send a high resolution copy of their selected work to Miami Photo Salon.
Gallery Space: The second Miami Photo Salon will take place in Downtown Miami in the heart of the activity generated by visiting international art fairs. This location will provide unprecedented visibility for artists who may be exhibiting work for the first time with the Miami Photo Salon or who have no previous exhibition history in the US.
Submission Guidelines: Beginning February 4, 2015, images must be submitted online only via the CaFE call for entry. Images must be sized to meet CaFE requirements. DEADLINE AUGUST 8, 2015
FILE FORMAT: JPEG only
FILE DIMENSIONS: No smaller than 1920 pixels on the longest side of the image.
FILE RESOLUTION: 72 ppi
FILE SIZE: No larger than 3 MB.
HINT: Use File Size in Photoshop or Photoshop Elements. Change Inches to Pixels and put in 1920 on longest side. Change Resolution to 72. SAVE and use the sliding bar to either raise or lower the file size to meet 3 MB maximum requirement. Do Not Submit a file that is less than 800 KB. 1 MB to 3 MB is preferable.
Entry Deadline: Entries must be received no later than midnight, August 8, 2015 (Rocky Mountain Time). Entries received after that date will not be processed.
Jury Selection: Selection will be by Jury. The jury may select 1 or more images from a photographer's submission. Photographers whose images are selected for the exhibit and/or finalists will be notified of curatorial specifics by September 15, 2015.
Prizes/Awards: Prizes and awards for over $5,000 are waiting for the participants to make an impression on the jury. Artists selected will be listed at the entrance of the Salon, also in the catalog, and in the event web site, all of which is a reward itself.
Prizes include a solo exhibit April 15, 2016 at the Cuban American Phototheque Foundation, a People's Choice Award of $500, a Best in Show Award of $2,500. and more awards to be announced. by our sponsors in the following weeks.
NOTE: Miami Photo Salon Festival created a system for photographers to have their selections print and frame for the festival at a nominal fee of $75. ( Image size: 11" x 18", then matted in a 18" X 24" frame, or 16"x20" then matted in a 20" X 24" frame).
It is not mandatory to use the MPSF's provider to participate in the final show but photographs must follow sizes above. Images larger than 16"x 20" may be taken upon consideration for its participation but at extra fees will apply since space is a sensitive matter in the Salon.
More information soon, please check back here.
Contact: For Questions, E-mail MiamiPhotoSalon@gmail.com

CALENDAR

FEBRUARY 4, 2015 Call For Entry opens in CaFE
DEADLINE AUGUST 8, 2015
AUGUST 20-29, 2015 Jury Selection
SEPTEMBER 15, 2015 Photographers notified of results by email
November 13-17, 2015 Delivery of accepted photographs to CAPF
December 1-6, 2015 Exhibit Dates
December 8-12, 2015 Pick Up of accepted photographs to CAPF
Print this Page
View Legal Agreement