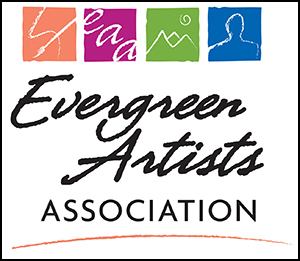 The Evergreen Art Open: A Colorado Artists Juried Show
Evergreen Artists Association
PO Box 1511
Evergreen, CO 80437
FedEx and UPs will deliver to gallery. USPS will not.
Contact Email:
info@evergreenartists.org
Call Type:
Exhibitions
Eligibility:
Local
State:
Colorado
Event Dates:
9/26/14 - 10/26/14
Entry Deadline:
9/5/14
Application Closed
REQUIREMENTS:
Media
Images - Minimum: 1, Maximum: 3
Total Media - Minimum: 1, Maximum: 3
Entry Fee (Evergreen Artist Association): $35.00

Evergreen Artists Association Presents
The Evergreen Art Open, an all Colorado Juried Show of Multi-mediums
Hosted by Main Street Fine Art Gallery
28186 Colorado 74 #4, Evergreen, CO 80439
(303) 670-7222
September 26th through October 26th, 2014
Opening Reception Friday, September 26, 2014
Cash prizes of $1100 will be awarded during the Opening Ceremony along with other prizes donated by our sponsors.
Eligibility
• Open to any artist residing in Colorado.
• Submissions must be original work of submitting artist, current within last 3 years, and shall not have appeared in an EAA show within the last two years.
• All entries shall be for sale.
• Artwork is limited to a maximum of 48 inches in any direction including the framing.
• Two and three-dimensional art is accepted, including:
Traditional and digital photography, paintings, sculpture, ceramics, jewelry, metalsmith, woodwork, fiber/textile, mixed media, printmaking and glass. Giclée and other unoriginal prints are not permitted (except for photographs or computer-generated digital art).
• Images must be cropped to exclude framing and background; must represent the work exactly.

Presentation Guidelines
• Only artwork of professional presentation accepted.
• Wall-hung items must be appropriately framed and/or edges adequately finished.
• Wall art must use sturdy wire as the hanging medium or a professional hanging system. No saw-tooth hangers or metal eyes accepted.
• Three-dimensional works, such as pottery and sculpture, must be stable to stand on their own or be submitted with adequate display stands.
• Evergreen Artists Association reserves the right to reject any work not matching submission, or which is not properly presented for exhibit, or which it deems inappropriate for Main Street Fine Art or its clientele.
Deadline, Jurying and Artist Notification
• Entries must be entered into Café, Callforentry.org, by Midnight, Friday September 5th, 2014
• Jurying will take place September 6-7, 2014
• Artists will be notified of acceptance by September 8, 2014
Delivery of Artwork
Hand delivered work must be brought to Main Street Fine Art Gallery on Monday, September 22nd. The Gallery will be open from 10 AM to 5 PM. Shipped work must be received no later than Monday, September 22nd via FedEx or UPS. Artists are responsible for all shipping costs including return of artwork.
Return of Artwork
All unsold work much be picked up at Main Street Fine Art Gallery on Monday, October 27th between 10 AM and 5 PM. Shipped art will be repackaged and must be picked up by FedEx or UPS on October 28th or 29th, 2014.
Awards Juror:
Kathy F. Montgomery, FASID, began working in the field of art consulting and advising following an extensive career in corporate interior design. An early life passion for "making" art was redirected while in college toward interior design, an artistic profession with a practical balance. Planning interior environments, especially those for healthcare and corporate clients, highlighted the importance of art in all spaces.
While pursuing an advanced degree in environmental design, Kathy began collecting research that supported the connection between interior design and health and well-being. The significant value that the introduction of art contributed was reinforced both for public and private spaces. The presence of art where we humans work, live, heal, play, learn and worship contributes to the internal being in all of us.
Kathy has worked with clients on projects that include art collection maintenance, acquisition, and planning. She has worked to design, and plan major art exhibits. She donates time and expertise to non-profit community arts organizations to assist with marketing, development and collection acquisitions.
Kathy has served as the National President of the American Society of Interior Designers, and volunteers as a Board member for Art for the Mountain Community in Evergreen, and at Evergreen Fine Art for "Weekend in the West". She serves as volunteer coordinator for the Coors Western Art Show and Sale. She was named a Fellow of the American Society of Interior Designers, and has achieved the LEED AP designation for "green design practices".
Awards
Awards will be presented during the Opening Reception, Friday, September 26th, 2014 5 to 8 pm.
Best of Show: $500
1st Place: $300
2nd Place $200
3rd Place $100
3 Merit Awards (to be announced)
Calendar
July 15, 2014: Registration opens on CallForEntry.org
September 5, 2014: Registration closes at midnight
September 6-7, 2014: Jurying of artwork
September 8, 2014: Notification to artists via email
September 17 - 23, 2014: Shipped artwork delivered to Main Street Fine Art Gallery.
September 21 - 22, 2014: Hand delivered artwork brought to Main Street Fine Art Gallery
September 23, 24, 2014: Hanging
September 25, 2014: Judging
September 26, 2014: Opening Reception and Awards Ceremony, 5 to 8 PM
October 26, 2014: Show ends Sunday at closing time
October 27, 2014: All art to be picked up between 10 AM and 5 PM.
October 28 - 29, 2014: Shipped art will be packaged and must be picked up by FedEx or UPS with a prepaid shipping label.
We are pleased to announce the sponsors of our Merit Awards. A big thanks to all of them for their support!
Print this Page
View Legal Agreement