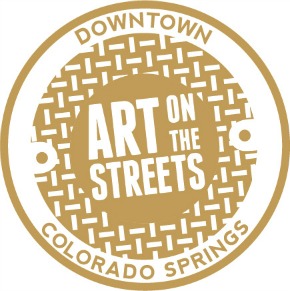 17th Annual Art on the Streets
111 S. Tejon Street, Ste. 404
Colorado Springs, CO 80903
Contact Email:
lara@downtowncs.com
Call Type:
Competitions
Eligibility:
International
State:
Colorado
Entry Deadline:
2/16/15
Application ClosedNumber of Applications Allowed:
10
REQUIREMENTS:
Media
Images - Minimum: 1, Maximum: 3
Total Media - Minimum: 1, Maximum: 3
Entry Fee (Colorado Springs Comm Ventures: 17th Annual Art on the Streets): $25.00

Art on the Streets celebrates the power of art in public places, while turning the streets of Downtown Colorado Springs into a yearlong outdoor sculpture gallery.
Selected artists each receive a $1,000 honorarium.
All selected artists are also eligible for the following awards:
Juror Award $10,000
and
People's Choice Award $1,000
This year represents the 17th year of this program, and
up to 12 artists will be chosen to exhibit
. In addition to the $1,000 honorarium, each artist is offered two nights of complimentary lodging in Colorado Springs, one of which will be used during installation, and one of which will be used to attend the exhibition's Launch Party event.
NEW This Year!
Through a partnership with the City of Colorado Springs Public Works Transit Services Division,
in addition to the 12 pieces
selected for the Art on the Streets exhibit, up to 3 more pieces will be selected for installation in the new
Transit Gallery: Art on the Streets at the Downtown Transit Center
.
TIMELINE
February 16, 2015
Submission deadline
March 10, 2015
Selection notification to artists
May/June 2015
Installation of work
June 18, 2015
Exhibit Opening / Launch Party and Presentation of Juror Award
May 2016
Exhibit Closing / Work reclaimed by Artists
SELECTION PROCESS
Selected artists are chosen through a jury process in which artistic quality serves as the primary criteria. Secondary criteria includes installation, maintenance and safety concerns, as well diversity of works included in the annual exhibit. While sculpture tends to dominate the entry pool, other types of public art suitable for an outdoor experience are highly encouraged, including interactive, temporary, and multimedia works.
The lead juror for the 2015-2016 exhibit is
David Tryba
, FAIA. Tryba is the Founder of Tryba Architects, a firm with a national reputation for design excellence. Born in Colorado Springs, David possesses a deep understanding of the region and has completed projects in 15 states and Mexico.
He received his Bachelor of Environmental Design and Master of Architecture from the University of Colorado. In 2005, the University conferred an Honorary Doctorate of Humane Letters for "… significant contribution to the transformation and rebuilding of Denver's urban form." In 2004 David was elected to the American Institute of Architects College of Fellows, and served as AIA Denver Chapter President in 2007. In 2013 he was named AIA Colorado's Architect of the Year.
For over 25 years, Tryba has specialized in civic, cultural, historic and adaptive re-use, mixed-use, commercial, and transit-oriented design and planning. Tryba's award-winning work is widely recognized for transforming sites and buildings into thoroughly integrated, human-scaled, vibrant and timeless places – systems and structure that link people to one another and the built and natural environment.
Recently completed and current projects include: The transformation of Denver's historic Union Station into the new mixed-use, transit terminal, retail market and 112- room Crawford Hotel; Denver International Airport's 30 year Vision Plan; Pearl Place Office Campus in Boulder; History Colorado Center; Denver Botanic Gardens' Visitor Center, Greenhouse Complex, & Parking Structure; and GSA's Cesar E. Chavez Memorial Building.
Tryba will be joined by three additional jurors, including artist and community representatives knowledgeable in sculpture and public art.
Blake Milteer,
Andrew Tirado,
and
Daisy McConnell
will serve with Tryba as jurors for the 2015 process.
Blake Milteer
is Museum Director and Chief Curator for the Colorado Springs Fine Arts Center. In his position at FAC, Milteer oversees the museum's collection and has curated original temporary exhibitions such as
Floyd D. Tunson: Son of Pop; James Turrell: Trace Elements; William Kentridge: The World is Process; Conflict|Resolution; Mikel Glass: The Discarded; Colorado Springs Abstract;
and
Colorado Sublime: Selections from the Loo Family Collection
. He was also Fine Arts Center curator for the travelling exhibitions
NASA|ART: 50 Years of Exploration; Impressionist and Modern Masters from the New Orleans Museum of Art;
and
The Eclectic Eye: Selections from the Frederick R. Weisman Collection
. Milteer has also worked for the Denver Art Museum and has been a lecturer for the University of Colorado and the Rocky Mountain College of Art and Design.
Colorado Springs artist
Andrew Tirado
recently created a series of large scale hands from reclaimed wood and other 3D and 2D media. Tirado finds a balance between traditional craftsmanship and the innovative ideas that enliven some of the best contemporary art. The artist spent many years doing a variety of work from building wood strip canoes, fabricating custom props, displays, and sets, to building custom cabinetry. From 1989 until 1991, Andrew was a studio assistant for the painter Chuck Close in New York, and since 1988, he has spent a few weeks each summer working as Seminar Faculty for the Marie Walsh Sharpe Art Foundation at the Colorado College, where he has worked with a number of nationally-renowned artists. For the past nine years, Tirado has supervised the 3D Arts Facility at the Colorado College, where he teaches woodworking and oversees the Arts and Crafts Spring Semester Adjuncts. In 2014 he taught a sculpture class at the Anderson Ranch Arts Center in Snowmass, Colorado, had a solo show, entitled
Open
, at the Colorado Springs Fine Arts Center, and his sculptural piece, entitled Lacuna, received the Juror's Choice award for the 2014 16th annual Art On The Streets Exhibit.
Daisy McConnell
is Director of the UCCS Galleries of Contemporary Art, or GOCA, a position she has served in since July 2010. McConnell acts as managing director and curator of GOCA, producing high-profile and inventive exhibits and programs that have captured the attention of regional and national media. She has independently and collaboratively produced over 40 exhibits in two gallery spaces since 2010 alongside a range of creative programs, including lecture series, noontime dance parties, mash-up talks and two city-wide arts collaborations in 2011 and 2013. Previously McConnell held positions as Assistant to the Curator of the InterDisciplinary Experimental Arts (I.D.E.A.) program and Coburn Gallery Director at Colorado College, Art Instructor for Colorado College Summer Session, FutureSelf Art Workshop Program for At-Risk Youth, ArtWorx! After-School Art Program for At-Risk Youth, and as a K-12 Art Teacher in Fountain-Ft. Carson School District 8. McConnell is an exhibiting fine artist, working in printmaking, encaustic, and sculptural media. She received her BA in Studio Art from Colorado College and MPA with certificates in Non-Profit Management and Non-Profit Fund Development from UCCS.
Selected artwork for the Art on the Streets exhibit will be exhibited throughout the 40-square-block downtown district, with the majority of works clustered in the busiest 10 to 15 block core. Pieces selected for the
Transit Gallery
will be installed throughout the Downtown Transit Center located at N. Nevada Avenue and Kiowa Street.
ABOUT US
Art on the Streets (AOTS) is managed as a program of Downtown Colorado Springs, through Community Ventures, Inc. The program is presented by Founding Sponsor U.S. Bank, with additional support from generous corporate and individual donors.
Designated as a Certified Creative District through the State of Colorado's creative district program, Downtown Colorado Springs recognizes the power of public art in placemaking. With downtown serving as the heart of Colorado Springs' cultural community, the arts play a central role in economic development, tourism, and quality of life considerations.
Just a sampling of downtown's cultural amenities include: the nationally-recognized John Gaw Meem-designed
Fine Arts Center
; the community-supported
Cottonwood Center for the Arts
artist studios;
Colorado Springs Philharmonic
, an orchestra with a nearly century-old track record;
Pikes Peak Center for the Performing Arts
, internationally acclaimed for its design and acoustical qualities; and Colorado College's copper-lidded, 70,000 square-foot
Cornerstone Arts Center
, designed by Antoine Predock, FAIA.
Art on the Streets is a celebrated downtown tradition, currently in its 17th year, that seeks to enliven the Downtown Colorado Springs cityscape and urban experience. Annual exhibits are heavily promoted by Downtown Colorado Springs, including regional and national press outreach and a full-color exhibit brochure — featuring photos of the artwork, artists' biographies, purchase prices, and a walking tour map — produced and distributed through the Downtown Partnership, Colorado Springs Community Ventures, Inc., Convention & Visitors Bureau, Chamber of Commerce, Colorado Springs Fine Arts Center, Pikes Peak Library District and numerous downtown businesses. It is also available online at www.downtowncs.com.
AOTS has influenced purchase and permanent installation of many of the works of public art in downtown Colorado Springs. More than 200 artworks have been exhibited throughout downtown Colorado Springs since AOTS began in 1999, and downtown Colorado Springs is home to more than 50 permanently-sited artworks, many of which have been purchased through AOTS.
ENTRY DETAILS
•
Artists may submit one (1) work per application
. Up to three images may be included to represent the work. For sculpture, artists should consider a suggested minimum dimension of 3 feet, vertical or horizontal, and scaled to outdoor spaces. Artists should consider that their work will be exhibited outdoors and accessible to the public for a period of approximately 11 months.
•
Artists may submit multiple proposals, through multiple applications,
with a discounted application fee of $10 for every application after the first $25 fee. To submit multiple works, please use the following process: 1. Submit your first application and pay the $25 application fee. 2. Contact staff to receive a coupon code for subsequent applications, to activate the discounted application fee.
Entry Submissions
:
All materials should be submitted in digital format through CaFE™ at www.callforentry.org.
A three-step guide to using the CaFE™ system:
1. Login or new users register on CaFE to create a user name and password.
2. Format images to system specification then upload images of work.
3. After uploading images click "Apply to Calls", search for "17th Annual Art on the Streets", and click "Apply to this Call".
All submissions must include
:
√ Full contact information: Name, address, phone and email.
√ Narrative description of the artwork including title, medium/media, dimensions (in feet, h x w x d), price of artwork and any applicable notes.
√ A current, professional resume
√ Two-paragraph maximum artist's statement incorporating comment about submitted proposal.
√ Plan for installation (see details below)
√ Non-refundable entry fee of $25, payable by VISA or MASTERCARD at time application is submitted, plus any discounted fees for multiple applications.
Questions?
Please contact Creative District Manager Lara Garritano by calling 719.886.0088, or via email: lara@downtowncs.com Entries must be received by 5:00 p.m., MST, on February 16, 2015.
INSTALLATION
:
• Each selected artist bears responsibility for the installation of his/her work. Artists must deliver (or ship) their work and assist in its installation. Reasonable installation expenses are covered by Art on the Streets, including additional labor and equipment needs in some cases. Assistance with installation is also provided. (For example, if a concrete footer is required for installation, the footer will be installed by AOTS, and staff will be available to assist with installation as needed.) Special installation needs should be noted in proposed installation plan, such as a rental of a forklift or blocking a street during installation. If you have any questions regarding AOTS's installation process and support, please call staff prior to applying. A $1,000 honorarium will be awarded to each selected artist. Receipt of a W9 Taxpayer Identification Form is required prior to payment.
• All selected artists must provide a detailed plan for the installation of their artwork, to include any engineering specifications, unique considerations for non-metal media, and other significant factors affecting exhibition for an extended period of time. AOTS, its sponsors and the City of Colorado Springs shall not be liable for any loss incurred due to a faulty connection between the artwork and the surface it is attached to. Please call 719-886-0088 with any questions BEFORE submitting your entry and installation plan.
Installation will occur from mid-May through mid-June, in the weeks prior to the exhibit's Launch Party in June 2015. It is hoped that out-of-state selected artists can install and attend the opening reception during one trip.
LEGAL AGREEMENT
Late entries will not be accepted. All entrants will be notified of the results of the selection process within a timely manner. Please do not call to inquire about status.
Any selected work that upon delivery, has been altered significantly (from entry submittal) as to dimensions, scale or color without prior approval from Community Ventures, will not be accepted into the show.
AOTS provides insurance, publicity and assistance in the sale of pieces. Artists agree to a 25 percent commission payable to Community Ventures, Inc.
Submission of entry constitutes agreement by artists to the conditions set forth. A mandatory lease agreement for exhibition artwork will be executed soon after selection notification has been made.
Print this Page
View Legal Agreement