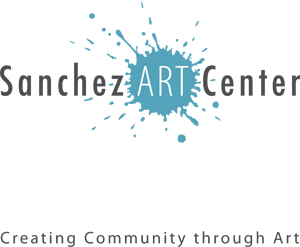 2015 Left Coast Annual
1220-B Linda Mar Blvd.
Pacifica, CA 94044
Contact Email:
info@sanchezartcenter.org
Call Type:
Competitions
Eligibility:
Regional
State:
California
Event Dates:
4/10/15 - 5/17/15
Entry Deadline:
2/10/15
Application Closed
REQUIREMENTS:
Media
Images - Minimum: 1, Maximum: 20
Video - Minimum: 0, Maximum: 6
Total Media - Minimum: 1, Maximum: 20
Entry Fee (Left Coast Annual - image 1): $15.00

Media Fee (per sample over minimum):$15.00

SANCHEZ ART CENTER CALL FOR ENTRIES:
2015 Left Coast Annual, April 10 - May 17, 2015.
Gala Reception Fri, April 10, 7-9 pm
ENTRY DEADLINE: TUESDAY, FEBRUARY 10, 2015, 11 pm, Pacific Standard Time (Midnight Mountain Time).
ABOUT THE JUROR
Cathy Kimball is Executive Director and Chief Curator of the San Jose Institute of Contemporary Art, where she has implemented a number of new programs including an annual NextNew presentation focusing on emerging Bay Area artists, as well as the ICA's Façade program, which includes multimedia installations in the front window. She has curated several dozen exhibitions at the ICA, and has authored numerous exhibition catalogues. In 2006, Ms. Kimball spearheaded the effort to secure a new, permanent home for the ICA with expanded galleries, a contemporary art library, and the only open-access Printmaking Center in the South Bay. Ms. Kimball came to the ICA from the San Jose Museum of Art (SJMA), where she served as Curator for four years. During her tenure at SJMA, she curated a number of high-profile exhibitions, including Alternating Currents: American Art in the Age of Technology, Selections from the Permanent Collection of the Whitney Museum of American Art, and Surroundings: Responses to the American Landscape. Previously Ms. Kimball was the Curator at the New Jersey Center for Visual Arts in Summit.
ABOUT SANCHEZ ART CENTER
The mission of Sanchez Art Center is to create community through art. Sanchez Art Center was established in 1996 when artists and community members converted an old school into a multi-use arts complex that now includes 3 galleries, 19 art studios, an arts classroom, and the Mildred Owen Concert Hall. Sanchez Art Center fulfills its mission by presenting free exhibitions by established and emerging California artists, offering arts education and community engagement activities, as well as providing affordable studio rentals.
AWARDS:
2 Exhibition Awards ($250 plus an exhibition in 2016)
2 Merit Awards ($250)
ELIGIBILITY
Open to all California, Oregon, Washington, Alaska, and Hawaii artists age 18 and older. All fine arts visual media will be considered. Artwork shown in prior juried exhibitions at Sanchez Art Center is not eligible. Work must be able to fit through a standard-sized door (80" x 35") and weigh less than 50 lbs. Framed 2D work must be wired (no sawtooth hangers). Alternative display methods may be used with the approval of Sanchez Art Center, and the artist must supply any special hardware. We reserve the right to refuse works not accurately represented by the digital images submitted.
ENTRY FEE
There is no limit on the number of images an artist may enter. The non-refundable fee for each image entered online (including detail shots if you feel these are important) is $15 (i.e., the fee is $30 for 2 images, $45 for 3, etc.). CaFETM accepts Visa and Mastercard. Checks should be made payable to and mailed to Sanchez Art Center.
SALES
Sales are encouraged. SAC retains a 30% commission on any works sold. Artists should include the 30% commission in the sales price. Sales tax will be administered by SAC.
SHIPPING & RETURN OF ACCEPTED ARTWORKS
Shipped work must arrive at SAC by 5 pm on Thursday, April 2. Artists are responsible for all shipping costs. Shipped work must be sent with a prepaid return shipping label inside the package. We will re-use your packaging to return works. Make sure your shipping company will pick up at Sanchez Art Center, as we cannot deliver packages to shippers.
LIABILITY
Sanchez Art Center carries art insurance for damage or theft, subject to a deductible of $500, for which the Art Center will not be liable. The artist must agree to accept the terms and conditions of the policy and to release Sanchez Art Center, its Board of Directors, staff, volunteers, and agents; the Art Guild of Pacifica; and the City of Pacifica from any further liability.
ARTIST COMMITMENT
By submitting your work for consideration, you agree that the work will be available during the exhibition dates listed in this prospectus/call for entries, and that you will deliver and pick up your work on the dates specified. Alternate work may not be substituted for work selected by the juror. You also grant the Art Center permission to use images of accepted works for public relations, marketing, and archival purposes.
IMPORTANT DATES & TIMES
TUES FEB 10, 11 pm PST - Entry Deadline
MON MAR 9 - Accepted artists notified by 5 pm
MON MAR 30, 5 pm - Deadline to change label information
THURS APR 2, 5 pm - Deadline to receive shipped work
THURS APR 2, 2–8 pm - Hand-deliver work
FRI APR 10, 7–9 pm - Opening reception
SUN APR 12, 3:30 pm - Juror's Talk
SUN MAY 17, 5–7 pm, MON MAY 18, 10 am–12 pm - Pick up work
All times are Pacific Standard Time.
Print this Page
View Legal Agreement