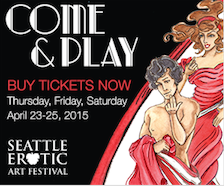 Seattle Erotic Art Festival: 2015 Call for Art
1608 15th Ave. W.
Seattle, WA 98119
Contact Email:
info@seattleerotic.org
Call Type:
Exhibitions
Eligibility:
International
State:
Washington
Event Dates:
4/23/15 - 4/25/15
Entry Deadline:
2/2/15
Application Closed
REQUIREMENTS:
Media
Images - Minimum: 1, Maximum: 6
Total Media - Minimum: 1, Maximum: 6
Entry Fee (Foundation for Sex Positive Culture): $32.00

Seattle Erotic Art Festival 2015 CALL FOR ART
Seeking Visual Art, Short Film, Literary Art, Installations, Store, and Performance
Seattle Erotic Art Festival is accepting art submissions January 1 through January 31, for the thirteenth annual Festival, to be held April 23-25 at the Seattle Center Exhibition Hall. All artists 18 and older, from anywhere in the world, are encouraged to submit art. Selected art will be featured throughout the event to thousands of patrons.
Artists must make their submissions between January 1 and January 31, 2015. The submission deadline is Saturday, January 31, 2015 at 11:00pm (PST). Artists may apply to as many Categories as they wish, though each Category has distinct requirements and may have submission fees. Early-bird (discounted) submission fees apply until Wednesday, January 7, 11pm PST. All artists outside of North America apply for free. All artists and models/actors depicted must be age 18 or older. Be sure to have all of your information entered on time and correctly as you will not be able to access your entry after you complete the submission.
Accepted Artists Receive:
– Featured at the 13th annual Seattle Erotic Art Festival.
– Full pass to the Festival for self (artist)
– Invitation to an exclusive Artist Reception for artist and a plus one
– Featured in professionally designed Festival catalog, both in print and PDF
– Promoted on Festival website
Declined Artists Receive:
-- A discount to use towards purchasing a Festival 2015 ticket in the amount of the single highest submission fee paid.
-- Inclusion in the Salon de Refusé slideshow (optional)
Categories:
Visual Art: On average the Festival sells more than 25% of exhibition art, has low submission fees, and competitive commission rates. Artists may submit up to six works of erotic art of any medium. Sculptors, multimedia artists and painters are particularly encouraged to apply. The 2015 jury consists of John Sisko, sculptor and owner of Sisko Gallery; Glenda Downs, Retail Curator of the Seattle Erotic Art Festival; Jeff Hedgepeth, sexuality activist; Larie Smoyer, art collector; and Michael Rosen, photographer and 2013 Master of Erotic Art.
Short Film/Video: For the fifth year, film will be a major attraction at the Festival, showcased on site in the Seattle Center's Exhibition Hall. Selected films will be screened during the weekend of the Festival to thousands of patrons. All filmmakers age 18 and older are encouraged to submit up to three films for consideration. All styles of film will be considered (animation, black & white, etc.). All body types, genders, ages, races, and sexual proclivities are encouraged. The jury will consist of a special review panel of filmmakers and film critics. This year's Film Program Director is Michael Henry.
Film Submission Guidelines: . Each submission may be up to 30 minutes in length, but will not be considered if it extends beyond 30 minutes. Filmmakers can submit their work either via web link or by snail mailing a the video file(s) on usb-drive or data-DVD. All film/video submissions should meet the following standards.
Resolution -- 1080p (1920px x 1080px) preferred; 720p (1280px x 720px) accepted; SD Content (480p or lower) is not accepted at this time.
Frame Rate -- 30fps maximum.
Video Codec -- VP8 (.webm or .mkv) preferred; H.264 AVC (.3gp or .mp4) accepted; MPEG-4 SP (.mp4) accepted; H.263 (.3gp or .mp4) accepted.
Films will be displayed in up to four ways:
Private Viewing Booth -- The festival will have 3 private viewing booths distributed at the festival. Each booth will be equipped with a 27in 1080p LCD/LED display, 4 pairs of stereo headphones (w/ independent volume control), 1 touch screen tablet for selecting and playing video and Bench Seating.
Projected on walls/screens at festival. Select films that can be shown without audio content will be projected on walls/screens around the art festival. (OPTIONAL - With artist permission only.)
Theater Projection -- We are tentatively organizing an erotic film showcase independent of the primary Seattle Erotic Art Festival, to be scheduled during a different time of the year. More information will be provided if this becomes a reality.
Sold in the Store -- All accepted films can optionally be sold in the SEAF store. Media (dvd, blu ray, etc) must be provided by the artist
Installation Art: Installation art is extremely popular at the Festival, and artists enjoy significant notoriety as a result of media and audience reviews. For the sixth year, the Festival is continuing to offer its grant for interactive visual artists. Selected artists may be granted up to $300 to create works of art that feature a participatory element and encourage the audience to become part of the art. Artists may submit up to three installation proposals. Installations are selected by a Festival Curatorial Team.
Literary Art: The Seattle Erotic Art Festival is proud to present featured literary work from short story authors, poets, and playwrights from all around the world! Created in 2009 to highlight writing and other literary works as an important expressive art form, and was the first of its kind at any erotic art festival. This year's jury selected literary works will be exhibited via intimate live readings, personal audio recordings to stimulate patrons aurally as part of an immersive environment, in addition to the coveted annual printed anthology. The anthology will remain available for purchase year-round. Artists may submit up to six pieces. The Literary Jurors are D. L. King, editor and blogger; Josef Abrams, author and Festival alumni; Mollie Howey; Drea Talley, author and Press and Social Media Director for the Seattle Erotic Art Festival; and A. Ellen Wahby, freelance poet.
Mediums of literary art:
– Poetry: All forms no more than 50 lines, single-spaced
– Prose, Point of View and Essay: Limit 500 words
– Short Stories: Limit 1,500 words
– Novella: Limit 30,000 words
--One Act plays or scripts: Up to 15 pages including scene setup
Store Art: The popular Festival Store is a museum-quality shop that features thousands of works of erotica selected to meet every budget and taste. The Store includes prints, small works, jewelry, cards, books, DVDs, collectibles, and more. Pieces are selected by the Retail Curator and Store founder, Glenda Downs.
Performance Art: The Festival showcases ambient performances throughout the space. Performers are encouraged to submit an application to create an original piece or adapt an existing piece of work, based on an aspect of the erotic. Performances are selected by international performing artist and co-producer of Sinner-Saint Burlesque, Jesse Belle-Jones. To submit your performance proposal, please email Performance@SeattleErotic.org directly.
For additional information about the Festival, please visit SeattleErotic.org or email info@SeattleErotic.org.
The Seattle Erotic Art Festival supports a vibrant creative community, promotes freedom of expression, and fosters sex positive culture through public celebration of the arts.
The Festival is the flagship program of the nonprofit Foundation for Sex Positive Culture, which promotes the many ways sex is beneficial through education, outreach, the arts, advocacy, and research programs that serve the public.

Print this Page
View Legal Agreement