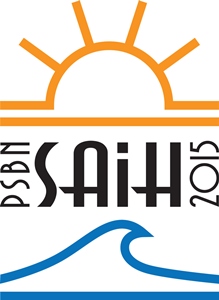 SAIH 2015 - Representational Art in the 21st Century
Art Department, University of Hawaii at Hilo
attn: Michael Marshall
200 West Kawili Street
Hilo, HI 96720-4091
Contact Email:
mdmarsha@hawaii.edu
Call Type:
Exhibitions
Eligibility:
International
State:
Hawaii
Entry Deadline:
5/12/15
Application Closed
REQUIREMENTS:
Media
Images - Minimum: 1, Maximum: 2
Total Media - Minimum: 1, Maximum: 2
Entry Fee (Pacific States Exhibition Series): $30.00

ABOUT THE EXHIBITION:
An international juried exhibition "Representational Art in the 21st Century" hosted in conjunction with the University of Hawaii Summer Art Institute - Hilo (SAiH 2015) program focus on Drawing. The exhibition welcomes original works on paper in new and traditional media that embody divergent responses to terrain and the figure, reflecting this moment in time.
http://hilo.hawaii.edu/~art/summer-art-institute/
ELIGIBILITY:
Open to all artists working on paper who are engaged with current approaches to representation. Work submitted for juror review must be recent; completed since July 2013
THE JUROR and notes regarding the show:
James Lancel McElhinney is a visual artist, writer, educator and oral historian who trained at Tyler, Skowhegan and Yale and has, at various times in his life, lived and taught in many parts of the Lower Forty-Eight States. His work has been featured in more than forty solo exhibitions from New England to Colorado and from Texas to Ireland. He presently teaches at the historic Art Students league of New York, where he is also Special Consultant for Academic Affairs and Outreach. He has published two books on drawing with Sterling Publishing. His third book is on painting, and due to be published by Ten Speed Press in 2016.
Shedding 20th century polemics of style, representational art today must seek more nimble points of departure in order to navigate the shifting currents of visual culture that would have seemed preposterous a few decades ago.
The resurgence of observational drawing has been led not by representational studio artist but by digital animators and game developers. Advancements in medical imaging also provide artists with updated technology for mining in the search of new forms and ideas. Performance Art recontextualized the body in relation to artistic practice, and thus exerted an indirect influence on traditional figuration. Landscape as a cultural construct has been re-envisioned by GPS and ground penetrating radar. Earth and Installation art proposed new ways of configuring and representing terrain. Metamodern, post-studio, post-art practitioners organize light, sound, mobility, storytelling and pictures into a kind of material virtuality; events and installations that parallel web surfing.
Digital resources have ignited a hunger for data, and at the same time a desire to transform it. Representational art is under pressure to absorb these changes, follow new vectors, or cling to a life raft of historical paradigms grounded in the primal physicality of the calligraphic mark.
Artists charting new territories, expanding the representational canon through the process of observation are encouraged to submit their work. This exhibition welcomes original works on paper in new and traditional media that embody divergent responses to terrain and the figure, reflecting this moment in time.
James Lancel McElhinney. New York. November 2014
AWARDS
$1500 available for awards
DATES:
May 12, 2015: Deadline to Enter
May 19, 2015: Jury Results Announced via Email
June 12, 2015: Selected Works Due in Hilo
July 1, 2015: Exhibition Opens at the Wailo Center, Hilo, HI
July 10, 2015: "First Friday" Public Reception (delay due to 4th July State Holiday schedule)
July 30, 2015: Exhibition Closes
August 10, 2015: Return Ship By Date
SPECIFICATIONS:
Recent original works on paper that bear evidence of the hand. Eligible works include drawings, paintings and prints on paper. No photographs. No Giclee (or other such) reproductions. No 100% digital work. Hybrid digital-traditional media combinations that reflect evidence of the hand, are acceptable. Maximum outside dimension for all submitted work must not exceed 30" x 40". Selection will be based on juror review of jpeg image(s) that have been prepped and submitted following CaFE entry media specifications. No original work should be sent until requested. Work submitted following juror selection must correspond to the CaFE entry for SAiH 2015. Work that does not correspond to the accepted online entry will not be included in the exhibition.
Accepted work should be sent without mat or frame in a reusable mailing tube or flat package and sent to arrive by the June 12, 2015 deadline.
The exhibition will mat and frame all accepted works for presentation at the Wailoa Center, Hilo, HI. All work in the exhibition must be available for the duration of the exhibition. Artists selected for the show implicitly agree to the rules and specifications of SAiH 2015.
ENTRY FEE:
$30.00. Entry fee entiles artist to submit a total of two (2) images.
Credit card payment accepted with CaFE registration online. Entry fee payments must be received by May 12, 2015
SHIPPING TO THE EXHIBITION:
Shipping via U.S. Post Office Priority Mail is recommended for artists entering from the United States. Containers should be sturdy and conform to postal regulations. Accepted work must be sent without mat or frame in a reusable mailing tube or flat package and arrive by the accepted work deadline June 12, 2015.
ACCEPTED WORK DEADLINE:
All accepted work must be received by June 12, 2015
SHIP TO ADDRESS:
SAiH 2015
attn: Michael Marshall
University of Hawai'i at Hilo, Art Dept.
200 West Kawili Street
Hilo, HI 96720-4091
Direct email inquiries to: mdmarsha@hawaii.edu
RETURN SHIPPING:
The exhibition will cover the cost of return shipping for domestic participants (via USPS) and international entries via the most economical route.
RETURN WORK PROTOCOL:
Work will be returned without mat and frame in the same container used to send the work via U.S. Priority Mail or through an appropriate international carrier. Please allow 6-8 weeks for the return of work. International work may take longer to arrive.
CATALOGUE:
An on-line catalogue of the exhibition will be published. The University of Hawai'i reserves the right to use digital images submitted with registration for the catalogue and for publicity purposes.
Print this Page
View Legal Agreement