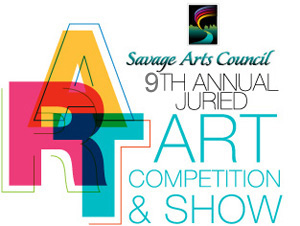 2015 Juried Art Competition and Show
Contact Email:
info@savageartscouncil.org
Call Type:
Competitions
Eligibility:
Regional
State:
Minnesota
Entry Deadline:
4/11/15
Application Closed
REQUIREMENTS:
Media
Images - Minimum: 1, Maximum: 2
Total Media - Minimum: 1, Maximum: 2
Entry Fee (Entry fee for entering one piece of artwork): $18.00
Entry Fee (It is $30 total for 2 pieces. If you have entered a 2nd piece after 4/9/15, choose the $12 media fee for your second entry fee, not the $30 fee, as Cafe is experiencing a glitch with this fee and it cannot be deleted. Sorry for the confusion! Call Tracey at 612-554-5054 if you have questions. ): $30.00
Admin (OPTIONAL- annual membership fee - if purchasing membership-click recalculate and apply $5 coupon code of 2015SAC): $20.00

Media Fee (per sample over minimum):$12.00

General Schedule of Events:
• Online Applications Accepted March 13th, 2016 to May 21st, 2016
• Artists Notified of Acceptance: may 28th, 2016 via email
• Drop off of All Accepted Entries: June 2nd and 3rd, 2016 3 pm – 7 pm
• Awards & Reception at CherryPointe Senior Living Facility in Savage: Sunday, June 5th, 2:00-3:00 pm ( CherryPointe is located just behind the Savage Public Library in Savage)
• Show opens to the public at the display venues on Wednesday, June 8th, 2016. Artwork will be on display at 6 community locations: Savage Public Library, Savage City Hall, Cub Foods, Klein Bank, Dunn Bros, Cal's Market, and Cherrywood Pointe
•
Artwork Pick
Up
Savage Arts and Cultural Center, Savage Public Library, Savage: July 7th & 8th, 2016 3 – 7 pm*
*Savage Arts Council and CherryPointe will not be responsible for the safety of artwork not picked up. A late fee of $10 per day will be charged for each artwork not picked up during the designated time.
Event Contact Information:
Savage Arts Council
952-388-7730
Website: www.SavageArtsCouncil.org
Email: savageartscouncil@gmail.com
Categories:
Special Note for this year: Categories are organized differently. Instead of the artwork being categorized by type of medium ( ie photography, oil painting, 3 dimensional, etc.) they will be separated by the topic/content of the artwork. The four categories are:
Abstractions (non-representational including non-objective),
Man-Made World (includes all man-made objects--actual or as an image),
Human Condition (includes interaction, portraiture, figure, body forms and any scene or event connected with human activity),
Natural World (includes natural environments, geographical subjects, natural objects, and all animals—domestic or wild).
*Savage Arts Council, the contest chairperson and /or judges reserves the right to consolidate or eliminate categories based on participation and to change categories depending on the content of the artwork.
Awards – Total Prizes: $1,500
• AWARD OF EXCELLENCE: One per category $150
• AWARD OF MERIT: One per category $100
• HONORABLE MENTION: One per category $25
• Best of Show: One award $175
• Community Choice Award: One award $125
Eligibility:
This is a juried show open to all
Minnesota
amateur and professional artists. Each artist may submit one or two pieces. Not all works entered will be accepted by the jury into the show.
Requirements:
• Artwork must be original art and appropriate for public (family-friendly) venues due to display in public/community locations.
• Copies of other artists' work will not be accepted, nor will copies of published photos or work from photos not taken by artist.
• Artwork must be completed within the
last three years
, and not done in a workshop, class nor under supervision of an instructor.
• Artwork must not have been previously entered in a Savage Arts Council competition.
• All artwork for show consideration must be entered online at Café.org
https://www.callforentry.org
. Deadline for entry is May 21st, 2016. There will be no late entries accepted.
• All accepted artwork must be labeled on the back with the artist's name, phone number, email address, work title, category entered and price. Labels can be downloaded and printed from the Savage Arts Council website.
2D Artwork Matting and Framing Requirements:
• Frames must be sturdy and must have hanging wire mounted no more than 1/4 the way down from the top of the frame. No saw-tooth hanging hardware will be accepted.
• Maximum size is 36" by 36" or 72" total (H+W). Frame NOT included in this measurement.
• Frame sizes exceeding 54" total (H+W) must use Plexiglas not glass.
• Recommended: Rubber pads on bottom corners.
• SAC reserves the right to reject any artwork because of unsuitable framing or inappropriate subject matter for a public (family-friendly) venue.
3D Artwork Requirements:
• Maximum size must fit through a standard 32" door and max height of 3 feet high.
• Must be able to be displayed on the floor, on a pedestal or in a showcase. No hanging 3D art accepted.
• Artists are required to bring their own pedestal or display system to display their work, unless the artwork is smaller than 14" x 14".
• The Savage Arts Council cannot guarantee special lighting or electric will be available for judging or display.
Entry Information & Fees:
• The application fee for all artists is $18 for one entry, $30 for two entries.
• If entering two pieces into show, both pieces must entered at the same time during the online application process.
• Artists are responsible for personally delivering and insuring artwork accepted into the competition and show by the jury. Personally delivered artwork will be received at Cherrywood Pointe in Savage ( just behind the Savage Public Library, during the check-in time mentioned.
• All application fees are nonrefundable.
About Savage Arts Council:
The Savage Arts Council, a nonprofit organization, consists of a diverse group of people, all volunteers, who are interested in promoting the Arts in Savage and our surrounding communities. The Savage Arts Council is committed to organizing and promoting artistic projects and events within the City of Savage and surrounding communities, and to providing regional leadership in the Arts. For ten years, we have been bringing the Arts to the greater Savage and Scott County communities. The funds earned from this event enable us to produce the show and work towards our goal of promoting the Arts in our community. Please visit us at http://www.savageartscouncil.org.
Acknowledgment
This activity is made possible, in part, by the Minnesota Arts and Cultural Heritage Fund as appropriated by the Minnesota State Legislature with money from the vote of the people of Minnesota on November 4, 2008.
Print this Page
View Legal Agreement