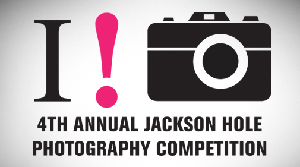 4th Annual Jackson Hole Photography Competition
Contact Email:
thomas@artassociation.org
Call Type:
Photography
Eligibility:
International
State:
Wyoming
Event Dates:
4/17/15 - 5/22/15
Entry Deadline:
4/3/15
Application Closed
REQUIREMENTS:
Media
Images - Minimum: 1, Maximum: 4
Total Media - Minimum: 1, Maximum: 4
Entry Fee (Art Association of Jackson Hole): $35.00

April 17th - May 22nd 2015
4th Annual Jackson Hole Photography Competition
Art Association Gallery of Jackson Hole
Opening April 17th, 2015 the Art Association will host the fourth annual photography competition to showcase new and exciting photography in the Art Association Gallery of the Center for the Arts in Jackson Hole, Wyoming.
This year's opening reception will showcase photography from four categories - 1. Wildlife/Animal 2. Outdoor Life/Sports 3. Portrait/Figure 4. Experimental/Abstract. The jury is comprised of Internationally renown photographers:
Ramak Fazel
,
Karolina Karlic
, &
Tom Mangelsen
.
Share your portrait, still life or landscape interpreting the themes: (i) Wildlife/Animal Photography, (ii) Outdoor Life/Sports Photography, (iii) Portrait/Figure Photography (iv) Experimental/Abstract Photography.
Photographs must be in digital format. The photograph need not be taken with a digital camera; scans of negatives, transparencies, or photographic prints are acceptable. Digitally created images are also acceptable.
Portfolio image submissions are limited to 1920 pixels (on the longest side) and up to 5mb
If your submission is selected for the exhibition you will be contacted and required to online submit a larger "printable file" directly to the Art Association of Jackson Hole. Notification will be by April 10th. If your photograph is selected you will be asked to send a larger file for print by April 13th. All "printable" digital files must be 20 megabytes or smaller, must be in JPEG or JPG format, and must be at least a variation of 3750 x 2500 pixels at 300 dpi.
Photographs must have been taken within two (2) years before the date of entry and may not previously been entered into the Jackson Hole Photography Competition.
The photograph, in its entirety, must be a single work of original material taken by the Contest entrant. By entering the Contest, entrant represents, acknowledges, and warrants that the submitted photograph is an original work created solely by the entrant, that the photograph does not infringe on the copyrights, trademarks, moral rights, rights of privacy/publicity or intellectual property rights of any person or entity, and that no other party has any right, title, claim, or interest in the photograph.
The photograph must not contain obscene, provocative, defamatory, sexually explicit, or otherwise objectionable or inappropriate content.
Watermarks are not acceptable.
Photography Department Manager and Gallery Director Thomas Macker will ensure that all images will be reviewed anonymously.

20

photographs will be selected for each of the

4

categories. Anyone can qualify for every category.

80

photographs will be hung in the Art Association gallery on the opening night. If your image is selected, the Art Association will print an archival inkjet print from a file you provide after jury selection, which will be matted and framed for the exhibition. Each entry is based on a category with the opportunity to have

4

photographs selected by the jury and printed. Selected photographers will be revealed the night of the opening at the opening reception and online.
Submission Details
$35.00 SUBMISSION FEE QUALIFIES THE ARTIST FOR ALL FOUR SUBMISSION OPPORTUNITIES
What does your fee get you?
a.)
3
cash prize opportunities!
b.) Archival inkjet print(s) of selected image(s) if chosen for the exhibition.
c.) The opportunity to have your work seen by a panel of esteemed professional photographers.
d.) Great outlet for selling your photography.
e.) Art Association membership
benefits
f.) Membership in the
Teton Photography Group
AWARDS
Three awards are given for the overall competition, encompassing all 4 categories. Awards will be made public the night of the opening.
1st Place - $600 Cash
2nd Place - $400 Cash
3rd Place - $200 Cash
---------------------------
Jury Bios:
Ramak Fazel: After earning a degree in Mechanical Engineering from Purdue University, Ramak Fazel began an immersive study of photography and graphic design in New York City. His developing professional practice took him to Milan, Italy, where from 1994 through 2009 he lived and worked as a photographer. Through a series of personal displacements and migrations, Ramak developed an acute sense of cultural fluidity while his interest in observation continued to impact his artistic practice. Born in Iran and raised in Fort Wayne, Indiana, his youth simultaneously embodies and subverts the ideal of the American Midwest. Fazel's personal projects and artistic practice address his interest in the affects of geographic displacement and the inherent contradictions of cultural identity. In a series of photographic portraits, Fazel has examined the idea of the individual as a reflection of place and an expression of influences, seeking to undermine rigid constructs and locate what is common in the conditions of diverse individuals. Ramak completed his M.F.A at Cal Arts. He currently lives and works in Los Angeles, California. In 2008, Ramak exhibited his project "49 Capitols," a photographic essay on his trip through 49 U.S. State Capitols, at Storefront for Art and Architecture in New York City. Along with photographs of the journey, the project provides a narrative of the search of an increasingly complicated idea of American identity. An installation of his ongoing project "The Business of People" was on exhibition at the Monditalia Section at the 14th International Architecture Exhibition la Biennale di Venezia in 2014. Ramak Fazel explores the affect of geographic displacement and inherent contradictions of cultural identity. Working within, around and sometimes against the traditions of photography and installation, he has examined the idea of the individual as a reflection of place and an expression of influences.
Karolina Karlic: Karlic is a recipient of the 2011 - 2012 John Simon Guggenheim Memorial Foundation Fellowship in Photography, which supports her investigations in diasporic existence and the human condition, more specifically surrounding Brazil's rubber industry and Henry Ford's influence on the industrial and agricultural landscape. She holds a MFA in Photography and Integrated Media from the California Institute of Arts and a BFA in Photography from the Minneapolis College of Art and Design. Karolina Karlic is a Los Angeles-based photographer, born in Wroclaw, Poland. Karlic's work is invested in the representation of American culture and diasporic existence surrounding industry. In search of the American dream, her family immigrated to Detroit in 1987 when her father fled communist Poland to find work in the U.S. auto industry. As the stock of Ford, General Motors and Daimler Chrysler's North American operations eventually crumbled, Karlic's work continues to focus on labor, immigration, outsourcing and diaspora. From this uprooted childhood, her practice concentrates on the human effects of social upheaval: Close to Home (2005) focuses on Ukraine's post-Soviet conditions; The Dee (2007) depicts Detroit's de-industrialization; Dear Diary (2008) explores one online community searching for companionship; RE:What Color is the Sacred (2009), sponsored by Tim Wride and the French Consulate, examines Western views of French Polynesia and the "re-birth" of Tahitian culture. Aberdeen Sierra Leone (2011) portrays a group of progressive post-war adolescent males in West Africa. Rockin' the Backen (2012) documents a modern day boomtown of North Dakota, USA. Most recently, her new work Rubberlands (2014) weaves together research materials from the Henry Ford archives, fieldwork in Brazil's rubber plantations and the history of Henry Ford's forgotten jungle city – Fordlandia, in the Amazon. She has self produced multiple artist books, The Dee (2006), which is a collection of images depicting the City of Detroit, and ELEMENTARZ (2010), which uses the auto industry in Detroit (stretched across the US) and over to Eastern Europe as a framework to discuss current issues in America. It is a story told through a father daughter relationship, doubling on what evolves and shifts between them both. A self-published limited edition of PRIMER (printed 2014) is conceived as a single cohering essay, albeit quite deliberately departing in its ending from the standard, sometime monotonous, road trip. In this 2014 edition, the afterword essay, "Bread and Roses" by Sally Stein (who also excerpts a passage from her late husband, Allan Sekula, Karlic's late mentor), writes about the the car-culture oriented road trip that in this case extends over two continents back home to an émigré, automotive engineer father's backyard in Detroit. She was a participant in Center 2007, awarded the Minnesota State Arts Board Initiative Grant 2008, a participant in ATOUT France, collaboration with curator Tim Wride and the French Consulate of Los Angeles 2010. She was awarded the International Photography Award IPA 2011 by the Lucie Foundation in the field of Industrial Photography. She was awarded artist in residence at Light Work in 2013 and the Cultural Exchange International Fellowship through the Los Angeles Department of Cultural Affairs & the Sacatar Foundation in 2013. Her series: The Dee, Close to Home, Primer/Elementarz, Rubberlands have been exhibited nationally at galleries including Franklin Art Works, Minneapolis College of Art and Deisgn, Intermedia Arts, Independent Feature Project in Minneapolis; Wall Space of Seattle, Atmosphere Group in Chicago; Louis Stern Fine Arts, and Stephen Cohen Gallery in Los Angeles; The Art of Photography Show 2011 at the Museum of Photographic Arts of San Diego; The Consulate of France in Los Angeles, NYC, and New Orleans. In 2010 her film "This Part of the Legend of a Dream" screened at REDCAT, the Roy and Edna Disney/CalArts Theater in Los Angeles.
Tom Mangelsen: Thomas D. Mangelsen has long been recognized as one of the world's premier nature photographers. Mangelsen's limited edition prints have been collected by more people worldwide than any living nature photographer. Not only an artist but also a conservationist, he was recently named Conservation Photographer of the Year by Nature's Best Photography. Mangelsen's images are known for their exquisite composition, light, and animal behavior as well as illustrating a strong sense of place. Sensitivity to his subjects and a deep reverence for their surroundings is a defining mark of Mangelsen's work. In 2006, Tom was chosen as one of Jane Goodall's Heroes of the Animal Planet and profiled in the television series of the same name. During his 40 years of image making, he has been profiled on CNN, National Geographic, NBC's "The Today Show," as well as many other television programs. Mangelsen has been recognized as Wildlife Photographer of the Year by BBC Wildlife, as well as Outstanding Nature Photographer of the Year by the North American Nature Photographer Association and named one of the "100 Most Important People in Photography" by American Photo Magazine. In 2002 he received an Honorary Fellowship from the Royal Photographic Society. Tom's outdoor ethics are deeply rooted in a childhood filled with adventure along the Platte River in Nebraska where he gained a passion for the wild that launched a lifetime commitment to the natural world.
Print this Page
View Legal Agreement