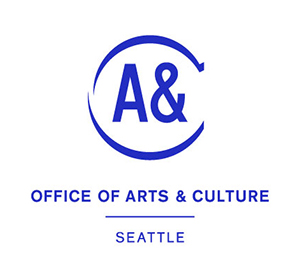 City of Seattle: Public Art Boot Camp Training
Contact Email:
Marcia.iwasaki@seattle.gov or Elisheba.johnson@seattle.gov
Call Type:
Public Art
Eligibility:
Regional
State:
Washington
Entry Deadline:
4/13/15
Application Closed
REQUIREMENTS:
Media Images:8


INTRODUCTION
The Office of Arts & Culture's public art program has been activating the public realm for over 40 years. The Office of Arts & Culture is invested in training the next generation of public artists, who can create culturally relevant artworks that represent the diverse population of the city of Seattle. Our office is offering a FREE two-day intensive basic training overview to artists who are ready to translate their exhibition experience to the public realm. This is a competitive process so artists must apply to be considered. Up to 30 artists will be selected to participate in the Public Art Boot Camp.
Public Art Boot Camp
There will be two workshops (for a total of 16 hours of training) held on
Saturday, May 9th and
Saturday
May 16th, 2015
. The workshops will be held at the
Experience Music Project
(EMP) at the Seattle Center, 9 a.m. – 5 p.m.
Expect homework
to create a temporary artwork proposal in the week between May 9 and 16, as part of the course work.
Workshops will be presented by a combination of public art administrators with presentation highlights from experienced public artists. While all the details of the workshops have not been established, in general they will cover:
Public art opportunities – temporary, permanent, portable works and more
Work samples, images, letters
Selection processes
Finalist: Now what?
Work with architects, design professionals, city staff and community members
Sample contracts proposals, budgets, materials, timelines
Public presentations, reviews, approvals or not, then what?
Fabrication and installation
Dedications and closing out
Opportunity
Artists who are selected for and complete the two-day Public Art Boot Camp will be eligible to apply for an opportunity to create a temporary artwork in one of two sites later this summer at either the Seattle Center campus or the Central Area. To qualify for eligibility, you must attend both sessions. You will need to prepare a project proposal for a temporary artwork (between May 9 and May 16) as part of coursework.
Your proposal will be reviewed and critiqued by arts agency staff, providing you with feedback.
Eligibility
Public Art Boot Camp is open to artists living in Washington State. Any artist who has not received a temporary or permanent public art commission (an artwork that is created by an artist at the request of an entity: public agency, corporation, or individual), can apply for the two-day training. Applicants should have an interest in exploring the presentation of their work in public settings and an interest in community-building or enhancing the built environment. Applicants should also be committed to learning how to maintain artistic creativity and vision while attending to the demands of the public process. Priority will be given to emerging artists, artists from historically under-represented communities and communities of color. Applicants are
not eligible
if they have already had a temporary or permanently sited public art commission or a private commission on public property, as we're encouraging artists new to the public art field.
Selection
Artists will be selected by a panel of Office of Arts & Culture staff on the strength of submitted work samples and a written letter of interest. Selected artists will be notified by April 24th.
APPLICAITON DEADLINE
11:00pm,
Monday, April 13, 2015. (Pacific Standard Time)
Applications submitted after deadline will not be reviewed.
application requirements
Résumé – 1-2 page limit
Letter of Interest – (not to exceed 2,000 characters) the letter could explain why you are interested and/or ready to see what is involved to be able to create your artwork for the public realm. A well thought out letter takes time and it's an important document for criteria consideration into the program.
Maximum of 8 images of past work (some images may be details but no compilations of multiple pictures on one image, please).
Image Identification List (not to exceed 500 characters for each image). Explain clearly. If you completed a project as a team member, the image identification should indicate your role for each image submitted. Do not omit the Image Identification List or your application will be incomplete.
SELECTION CRITERIA
The Office of Arts & Culture is committed to reflecting the diversity and cultural richness of our city in the selection of artists and artworks.
Artists will be selected on the basis of the following criteria:
strength and artistic vision of past artworks
creativity of approach
letter of interest comments
resume
ability to work as a team member
experience working in a community setting
experience with previous art exhibitions or projects
references
SELECTION PROCESS
The selection will take place on one day. A panel of agency staff will review the applicants' images, resume, and letter of interest. The panelists will select up to 30 artists to participate in the Public Art Boot Camp.
We're here to help
Talk with the Program Staff. Discuss questions or concerns. Get Started NOW! It is fine to call before you have the application written.

The earlier you contact the project manager the better. Do not wait until the Deadline Day!
Marcia Iwasaki at (206) 233-3946,
marcia.iwasaki@seattle.gov
Office Hours: Monday – Thursday, 9:00 a.m. – 5:00 p.m.
or
Elisheba Johnson at (206) 684-0182,
Elisheba.johnson@seattle.gov
Office Hours: Monday – Friday, 9:00 a.m. – 5:00 p.m.
GETTING HELP WITH YOUR APPLICATION
Technical Assistance with Café? - contact CaFE
at (888) 562-7232 or
cafe@westaf.org
, Monday-Friday, 7:30 a.m. to 4:00 p.m. Pacific Standard Time.
Attend the Boot Camp Application Workshop (optional)
We strongly encourage you to attend the workshop
,
especially if you are a first-time applicant.
ARTS staff will share more information about the Boot Camp plans. We will review steps of the CaFE application.
Monday, March 30, 2015 from 6:00 p.m. - 8:00 p.m.
Garfield Community Center
- Arts & Crafts Room
2323 East Cherry Street
Seattle, Washington 98122
Print this Page
View Legal Agreement