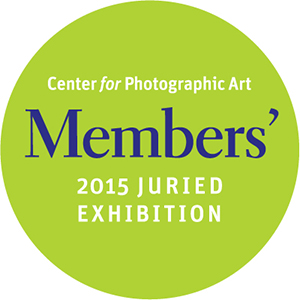 Center for Photographic Art 2015 MJE
Contact Email:
info@photography.org
Call Type:
Photography
Eligibility:
International
State:
California
Entry Deadline:
5/27/15
Application Closed
REQUIREMENTS:
Media
Images - Minimum: 1, Maximum: 10
Total Media - Minimum: 1, Maximum: 10
Entry Fee (Center for Photographic Art): $65.00

Media Fee (per sample over minimum):$10.00

2015 CPA Members' Juried Exhibition
n
n
SUBMITTING YOUR WORK
n
n
Eligibility
nThe exhibition is open to all current CPA Members working in all still photographic media. There is no theme; any subject matter is eligible. You must be a current member of CPA in good standing to enter the 2015 Members' Juried Exhibition. OR you may choose to join and enter as a new member at the same time simply by paying the 65.00 entry fee which includes entry and membership.
n
n
Preparing Your Images for Submission
nPrior to entering, please prepare your image files per the follow specifications:
n
nImage files should be 1920 pixels on the long dimension @ 72 ppi. Adobe RGB 1998. 5MB maximum per image.
n1. Prepare your image files to above specs.
n2. If you do not have a café account, establish a personal account:
https://www.callforentry.org/faq.phtml
n3. Upload your image files to your account.
n4. Enter.
n
n
Entry Fees
nNo more than a total of 10 images may be submitted. If you are already a CPA member, use the member's discount coupon to receive the member's rate.
n
n$65 for the first image. $10.00 for each additional image.
n
n
Jurying and Exhibition
nThe Center for Photographic Art (CPA) is pleased to announce the 2015 CPA Members' Juried Exhibition. Images selected by the juror will be exhibited in the CPA gallery at the Sunset Center in Carmel, CA. Selected entries will be featured in the 2015 Members' Exhibition catalog.
n
nNon-thematic; any subject matter is eligible.
n
n
Artists Selected for Exhibition
nFor accepted work, prints must arrive at CPA on or before July 17, 2015. While your work is in our possession, we will insure it for replacement cost (i.e. the value of the materials and services necessary to create a replacement copy.) Our liability for loss, damage or theft is limited to replacement cost of materials.
n
n
Preparing your image for exhibition
nWe require ready-to-hang artwork, with the long dimension no larger than 30 inches. Frames can be wooden or metal. In either case, the profile must be rectangular, the finish must be matte black, and the width of the molding as viewed from the front must be between 1/2 and 3⁄4 inches.
n
nSample frame types can be seen at:
n
n
http://www.studiomoulding.com/product_product.php?id=1209&cl=111
nAND
n
http://www.framesbymail.com/custom/38-26/Metal
#
n
nThe frames must be glazed with acrylic;
no glass
. The images should be matted with white mats.
All artwork for display in the gallery must be framed
. Unframed work will not be displayed. There are no exceptions granted for the framing requirements.
nYour finished piece must weigh less than 10 pounds, and include installed hanging hardware.
n
n
Prints that do not meet our requirements, arrive damaged, cannot be hung properly, or are deemed by the juror to be of poor quality will be not be exhibited.
n
n
Delivery of Art
nIf you drop off and pick up your work yourself, you may do so at the CPA Gallery from Noon to 4:00 pm, Wednesdays, Thursdays, or Fridays. If you ship your work please use sturdy, reusable packaging --
we will use the same packaging to ship it back to you.
Reusable fiberboard containers are preferred. If you don't use shipping cases, you may use cardboard and Masonite to protect your work in shipment. Please use bubble wrap or cardboard for shock protection. No Styrofoam peanuts or similar loose packaging material.
n
n
You must include a return shipping label and a check to cover return shipping
, and insurance if desired. Specify value for insurance purposes if you want us to insure the work during the return shipment.
n
n
Delivery of Work
nAccepted work must arrive at the Center for Photographic Art by July 17, 2015.
n
nWe recommend that you use Federal Express or UPS for shipping.
nOur shipping address for those carriers is:
n
n
Center for Photographic Art
nSunset Center
nSan Carlos Street at 9th Avenue
nCarmel, CA, 93921
n
(831) 625-5181
n
n
Jurying period
nMay 28 to June 16.
n
n
Juror
nRichard Gadd, Director, Weston Gallery, Carmel, CA
n
n
Deadline for Submissions
nWednesday May 27, 2015. 11:00 pm PDT
n
n
Artist notification date
nJune 17, 2015
n
n
Center for Photographic Art
n
www.photography.org
nCenter for photographic Art is a 501(c)3 non-profit corporation.
n
n
JOIN CPA! MEMBERS RECEIVE DISCOUNTS ON EVENTS.
n
Print this Page
View Legal Agreement