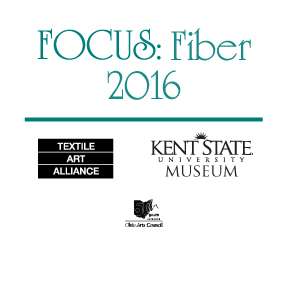 Focus: Fiber 2016
TAA Focus: Fiber 2016
216 University Ave.
Elyria, OH 44035
Contact Email:
tip060@windstream.net
Call Type:
Competitions
Eligibility:
National
State:
Ohio
Event Dates:
2/12/16 - 7/3/16
Entry Deadline:
9/2/15
Application Closed
REQUIREMENTS:
Media
Images - Minimum: 2, Maximum: 6
Total Media - Minimum: 2, Maximum: 6
Entry Fee (Focus: Fiber 2016): $45.00

Textile Art Alliance of the Cleveland Museum of Art and Kent State University Museum Present
Focus: Fiber 2016, A National Contemporary Fiber Art Show,
February 12, 2016 – July 3, 2016
Kent State University Museum
Stager and Blum Galleries
Kent, Ohio
Juror: Jane Sauer
Over $2000 in Awards and Prizes
www.taacleveland.org
The exhibition is co-sponsored by the Textile Art Alliance of the Cleveland Museum of Art and the Kent State University Museum.
The Textile Art Alliance (TAA) is an affiliate group of the Cleveland Museum of Art. Its mission is to increase appreciation of the textile arts through lectures, workshops, and exhibitions, and to enlarge the textile collection of the Cleveland Museum of Art.
Eligibility
Open to all artists who live in the U.S.A. All work must be either fiber in content or executed in a fiber technique.
Innovative two- and three-dimensional fiber art is encouraged. Individual and collaborative entries are invited. Each entry must be an original work completed after June 2013. Work produced in a classroom or under instruction is not eligible.
Juror
Fiber artist and sculptor Jane Sauer earned her BFA at Washington University in St. Louis in 1959. She focused primarily on painting in the early part of her career. The work of the feminist fiber artists of the 1970s inspired Sauer to experiment with textiles. She returned to Washington University, this time to the School of Architecture, where she studied design from 1976-1978. She soon perfected her basketry technique, which she continues to practice and teach today.
Sauer's woven sculptures often consist of pairs or small groups and explore human relationships, particularly those in her own life. Her list of honors includes two NEA grants and taking first place at the Fourth International Exhibit of Miniature Textiles at the British Crafts Centre in London. Her work is in the permanent collections of the American Craft Museum in New York, the Detroit Institute of Art, the Philadelphia Museum of Art, and Wadsworth Athenaeum in Hartford, Connecticut Jane was the former owner of Jane Sauer Gallery, Santa Fe, New Mexico.
Entry Package
Entry can be made online at CAfé www.callforentry.org. Up to three works may be entered. The entry fee is $35 for TAA members and $45 for non-members. Entries are due by August 30, 2015.
Image Requirements
Take high-quality photographs of the work on a neutral background. Include one full front view and one close-up view, showing detail of the work. If the submission is three-dimensional, include one additional view. Images must be in JPEG format.
up to 5MB with a minimum of 1920 pixels on the longest side. File resolution should be 72ppi/dpi (standard web resolution).
Jurying
The juror, Jane Sauer, will independently screen all images and select works for the exhibition.
Notification of Acceptance
Artists whose work has been selected for exhibition will be notified by October 8, 2015. Artist's acceptance package must be
returned
by November 15, 2015 to Joanne Fenn, jfenn1@kent.edu, Kent State University Museum, 515 Hilltop Dr, Kent, OH 44242. Work that has been misrepresented by the submitted digital image or does not conform to exhibit requirements as stated on the entry application will not be accepted into the exhibit and will be returned. TAA and Kent State University Museum reserve the right to return work that cannot properly be displayed or differs from submitted entry material.
Contract
By signing the entry form, entrants agree to: be photographed, have their artwork photographed, and permit the images, details of images, and all or part of the artist's statement/bio to be used in the exhibit catalog, media support, and outreach materials. (Note: If images were photographed by someone other than the artist, photographer's name must be included for credit.)
Submission to Focus Fiber 2016 requires that the artwork will be available for the exhibition and that the artist understands that all accepted work must remain for the duration of the exhibition. Work must be ready for installation, including appropriate hanging devices, velcro is preferred but not mandatory. Artists should provide written installation instructions. Appropriate packing materials, including a sturdy container, must be provided for return to the artist.
Shipping costs to and from Kent are the responsibility of the artist.
Liability
The Kent State University Museum will insure the work for 60% of its fair market value while the work is under its care.
Sale of work
Sales will be handled privately by the artist. Please include email and/or website information for the catalog so potential buyers can contact you.
Catalog
A full-color exhibition catalog will be produced. Upon acceptance artists will asked to provide a hi res (300dpi) 8 x 10 digital photo by email.
Calendar
August 30 2015: Entries must be posted by 11:59pm Mountain Time Zone
October 8, 2015: Initial notification will be emailed;
acceptance package for accepted entries will follow
November 15, 2015: Acceptance package due from artists to Joanne Fenn, jfenn1@kent.edu, Kent State University Museum, 515 Hilltop Dr, Kent, OH 44242.
January 5 -15, 2016: Accepted works due at Kent State University Museum. Artist will need to contact Joanne Fenn at 330-672-0305 or jfenn1@kent.edu) in order to schedule a time for delivery. Artists may schedule delivery Monday through Friday between 9am-4pm, however, arrangements must be made prior to delivery. Kent State University Museum, 515 Hilltop Dr, Kent, OH 44242
February 12: Exhibition opens.
July 3, 2016: Exhibition closes.
Exhibition Information: Mary Ann Tipple, 440-327-8087 tip060@windstream.net
TAA Membership Information: Misty Mullin, 216-707-2669, mmullin@clevelandart.org
Print this Page
View Legal Agreement