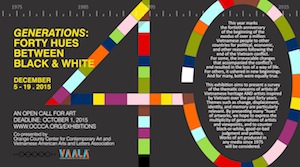 Generations: 40 Hues Between Black and White (Open Call from OCCCA)
OCCCA
117 North Sycamore
Santa Ana, Ca. 97021
Contact Email:
info.occca@gmail.com
Call Type:
Exhibitions
Eligibility:
International
State:
California
Entry Deadline:
10/31/15
Application Closed
REQUIREMENTS:
Media
Images - Minimum: 1, Maximum: 20
Video - Minimum: 0, Maximum: 3
Total Media - Minimum: 1, Maximum: 20
Entry Fee (Generations: 40 Hues Between Black and White): $15.00

Media Fee (per sample over minimum):$15.00

Deadline to enter: October 31, 2015
Entry Fee
: $15 per piece 20 piece maximum
Exhibition Dates
: December 5 - 19, 2015
About the theme:
This year marks the fortieth anniversary of the beginning of the exodus of over a million Vietnamese people to other countries for political, economic, and other reasons following the end of the Vietnam conflict. For some, the irrevocable changes that accompanied the conflict's end resulted in the loss of a way of life. For others, it ushered in new beginnings. And for many, both were equally true.
This exhibition aims to present a survey of the thematic concerns of artists of Vietnamese heritage AND artists inspired by Vietnam over the past forty years. Themes such as change, displacement, identity, and memory are particularly relevant. By presenting many "hues" of artworks, we hope to express the multiplicity of generations of artists and viewpoints, and to counter black-or-white, good-or-bad judgment and politics. Works of art produced in any media since 1975 will be considered.
All Media will be considered.
Accepted video work should be submitted on a self playing and looping DVD disk. Venues have Limited amount of Video monitors and DVD devices, Artist may need to provide their own equipment. Any special equipment must be supplied by the artist.
Open internationally
Open to artists from every country.
All shipping costs are paid for by the artist, both to and from the gallery. No exceptions
, the venues do not have funds for shipping of accepted artwork.
Entry fee is non-refundable
, and does not guarantee acceptance.
Entry fee proceeds go towards offseeting costs for this exhibition, and for future programing to both of the non-profit venues.
Note
this exhibition is held simultaneously at the two venues, your work will be displayed in one of the venues based on the curators discretion, and size of the work.
Curated By: Dinh Q. Lê and Stephen Anderson
Dinh Q. Lê
was born in Ha-Tien, Vietnam in 1968. He received his BA in Art studio at UC Santa Barbara and his MFA in Photography and Related Media at The School of Visual Arts in New York City. In 1994, Lê returned to Vietnam and in 1997 Lê settled down in Ho Chi Minh City.
Lê's artistic practice consistently challenges how our memories are recalled with context in contemporary life. Whether he provokes the dominance of film and media in the creation of historical legacy; the confluence of cultural tradition and contemporary tragedy in his woven photographs; the re-placement of everyday urban objects into artistic wonders; or by documenting the un-chronicled stories of those who endured the first helicopter war - what all of these artistic investigations elucidate is a commitment to the artistic process as a means of excavating history, in the uncovering and revealing of alternate ideas of loss and redemption.
Lê's work has exhibited worldwide. His recent solo exhibitions include,
Destination for the New Millennium,
The Art of Dinh Q. Lê
at the Asia Society, New York, and
Project 93: Dinh Q. Lê
at Museum of Modern Art (MoMA), New York. He was also included in the Delays and Revolutions, Venice Biennale 2003; in dOCUMENTA (13) 2012; and the 2013 Carnegie International. In July of 2015, the Mori Museum in Tokyo will host his mid-career survey
Memory for The Future.
The exhibition will travel to Hiroshima City Museum of Contemporary Art in 2016.
Lê co-founded VNFA and San Art, the most active none profit gallery and residency program in Vietnam. He is the board member of Arts Network Asia Peer Panel, the Danish Embassy's Cultural Development and Exchange Fund. Lê was the 2010 Visual Art Laureate, Prince Claus Fund, Amsterdam, and a 2014 Rockefeller's Bellagio Fellow.
Dinh Q. Lê
San Art - An independent artist space
Ho Chi Minh City, Vietnam
www.san-art.org
Stephen Anderson
was born and raised in Southern California
Stephens creativity sprouted early in his life as he made his own toys out of pipe-cleaners, Styrofoam balls, pant and a mix of fabric and found objects. A early mixed media beginning which has continued to this day, including installation, video, assemblage, sculptural collage and interactive artwork.
Early artistic influence included his Grandma who painted as a hobby. And during his last year at college his fine art painting instructor who encouraged to paint from the heart, and less from the mind. Advice which proved cathartic as to pour the emotional turmoil of the end of a long term relationship with his 'high school sweetheart'
After receiving a BFA degree from California University Long Beach, and feeling, 'now what to do with an art degree? He sought out local artist groups: First becoming a member and a past president of Southern California Artists (SCA), and later applied and was approved to join the artist run non-profit gallery the Orange County Center for Contemporary Art (OCCCA). Which he visited during college as a class field trip, and the experience stuck in his mind as a 'cool' place to one day belong to. These organizations allowed him to network with fellow artists and become part of the art community. Leading to develop his artwork and to exhibit domestically and internationally.
Now as the executive director for OCCCA for the past 5 years, he has raised the quality, knowledge and prestige of the center, opening it up to community collaborations and events, along with art exhibitions and musical events including the annual 'Santa Ana Noise Festival' featuring experimental and noise genre performers, now in its 7th year.
While art making and the art community is a large part of Stephens life, one has to pay the bills, and that is done (as with most artists) with a day job, of which he is currently the assistant visual arts coordinator for the OC Fair and Events Center
www.mixedmediaexpressions.com
https://www.facebook.com/MixedMediaExpressions
Print this Page
View Legal Agreement