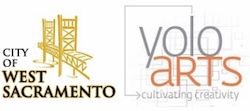 City of West Sacramento Joey Lopes Park Public Art
YoloArts
P.O. Box 8250
Woodland, CA 85776
Contact Email:
director@yoloarts.org
Call Type:
Public Art
Eligibility:
National
State:
California
Entry Deadline:
8/31/15
Application Closed
REQUIREMENTS:
Media
Images - Minimum: 4, Maximum: 6
Audio - Minimum: 0, Maximum: 1
Video - Minimum: 0, Maximum: 1
Total Media - Minimum: 4, Maximum: 8
Request for Qualifications (RFQ)
Deadline for Submittal:
August 30, 2015
The City of West Sacramento, in an effort to further their community vision as a livable and sustainable city, is seeking permanent work of public art to be installed in the new Joseph (Joey) Lopes Park.
City of West Sacramento
The City of West Sacramento is located in Yolo County, CA a rich agricultural county in California's Central Valley and the Sacramento River Delta region. The community is optimally situated minutes from the State Capitol in the hub of the thriving Sacramento metropolitan area, known for its cultural offerings and proximity to world class, year-round recreation. Identified as a fast-growing community, West Sacramento is home to a diverse culture and economy as well as being one of the area's top four employment centers. Named as the Most Livable City in America in 2014 by the United States Conference of Mayors (cities with 100,000 or less population), West Sacramento industries include agriculture, government and transportation.
Project Description
Joey Lopes Park is a new park area strategically located in the heart of West Sacramento which is a 4 acre site parallel to Sycamore Avenue, from West Capitol Avenue on the north to Evergreen Avenue and US 50 on the south in West Sacramento, Ca.
In July of 2014, The Park was named after Joseph Lopes who was an accomplished athlete and community steward. Representing the United States in the 1948 Summer Olympics, Joey went on to become a noteworthy boxer, fighting for the lightweight title on three separate occasions. In 1975, Mr. Lopes was inducted into the California Boxers Hall of Fame.
Artists are encouraged to create designs that honor this West Sacramento Legend, the sport of boxing and the community.
The Joey Lopes Park Project is funded through the State Parks Bond Act. (Proposition 84). This bond act provided $461 million for local assistance grants that are being administered by State Parks. All of the funds were allocated through competitive, need-based programs.
Project Criteria:
Artwork selected for the project shall:
· Consider the design and architecture of the site;
• Take into account the scale of the surrounding park; spatial and aesthetic properties;
• Encourage interactivity and/or functionality;
· Evoke the West Sacramento Legend, Joey Lopes and/or the sport of boxing;
· Consider the users of the site including travelers on Interstate 80 and the local community that patronize the park;
· In addition to these principles, artwork deemed unsafe and/or fragile will not be eligible for consideration.
Budget
$70,000 is available for all related expenses of this commission(s) including, but not limited to, artist fees, fabrication, insurance, shipping, travel, installation, documentation, etc. The City of West Sacramento intends to purchase one (1) exterior piece.
The panel will select three (3) finalists who will be each be paid $1,000 to develop a design proposal. Designs will be presented to the panel, from which one (1) artist or artist team will be commissioned.
Some potential exists for artists to utilize city project infrastructure to expand selected project requirements.
The future widening of West Capital Avenue requires the public art piece be placed in the designated area - please be sure to review the site plan.
RFQ Selection Criteria
All submissions will be reviewed by Art Selection Panel. The panel will select up to three (3) finalists who will be invited to submit a conceptual design proposal. The panel will review the three finalists' submissions and recommend one (1) design to the City of West Sacramento Arts, Culture, and Historical Preservation Commission (ACHP) for approval. The ACHP will advance this design and secure final approval by the City Council.
All meetings on the ACHP Commission and City Council are open to the public. For meeting schedule please visit the city web site at
www.cityofwestsacramento.org
Finalists will be selected based on the following criteria:
-
Originality:
creativity and uniqueness demonstrated in previous projects.
-
Workmanship:
Quality and craftsmanship exhibited by past work will be considered.
-
Professionalism
: Demonstration of competence corresponding with the scope and budget. Demonstrated ability to work collaboratively and positively with public agencies, public review processes, and community organizations.
The selected artist(s) will be required to comply with American with Disabilities Act requirements.
To be considered, applicants must submit:
1. Standard contact information via Café online
2. A current resume (three pages maximum)
3. A one (1) page letter of interest – describe your design concept/approach to
this project
4. Four (4) images of past work. (Teams may submit up to 6 images)
Print this Page
View Legal Agreement