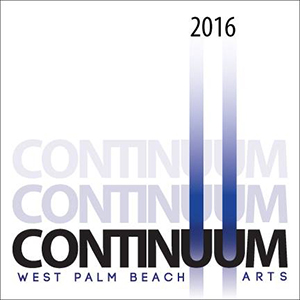 CONTINUUM WPB Arts 2016
703 39th Street
West Palm Beach, FL 33407
Contact Email:
continuum@atbfineartists.com
Call Type:
Exhibitions
Eligibility:
Regional
State:
Florida
Entry Deadline:
10/31/15
Application Closed
REQUIREMENTS:
Media
Images - Minimum: 1, Maximum: 6
Total Media - Minimum: 1, Maximum: 6
Entry Fee (CONTINUUM WPB Arts 2016): $10.00

Curators/coordinators: Anthony Burks Sr., Craig McInnis and Trina Slade- Burks
Jurors:
Anthony Burks Sr.
,
Jamnea Finlayson
and Tayla Lerman
Prize Judges:
Paul Fisher
, Lisa Caniff and (Third judge to be announced at a later date)
Location: Downtown West Palm Beach (Pop up location is a secret & will be announced at a later date)
Fee: $10 for Submission is paid here (Once accepted as a participating artist, there is an additional $55 exhibition fee. Information will be emailed to the accepted artists.) If submission fee is being paid by check or money order, payment must be received before application is reviewed.
Artwork eligibility: Paintings, drawings, photography, sculptures, installations are eligible. We are not accepting jewelry in this particular exhibition.
2D artist can submit a maximum of 3 different images.
NO MORE ( Uploads 4-6 for 3D submission only)
3D artist can submit a maximum of 3 concepts however can show a different angle of the same subject
using UPLOADS 4-6
Commission: 60/40 split. Artists will receive 60% of the net proceeds of the sale, and the Coordinators will receive 40% of the net proceeds of any sale of artwork.
Prize: Artists particpating in CONTINUUM WPB Arts will be eligible to win awards in one of five catagories.
Best in Show- $500
First Place- $300
Second Place- $200
Third Place- $100
People's Choice- $100
All artwork will be juried anonymously based on artwork only, not artist name. Only the artwork and the artist statement will be provided to the jurors. Please
DO NOT
list your name in your artist statement.
When accepted:
If the submitted artwork becomes unavailable, the artist must contact the coordinators immediately. A replacement similar to the style can be viewed by the jurors. The jurors have the right to accept or reject the new work.
Artist agrees to provide quality and tasteful work that best represents the format of CONTINUUM. All art must be ready to hang or install. Any work can be rejected by the committee if not presentation ready. (Must be framed, have hanging devices, be gallery wrapped and edges treated and painted. No cracks, sloppy edges, or incomplete work will be accepted. It is recommended that acrylic and not glass is used in the framing.) Artwork must be labeled on the back with Artist Name and Title of artwork.
Coordinators agree to host an art show that best represents the quality of artists and artwork provided.
All artwork must be for sale and must have a minimum price of $750, unless it is a series meant to be sold together but can be sold separately. (Example: A 3 piece series for $250 each or $750 for the series.) Series of more than 3 pieces will be judged on a case by case basis. Maximum price cap is $5000 with the acception of series or installations that can be sold separately. (Example: Installation valued at $6000 but each piece sold separately are $1000 each.)
Artist agrees to deliver IN PERSON accepted artwork to the CONTINUUM WPB Arts pop up gallery space on the date to be announced.
The artwork will remain in the gallery until January 30, 2016. Pickup date will be January 31, 2016.
Clients can pay for art by check, credit card, or PayPal to A.T.B Fine Artists & Designers LLC. 6% FL Sales tax will be charged. If a client pays with a credit card or PayPal there will be a 3.50% charge per transaction.
It will be the responsibility of the artist to inform the coordinators in writing prior to acceptence if they use an artist name contrary to their name on this application.
If the artist is unable to follow the guidelines of this call to artist upon submission, they will be disqualified from further process and will be informed only after juried process is completed.
NOTE: 2D artists who submit more than 3 images, the additional images WILL NOT be juried.
Print this Page
View Legal Agreement