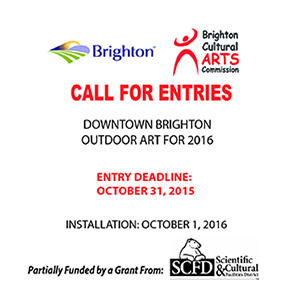 Downtown Brighton Outdoor Art for 2016
Brighton Cultural Arts Commission
500 S. 4th Avenue
Brighton, Colorado 80601
Contact Email:
scorbett@brightonco.gov
Call Type:
Public Art
Eligibility:
Unspecified
State:
Colorado
Entry Deadline:
12/15/15
Application ClosedNumber of Applications Allowed:
3
REQUIREMENTS:
Media
Images - Minimum: 1, Maximum: 7
Total Media - Minimum: 1, Maximum: 7
The Brighton Cultural Arts Commission (BCAC) is requesting proposals in an open competition for an artist to incorporate art in Downtown Brighton, Colorado.
Project Description:
Outdoor art, showing a kinetic, interactive free-form monumental sculpture(s) with elements using wind, movement, light and/or sound. The scale of the kinetic sculpture should be large enough to be viewed from Highway 85 or by pedestrians walking along 1st Avenue and Strong Street.
Composition:
The City of Brighton and the Brighton Cultural Arts Commission would like to place outdoor art, preferably kinetic sculpture(s), in the area of old Brighton or the core Downtown Area that is family related and may encompass more than one corner of the delineated area.
Medium:
The medium is limited to highly durable materials in a three-dimensional format, able to withstand adverse weather conditions, touching and possible climbing. It must be low maintenance, not interfere with pedestrian traffic patterns, nor create a hazard to vehicular traffic.
Budget:
The budget available for this commission is not to exceed $120,000. This amount includes design, fabrication, transport, delivery, installation of artwork at the site, and all other associated expenses including liability insurance, workers compensation insurance, all necessary travel and the artist's fee.
Payment Schedule:
The artist enters into a contract with the Brighton Cultural Arts Commission and the City of Brighton, which includes a payment plan for the anticipated schedule of the project.
Project Timeline:
Submission deadline:
December 15, 2015
Final selection:
February 16, 2016
Installation:
December 1, 2016
Selection Process:
Application materials due via caFE
www.callforentries.org
Please follow application requirements. Incomplete or late submissions will not be accepted.
The Selection Committee will choose no more than three (3) finalists who will be asked to prepare detailed proposals, illustration boards (15x20) or maquettes and present live to the selection committee for further review. Tentative selection/presentation dates are sometime between December 15, 2015 - February 1, 2016. Artists will be compensated for these works in the amount of $600. Finalist recommendations will be presented by the Brighton Cultural Arts Commission to the Brighton City Council, and their decision will be the final and official acceptance.
Selection Criteria
: Applications are evaluated on the following criteria:
1. Artist will be selected on the basis of their qualifications as demonstrated by past work, appropriateness of the proposal to the particular project, and probability of successful completion of the project.
2. The Selection Committee shall select those artists and works of art of the highest aesthetic quality; the artistic excellence of the proposal submitted, including quality and appropriateness of the proposed art or concept; the suitability of the design and work of art to the site including form, content, scale and materials.
3. In all cases, consideration will be given to materials, construction, durability, maintenance, public access and safety.
Print this Page
View Legal Agreement