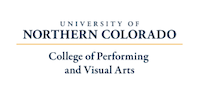 Drink Me: cups, mugs, and tumblers
University of Northern Colorado
School of Art & Design
501 20th St
Greeley, CO 80639
Contact Email:
joan.shannonmiller@unco.edu
Call Type:
Exhibitions
Eligibility:
National
State:
Colorado
Entry Deadline:
1/11/16
Application Closed
REQUIREMENTS:
Media
Images - Minimum: 1, Maximum: 4
Total Media - Minimum: 1, Maximum: 4
Entry Fee (Drink Me cups, mugs, and tumblers): $25.00

Prospectus:
A juried exhibition showcasing the possibilities in drinking vessels.
Exhibition Dates:
February 15 – March 11, 2016
Deadline to Enter:
January 11, 2016
Juror:
Sebastian Moh
Awards:
Designated awards for select artworks up to $750.
Eligibility:
Open to national artists at least 18 years of age.
Submission Requirements:
Enter up to four digital images (one image per artwork entered) of functional pieces that are drinking vessels. Please note that the image submitted may be used for publicity purposes.
Work submitted must be innovative and original in design.
Work submitted through the application process must be the actual works that will be displayed during the exhibit. The juror will select work on this basis.
Works must be made entirely out of ceramic materials (exceptions are limited to handles, knobs or other accents made out of cane, wood, wire etc., that are an integral part of the piece).
Work submitted for review must have been completed by the artist within the past two (2) years.
Accepted work that displays poor craftsmanship or does not represent the pieces submitted as digital entries will be withdrawn from the exhibit.
All ceramic work entered must be for sale. The artist receives 70% of the sale price.
Sale proceeds will be paid to the artist within 30 days of the end of the exhibition.
Designated awards for select artworks will be announced at Artist Reception and paid to recipients within 30 days of the end of the exhibition.
Entry Fee:
There is a nonrefundable entry fee of $25. You may submit up four pieces for consideration, one image of each piece of artwork. Payment is by Visa/MasterCard through CAFÉ.
Timeline:
January 11, 2016 - Application process closes at midnight.
Jan 12 - 18, 2016 – Sebastian Moh, juror, will review electronic images online and selection process will take place.
January 19, 2016 - Artist notification begins.
February 5, 2016 - Accepted work(s) due at Mariani Gallery, University of Northern Colorado, Attn: Joan Shannon-Miller, 501 20th St, Greeley, CO 80639 Artists are responsible for shipping costs to and from UNC.
February 15 – March 11, 2016 – Drink Me on view and open to public at the Mariani Gallery, Guggenheim Hall on the UNC Campus. All artwork will be for sale.
February 17 - Artists' Reception, awards announced and Juror's remarks, 4 – 6 pm
March 14, 2016 - Shipment of unsold work begins
Accepted Entries:
Deadline for submissions is January 11, 2016
Include a $25 nonrefundable application fee through CaFE
Send a return UPS or Fedex shipping label with artwork.
Artists' works will be selected based on a submission of a maximum of four (4) images.
Each professional quality image must be in JPEG (.jpg) format, 300 DPI, 1920 x 1920 and must conform to CAFÉ's file size specifications. Low resolution images (smaller than 300 dpi) are not guaranteed to be included in the printed promotional materials associated with the exhibit.
Only entries from the United States will be accepted.
Information to be included with CAFÉ entry form:
Title (Name of piece(s) submitted)
Dimensions (width, height and depth)
Price
Date made
Description of materials and techniques, including type of clay, building/throwing-technique and glazing/firing process and temperature
Artist Statement of 200 words or less.
Artist Website, if applicable
About the Juror:
Sebastian Moh
I was raised on a small farm in Batu Pahat, Malaysia. My family was fairly isolated from neighbors so my brothers and sisters became my best friends. It was also up to us to provide our own toys and entertainment, making us quite resourceful. Nature was an integral part of our life. This developed within me a more quiet and reserved personality with a keen observation to detail.
My first exposure to the actual shaping of raw clay was in a shopping mall in Kuala Lumpur, I witnessed a demonstration on the wheel and it planted the seed. I was drawn to the idea of infinite variation, of tapping an eternity of creativity. From that point I paid close attention to the ceramic arts. An opportunity presented itself and I was able to come to the United State to attend school. I received my degree in product design but had the opportunity to take ceramic classes as an elective. After working in hospitality for a few years, I decided to pursue the vision that had formed so strongly as a youth. I set up a small studio and began exploring the possibilities.

The essence of my work is to create a visual interest that will trigger an aesthetic response. The vessels articulate a rhythm that appeals to an abstract of universal human emotion. Art is an articulated arrangement of a profound idea. To create is divine, I just rearrange.

My goal is to simply make good work.
Freight and Insurance:
The artist is responsible for freight and insurance on the work to and from UNC. UNC is responsible for insurance during the exhibition. When you ship your piece(s) for the exhibit, you must
also include a pre-paid UPS or FedEx return shipping label
for the return shipping of your piece(s). If no return shipping label is enclosed, the returns can't be guaranteed. Pieces not sold during the exhibit will be returned in their original packaging. Local artists may arrange to hand-deliver and pick up accepted work.
Awards and Publicity
Designated awards for select artworks up to $750. A Gallery Guide of accepted works will be produced with provided photos and artist's statement. Each artist will receive 10 copies for their archives.
Sales and Insurance:
All work must be available for sale. UNC retains 30% commission of the sales price. Insurance will be set at 70% of sale value. UNC will not be responsible for loss or damage to work in transit to or from UNC. All accepted work that is not sold during the exhibit must either be picked up or will be shipped back to the artist within 30 days of the exhibit. If artwork is to be picked up rather than shipped, UNC will not be responsible for loss, theft or damaged work after 14 days of the last day of the exhibit.
If you have any questions or need additional information, please contact Joan Shannon-Miller, Gallery Director,
joan.shannonmiller@unco.edu
or 970.351.2184
Print this Page
View Legal Agreement