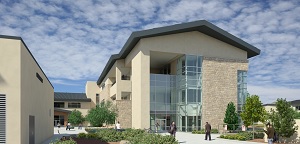 Fort Lewis College - Berndt Hall: Request for Qualifications
Contact Email:
ruth.bruno@state.co.us
Call Type:
Public Art
Eligibility:
National
State:
Colorado
Entry Deadline:
11/30/15
Application Closed
REQUIREMENTS:
Media
Images - Minimum: 4, Maximum: 6
Total Media - Minimum: 4, Maximum: 6
PROJECT SUMMARY
Qualifications are requested from artists and/or artist teams interested in creating site-specific public artwork(s) for Berndt Hall at Fort Lewis College in Durango, Colorado. This project is the construction of a new wing of Berndt Hall, a science building on Fort Lewis' campus in Durango, Colorado. The new wing will update facilities for Geosciences, Physics, and Engineering departments. The project is slated to be completed in the fall of 2016.
ABOUT FORT LEWIS COLLEGE
Fort Lewis College is the Southwest's crossroads of education and adventure. The 247-acre Fort Lewis College campus is in southwestern Colorado, situated at 6,872 feet atop a mesa overlooking the Animas River Valley and historic downtown Durango. The blend of small classes, dynamic academic programs, and a liberal arts perspective leads to transformative learning experiences that foster entrepreneurship, leadership, creative problem solving, and life-long learning. The unique and beautiful mountain campus, on a mesa above historic Durango, Colorado, inspires an active and friendly community with a spirit of engagement, exploration, and intellectual curiosity. One goal is to foster and maintain diversity on campus, and the school has approximately 20% Native American students who receive free tuition. The campus' distinctive architectural theme utilizes locally quarried sandstone to acknowledge the region's Native puebloan building style and evoke the Four Corners' landscape and colors.
ABOUT BERNDT HALL
Named for the third president of the college, Berndt Hall is composed of several wings that were constructed in various stages. Berndt Hall houses the school's Geosciences, Physics, and Engineering Departments, as well as the Biology Department. One component of Fort Lewis' master plan is to improve science resources/facilities in order to draw more students to the campus from areas outside the region and state. The existing building is one of the oldest complexes remaining on campus. This construction project adds a new building, pushing the complex further north and creating an outdoor courtyard space within the building's layout. This courtyard has a lowered, shallow amphitheater with steps/seating and includes a sundial. The new building abuts this courtyard, and the intent is for the space to serve as additional, outdoor teaching space. The focus of the new addition is to create collaborative/group work spaces and areas that can be used for hands-on learning, which is the theme throughout the building. The overall goal is to create discussion and interaction between science disciplines. Construction of this new wing is slated to be completed in fall of 2016.
BUDGET: $202,000
The public art budget is $202,000. All costs associated with the public art project including, but not limited to, artist design fee, structural engineering, insurance, materials, fabrication, transportation, installation, building or site modifications, travel to and from the site, per diem expenses, project documentation, contingency to cover unexpected expenses and any other costs related to the project. Selected semi-finalists will be invited to propose artwork for one or all of the locations listed below. Out-of-state semi-finalist artists will receive $1,500 and in-state semi-finalists will receive $1,000 as an honorarium for the creation of a design proposal.
OPPORTUNITIES
FOR PUBLIC ART
Through the public art process, the Art Selection Committee will select the finalist artist(s)/team who will work closely with the project architect and Art Selection Committee on the best approach to integrate the artwork(s) into the previously designed and constructed building.
The Art Selection panel is looking to commission an outdoor artwork for the exterior of Berndt Hall. There are various sites on the exterior of the building in which a public artwork could be appropriate, including the courtyard area, the wall of the western building, or the single entrance to courtyard between buildings.
Both 2D and 3D artworks of all media appropriate to be outside will be considered, and sound, kinetic or interactive pieces are encourage. The Selection Committee is also possibly interested in an artwork that could serve as a visible marker of the building/school from afar. Artwork should also take into consideration the buildings' usages as the home of the Geosciences, Physics, and Engineering Departments, as well as the cross-disciplinary/collaborative efforts of the new building's design.
The Selection Committee will consider the following:
Artistic excellence
Technical competence
Conceptual compatibility
Scale, material, form and content
Appropriate relationship to the function of the site
Contribution to diversity of the State's public art collection
Structural and surface integrity
Accessibility by the public
Resistance to general wear, vandalism, or theft
Ease of maintenance, minimal and low cost maintenance
Compliance with applicable public safety codes.
Public art must be sustainable:
Artwork must be able to withstand the intense sun and snow, wind and temperature extremes and fluctuations characteristic of the area.
The artwork must be designed and fabricated to be durable, require low maintenance and low cost for maintenance
Public art projects are in the public realm and may therefore be exposed to environmental challenges and subject to vandalism. Semi­finalists are encouraged to consult with a professional conservator prior to the submission of a final proposal.
COLORADO ART IN PUBLIC PLACES PROGRAM
All works of art purchased or commissioned pursuant to this request are owned by the State of Colorado via Fort Lewis College. De-accession of the public art, if necessary, will follow the policies and procedures established by the Colorado Creative Industries.
ELIGIBILITY
All applicants must be legal residents of the United States. The artists or artist teams must have the skills and experience commensurate with the responsibility of successfully completing a major public art installation. The Program is open to all artists regardless of race, color, creed, gender, gender variance, national origin, age, religion, marital status, political opinion or affiliation, or mental or physical handicap. The Art Selection Committee reserves the right to give preference to those artists residing in Colorado. Native American artists are encourage to apply.
SELECTION
PROCESS AND SCHEDULE
The Art Selection Committee will review all complete submittals. A short list of semi­finalists will be invited to prepare and present a final proposal in person and be paid an honorarium of $1,000 for in-state artists and $1,500 for out of state artists. Travel expenses may be reimbursed. Final selection(s) will be made from the semi­finalists' proposals. The schedule is as follows:
November 30, 2015
- Deadline for receipt of submittal via CaFÉ™ system
January/February 1015 –
Selection panel meets to select Semi-Finalists
February/March 2015
- Notification of Semi-Finalist selection
APPLICATION PROCESS
All applications for this project are being accepted through CaFÉ™ (
www.callforentry.org
). No hard copy submissions will be accepted. The applicant will be asked to submit six digital images of art (see below for more information), a resume, and a brief statement of interest. There is no application fee to apply or to use the CaFÉ™ online application system. Applications must be submitted through CaFÉ™ to be considered.
Digital Images
. In order to be considered for this project, the applicant must electronically submit six digital images of previously completed artworks through the CaFÉ™ system.
Instructions on how to use CaFÉ™ and format images can be found at
www.callforentry.org/image_prep.phtml
. Assistance in using the CaFÉ™ system is available during regular business hours by calling 303­629­1166, 1­888­562­7232 or e­mail
cafe@westaf.org
.
Resume
: Submit a current résumé, via CaFÉ™, that outlines your professional accomplishments as an artist. If applying as a team, please submit a resume for each artist, with the lead artist first.
Statement of Interest
: A statement of interest in 250 words or less must be submitted via CaFÉ™. It should briefly outline interest in the specific opportunity and applicable experience.
QUESTIONS
If you require more information or clarification, please contact Ruth Bruno, Public Art Program Manager, Colorado Creative Industries at 303­-892-3813 or
ruth.bruno@state.co.us
.
ADDITIONAL SOURCES OF INFORMATION
https://www.fortlewis.edu/Home/About/AboutFortLewisCollege.aspx
http://www.amdarchitects.com/higher-education/flc-berndt-hall/
https://www.youtube.com/watch?v=TPvnfO8K7Pg&feature=youtu.be
Print this Page
View Legal Agreement