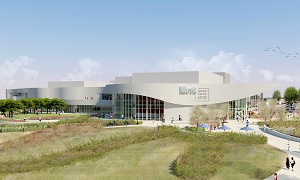 University of Colorado Colorado Springs - Ent Center for the Arts: Request for Qualifications
Contact Email:
ruth.bruno@state.co.us
Call Type:
Public Art
Eligibility:
National
State:
Colorado
Entry Deadline:
11/30/15
Application Closed
REQUIREMENTS:
Media
Images - Minimum: 4, Maximum: 6
Total Media - Minimum: 4, Maximum: 6
Qualifications are requested from artists and/or artist teams interested in creating site-specific public artwork(s) for the new Ent Center for the Arts at the University of Colorado Colorado Springs, Colorado. This project is the construction of a new visual and performing arts center on the North Campus of the University of Colorado Colorado Springs. The new Ent Center for the Arts will house several university Visual and Performing Arts programs, several performance spaces and the Gallery of Contemporary Art. Construction of the new building is slated to be completed in late 2017 or early 2018.
ABOUT THE UNIVERSITY OF COLORADO COLORADO SPRINGS
The University of Colorado Colorado Springs is located on approximately 545 acres in northeast Colorado Springs at the foot of Austin Bluffs, a rugged natural cliff formation. The campus provides a spectacular view of the Front Range of the Rocky Mountains, including Pikes Peak, a 14,100-foot mountain that inspired Katharine Lee Bates to write "America the Beautiful" from its pinnacle in 1893. Established in 1965, UCCS was built on an original 1964 gift of 80 acres (for the price of $1) from local businessman George Dwire. The campus continues to expand with the recent additions of a Campus Recreation Center, the Gallogly Events Center, the Osborne Center for Science & Engineering, Lane Center, the Roaring Fork Dining Hall, and four new residence halls.
PROJECT DESCRIPTION – ABOUT THE ENT CENTER FOR THE ARTS
UCCS' Visual and Performing Arts (VAPA) program encourages innovative collaboration between art history, film studies, gallery & museum management, music, theatre and dance and visual art. The degree is structured to ensure that students will develop depth in a primary concentration and breadth by taking courses in other disciplines. Through scholarship, performance, and instruction in studio art, film, museum studies & gallery practice, music, and theatre and dance, students engage in an investigative approach to the arts, which inspires creative practice, critical thinking, and an expansive dialogue about contemporary art. The VAPA faculty is committed to cultivating and supporting educational and professional goals in order to prepare the student for a variety of careers in the arts. The new Ent Center for the Arts will house this program. In addition to the academic spaces that support the VaPA programs there is a professional theatre program, TheatreWorks. This professional program produces a number of shows each year and provides opportunities for students to participate in professional productions.
The thematic approach of the building's design is "art connected by light," and is intended to create an indoor/outdoor connection, showcasing the mission of UCCS' VAPA program. The Ent Center for the Arts will sit in a prominent location and will be a visible from multiple viewpoints, acting as a beacon to visitors. The venue will be designed to encourage and support working relationships with community cultural organizations and to provide direct public access to performances, exhibits, and classes. The Ent Center for the Arts will include a 750-seat main theater, a 250-seat recital hall, the university's 250-seat Dusty Loo Bon Vivant Theatre, home to the UCCS resident theater company, TheatreWorks, the Osborne Theater, to be used by the theater and dance program, and the Gallery of Contemporary Art.
BUDGET: $ 174,720
The public art budget is $174,720. All costs associated with the public art project including, but not limited to, artist design fee, structural engineering, insurance, materials, fabrication, transportation, installation, building or site modifications, travel to and from the site, per diem expenses, project documentation, contingency to cover unexpected expenses and any other costs related to the project. Selected semi-finalists will be invited to propose artwork for one or all of the locations listed below. Out-of-state semi-finalists will receive $1,500 and in-state semi-finalists will receive $1,000 as an honorarium for the creation of a design proposal.
OPPORTUNITIES
FOR PUBLIC ART
Through the public art process, the Art Selection Committee will select the finalist artist(s)/team who will work closely with the project architect and Art Selection Committee on the best approach to integrate the artwork(s) into the new building.
The Committee is looking for an interior artwork to activate the lobby and/or hallway space of the building. As there is limited floor space in the lobby and the lower level of the building, the Committee seeks artworks that would uniquely engage the space that is available, including the ceilings and various wall spaces. Potential sites include a two-story wall in the reception area, which could be engaged with a graphic mural or 2D installation piece, and could possibly extend to the lobby ceiling. The second possible site is a two-story hallway – this area would provide an opportunity for a suspended artwork. The lobby and this hallway will be heavily trafficked. Artworks need not address any particular theme, and can be of any media, as long as it is appropriate to the potential sites and does not block the carefully crafted views from the building.
Panel will consider the following:
Artistic excellence
Technical competence
Conceptual compatibility
Scale, material, form and content
Appropriate relationship to the function of the site
Contribution to diversity of the State's public art collection
Structural and surface integrity
Accessibility by the public
Resistance to general wear, vandalism, or theft
Ease of maintenance, minimal and low cost maintenance
Compliance with applicable public safety codes.
Public art must be sustainable:
The artwork must be designed and fabricated to be durable, require low maintenance and low cost for maintenance.
Semi­finalists are encouraged to consult with a professional conservator prior to the submission of a final proposal.
COLORADO ART IN PUBLIC PLACES PROGRAM
All works of art purchased or commissioned pursuant to this request are owned by the State of Colorado via UCCS. De-accession of the public art, if necessary, will follow the policies and procedures established by the Colorado Creative Industries.
ELIGIBILITY
All applicants must be legal residents of the United States. The artists or artist teams must have the skills and experience commensurate with the responsibility of successfully completing a major public art installation. The Program is open to all artists regardless of race, color, creed, gender, gender variance, national origin, age, religion, marital status, political opinion or affiliation, or mental or physical handicap. The Art Selection Committee reserves the right to give preference to those artists residing in Colorado.
SELECTION
PROCESS AND SCHEDULE
The Art Selection Committee will review all complete submittals. A short list of semi­finalists will be invited to prepare and present a final proposal in person and be paid an honorarium of $1,000 for in-state artists and $1,500 for out of state artists. Travel expenses may be reimbursed. Final selection(s) will be made from the semi­finalists' proposals. The schedule is as follows:
November 30, 2015
- Deadline for receipt of submittal via CaFÉ™ system
January/February 1015 –
Selection panel meets to select Semi-Finalists
February/March 2015
- Notification of Semi-Finalist selection
APPLICATION PROCESS
All applications for this project are being accepted through CaFÉ™ (
www.callforentry.org
). No hard copy submissions will be accepted. The applicant will be asked to submit six digital images of art (see below for more information), a resume, and a brief statement of interest. There is no application fee to apply or to use the CaFÉ™ online application system. Applications must be submitted through CaFÉ™ to be considered.
Digital Images
. In order to be considered for this project, the applicant must electronically submit six digital images of previously completed artworks through the CaFÉ™ system.
Instructions on how to use CaFÉ™ and format images can be found at
www.callforentry.org/image_prep.phtml
. Assistance in using the CaFÉ™ system is available during regular business hours by calling 303­629­1166, 1­888­562­7232 or e­mail
cafe@westaf.org
.
Resume
: Submit a current résumé, via CaFÉ™, that outlines accomplishments as an artist. If applying as a team, please submit a resume for each artist, with the lead artist first.
Statement of Interest
: A statement of interest in 250 words or less must be submitted via CaFÉ™. It should briefly outline interest in the specific opportunity and applicable experience.
QUESTIONS
If you require more information or clarification, please contact Ruth Bruno, Public Art Program Manager, Colorado Creative Industries at 303­-892-3813 or
ruth.bruno@state.co.us
.
ADDITIONAL SOURCES OF INFORMATION
http://www.uccs.edu/
http://www.uccs.edu/~vapa/
http://www.cufund.org/entcenter/
Print this Page
View Legal Agreement