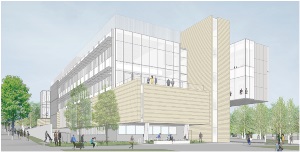 Colorado School of Mines, CoorsTek Center- Request for Qualifications
Contact Email:
ruth.bruno@state.co.us
Call Type:
Public Art
Eligibility:
National
State:
Colorado
Event Dates:
2/10/16 - 3/11/16
Entry Deadline:
3/11/16
Application Closed
REQUIREMENTS:
Media Images:6


DEADLINE FOR SUBMITTAL: March 11, 2016, 11:59 MST
TOTAL ART BUDGET: $ 50,000
NAME OF INSTITUION: Colorado Creative Industries on behalf of the Colorado School of Mines
Qualifications are requested from artists and/or artist teams interested in creating a site-specific public artwork for the CoorsTek Center on the campus of the Colorado School of Mines, utilizing a unique variety of materials produced in the CoorsTek factory in Golden, Colorado.
ABOUT THE COLORADO SCHOOL OF MINES
Founded in 1874, Colorado School of Mines is a public research university devoted to engineering and applied science, with the highest admissions standards of any public university in Colorado and among the highest of any public university in the U.S. Mines has distinguished itself by developing a curriculum and research program geared towards responsible stewardship of the earth and its resources. In addition to strong education and research programs in traditional fields of science and engineering, Mines is one of a very few institutions in the world having broad expertise in resource exploration, extraction, production and utilization. As such, Mines occupies a unique position among the world's institutions of higher education. Mines offers all the advantages of a world-class research institution with a size that allows for personal attention.
PROJECT DESCRIPTION – ABOUT THE COORSTEK CENTER
Built in 1963, Meyer Hall was constructed as a home for the physics and geophysics departments. The building was named for Paul Meyer, a medical doctor in the Golden community and a Mines math professor starting in 1883. The construction project will replace this current building - the existing structure will be demolished. The new building will be complete in the fall of 2017.
The new building is funded both by the state and by CoorsTek, a manufacturing company with roots and its headquarters in Golden. The materials for the building will consist of glass and metal panel and brick/terra cotta; cantilevered glass conference rooms by entrance. The CoorsTek Center will feature classrooms, labs, offices and will have a lot of both public/semi public spaces, including hang out space on steps between entrance and first floor. The replacement will provide students with updated resources and facilities, including collaborative spaces.
The CoorsTek factory in Golden creates objects, artful in their own right, of various scale, structure, and texture. CoorsTek is the partner of choice for technology & manufacturing companies worldwide, whose success requires the unique, high-performance properties of products manufactured from engineered ceramics & advanced materials. The company has been a leader in technical ceramics for nearly every segment of the global economy since the 1980s. CoorsTek has unsurpassed expertise in materials engineering, broad research, development, and manufacturing capabilities, operational excellence, and highly collaborative, responsive, and reliable relationships.
The Public Art Selection Committee has determined that they would like to see a public artwork that utilizes the variety of unique materials produced by CoorsTek, in order to honor the history of the relationship between CoorsTek and the Colorado School of Mines. This is an exciting opportunity, as the selected artist will have the change to work closely with CoorsTek to use these materials in the artwork. The materials will be donated, and artist's will have the opportunity to use both scrap materials from the factory and possibly have new materials fabricated to the artist's specifications by the factory.
BUDGET: $50,000
The public art budget is $50,000. All costs associated with the public art project including, but not limited to, artist design fee, structural engineering, insurance, transportation, installation, building or site modifications, travel to and from the site, per diem expenses, project documentation, contingency to cover unexpected expenses and any other costs related to the project. The CoorsTek factory will provide all their materials for free to the artist, so there will be no materials budget unless the artist chooses to integrate other elements into the artwork, or needs other materials for the proposed structure.
Semi-finalists will receive $1,500 as an honorarium for the creation of a design proposal. A site visit to the CoorsTek factory in Golden, Colorado is required for all semi-finalists, as is an in-person presentation.
OPPORTUNITIES
FOR PUBLIC ART
Through the public art process, the Art Selection Committee will select a finalist artist(s)/team(s) who will work closely with the project architect and representatives from the CoorsTek factory on the best approach to utilize and integrate the materials into an artwork for the building.
The Committee is seeking an interior artwork, to be located in a still to be determined location in the building. Engagement with the CoorsTek material is the most important factor, so the site for the proposed artwork can be determined after artist determines the best way to utilize this material for an artwork. Possible site locations include a large stairwell wall, other wall space, and also ceiling space in various public areas.The Committee would also like the artwork to consider both the applied sciences departments in the building, as well as the vibrant history between the school and CoorsTek.
*For additional images of the CoorsTek material and site, please visit here.
Panel will consider the following:
Use of the CoorsTek material
Artistic excellence
Technical competence
Conceptual compatibility
Appropriate relationship to the function of the site
Contribution to diversity of the State's public art collection
Structural and surface integrity
Accessibility by the public
Compliance with applicable public safety codes.
COLORADO ART IN PUBLIC PLACES PROGRAM
All works of art purchased or commissioned pursuant to this request are owned by the State of Colorado via the Colorado School of Mines. De-accession of the public art, if necessary, will follow the policies and procedures established by the Colorado Creative Industries.
ELIGIBILITY
All applicants must be legal residents of the United States. The artists or artist teams must have the skills and experience commensurate with the responsibility of successfully completing a major public art installation and must demonstrate an ability to work with a unique material. The Program is open to all artists regardless of race, color, creed, gender, gender variance, national origin, age, religion, marital status, political opinion or affiliation, or mental or physical handicap.
SELECTION
PROCESS AND SCHEDULE
The Art Selection Committee will review all complete submittals. A short list of semi­finalists will be invited to prepare and present a final proposal in person and be paid an honorarium of $1,500. Final selection(s) will be made from the semi­finalists' proposals. The schedule is as follows:
March 11, 2016, 11:59 pm MST
- Deadline for receipt of submittal via CaFÉ™ system
April 2016 –
Selection panel meets to select Semi-Finalists
April/May 2016
– Site Visit to Colorado School of Mines and CoorsTek factory
June 2016
– in person presentation of Design Proposals by Semi-Finalists
June 2016
– Notification of Selected Artist
APPLICATION PROCESS
All applications for this project are being accepted through CaFÉ™(
www.callforentry.org
). No hard copy submissions will be accepted. The applicant will be asked to submit six digital images of art (see below for more information), a resume, and a brief statement of interest. There is no application fee to apply or to use the CaFÉ™ online application system. Applications must be submitted through CaFÉ™ to be considered.
Digital Images
. In order to be considered for this project, the applicant must electronically submit six digital images of previously completed artworks through the CaFÉ™ system. Please share images that reflect an ability to work with a variety of materials.
Instructions on how to use CaFÉ™ and format images can be found at
www.callforentry.org/image_prep.phtml
. Assistance in using the CaFÉ™ system is available during regular business hours by calling 303­629­1166, 1­888­562­7232 or e­mail
cafe@westaf.org
.
Resume
: Submit a current résumé, via CaFÉ™, that outlines your professional accomplishments as an artist.
Statement of Interest
: A statement of interest in 250 words or less must be submitted via CaFÉ™. It should briefly outline the artist's interest in the specific opportunity and the artist's applicable experience. Please address your qualifications to address this unique opportunity to utilize a particular material and to work closely with the CoorsTek factory.
n
QUESTIONS
nIf you require more information or clarification, please contact Ruth Bruno, Public Art Program Manager, Colorado Creative Industries at 303­844-3813 or
ruth.bruno@state.co.us
.
ADDITIONAL SOURCES OF INFORMATION
https://www.mines.edu/
http://inside.mines.edu/PH-home
http://www.coorstek.com/about-us.php
http://www.coorstek.com/products-index/a.php
http://www.coorstek.com/materials/ceramics.php
http://www.denverpost.com/business/ci_26606625/goldens-coorstek-gives-biggest-gift-ever-colorado-school-mines
Print this Page
View Legal Agreement