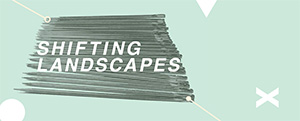 Shifting Landscapes
Surface Design Association
P.O. Box 20430
Albuquerque, NM 87154
707-829-3110
Contact Email:
info@surfacedesign.org
Call Type:
Exhibitions
Eligibility:
International
State:
New Mexico
Entry Deadline:
1/4/17
Application Closed
REQUIREMENTS:
Media
Images - Minimum: 1, Maximum: 3
Audio - Minimum: 0, Maximum: 3
Video - Minimum: 0, Maximum: 3
Total Media - Minimum: 1, Maximum: 3
Entry Fee (Shifting Landscapes): $40.00

SHIFTING LANDSCAPES

EXHIBITION: Members of the Surface Design Association are invited to submit work for the 3rd International Juried Members' exhibition, Shifting Landscapes. The exhibition will be held in partnership with form & concept gallery at their location in Santa Fe, NM ,February 24 2017 - May 20, 2017 . The exhibition includes awards. Entries may be submitted online October 24, 2016 – January 4, 2017.
GOAL: Shifting Landscapes will explore traditional, non-traditional, and contemporary interpretations of place by artists, designers, and makers working with or inspired by fiber or textile materials and techniques.
Landscape can be a place or an idea; it can be a mountain, a lake, a body, or a building; it can occupy a physical space as much as a psychological one. These landscapes shift under the forces of modern times. Challenges facing the world today are such that landscape is a portal through which to consider traditional notions of beauty and the sublime, but also as a framework to explore politics, architecture, identity, ecology and society.
Works should be completed on or after January 1, 2013. Established, emerging, international and student artist SDA members are encouraged to participate. Artists working in all media are encouraged to apply.
JURORS:
Erika Lynne Hanson is an interdisciplinary artist, researcher, and educator whose work is rooted in textile practices. Currently Assistant Professor of Fibers/Socially Engaged Practices at Arizona State University, Hanson received her MFA from California College of the Arts in 2010. Her work is exhibited nationally and internationally, most recently in New York, Seattle, and Los Angeles. Additionally, Hanson has participated in residency programs such as The Icelandic Textile Center in Blonduos, IS, and The Wrangell Mountain Center in McCarthy, AK that support the ongoing dialogue regarding landscape within her practice.
Frank Rose is a curator, producer, administrator and photographer who was the owner and publisher of ArtsHouston Magazine, as well as founder of Gallery 1724, a community arts space in Houston's Museum District in 2005. Frank produced the first Gridfest, a three-day festival bringing together 13 electronic artists from North America to perform and give workshops in Santa Fe. Frank is the Director and co-founder of form & concept in Santa Fe, NM, an art gallery founded to expand and explore the boundaries of perceived distinctions between art, craft, and design.
ELIGIBILITY & ENTRY FEES: This exhibition is open to all members of Surface Design Association (SDA). You may enter three pieces. 2D, 3D and video works are eligible. Work must have been completed since January 1, 2013. Work executed under classroom/educational guidance or supervision is not eligible.
$40 entry fee for members
$20 entry fee for students
ENTRY PROCEDURE: Entries are to be submitted online through CaFÉ Call For Entry website located at HTTP://TINYURL.COM/SDASHIFTINGLAND.
The following information is required for submission:
1. Name, address (and shipping address if different), telephone, e-mail.
2. Up to 3 works total may be submitted; these may be any combination of individual works and/or details, but each entry is limited to 3 works.
3. Images - full and detail - JPEG only; Upload options for image files
• File format: JPEG only
• File dimensions: No smaller than 1920 pixels on the longest side
• File resolution: 72 ppi/dpi (standard web resolution)
• File size: 5 MB maximum
Please note that uploaded images are scaled by the system and two monitor versions are created: a small 100-pixel thumbnail and a large 700-pixel image. These images are available for you to preview in your portfolio after you upload.
4. Each image must be titled as follows: "Submission #_Your Initials_Title"
5. A brief artist statement (50-100 words, maximum).
SHIPPING: Complete shipping instructions will be sent with the acceptance notification to the hanging exhibit. Artists are responsible for shipping costs both to and from form & concept (including insurance during transit) through either providing a pre-paid shipping label, Fed Ex or UPS account number, or credit card information for return shipping. It might be helpful to indicate this up front, but include specific shipping instructions with the acceptance letters for those included in the exhibit. All artwork must arrive at for & concept no later than February 14, 2017. Works will be returned in their original packaging no later than June 9, 2017. Artworks must be shipped in sturdy, reusable containers with appropriate packing material. More specific shipping instructions with acceptance letters will be provided. Shipping address: form & concept, 435 S Guadalupe St, Santa Fe, NM 87501.
PHOTOGRAPHIC GUIDELINES: Artists are strongly encouraged to submit images for this call for entry that present your work to best advantage. Your photographs should give a sense of how your piece "sits" or "hangs." Detail photographs are important to show the technical excellence of the work; they can highlight special areas that might not be obvious in the full shot of the work. Works accepted in the exhibition must be available to be photographed individually or in exhibition installation shots for advertising and publicity during the entire run of the exhibition.
AWARDS:
First Place: $1000
Second place: $400
Third place: $300
Honorable mention: $100
SDA Award of Excellence: one-year membership to SDA
SALES: Please note that price and/or value of an accepted entry may not be changed after it is set. There is a 50% gallery commission on works for sale. Work should be marked "NFS" if it is not available for purchase. Include value of work for insurance purposes. form & concept will handle sales transactions while work is on exhibit and ship work to buyer when show is over. All sold objects must remain with the exhibition for the duration of the exhibition and will not be forwarded to the purchaser until the end of the show. Payments to the artist for all sold pieces will be made at the close of the exhibition. Shipment of all sold objects will be paid by the purchaser.
IMPORTANT DATES:
October 24, 2016- January 4, 2017: Entries submitted through CaFE
January 16, 2017: Notification of acceptance
February 14, 2017 Selected artwork due to form & concept
February 24, 2017: Opening reception, juror remarks and award announcements, 5 – 8 p.m.
May 20, 2017: Exhibition closes
June 9, 2017: All work received by artists
Surface Design Association, a 501c3 non-profitt textile arts organization founded in1977, is dedicated to promoting awareness and appreciation of textile-inspired art and design through member-supported benefits including publications, exhibitions and conferences. Visit us at www.surfacedesign.org.
For questions, contact info@surfacedesign.org or call 707-829-3110.
www.surfacedesign/events-exhibits/exhibits
Print this Page
View Legal Agreement