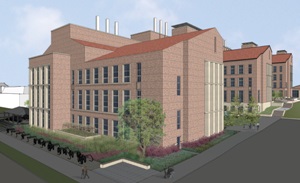 University of Colorado Boulder Jennie Smoly Caruthers Biotechnology Building E-Wing: RFQ
Contact Email:
ruth.bruno@state.co.us
Call Type:
Public Art
Eligibility:
National
State:
Colorado
Entry Deadline:
4/18/16
Application Closed
REQUIREMENTS:
Media Images:6


ABOUT UNIVERSITY OF COLORADO BOULDER & THE JSC BIOTECHNOLOGY BUILDING
Located at the foot of the Rocky Mountains, the University of Colorado Boulder has a breathtaking view from campus. CU-Boulder and its nationally and internationally recognized faculty have built a global reputation for outstanding teaching, research and creative work across more than 150 academic fields. Innovative academic programs, hands-on opportunities and rigorous course work will prepare you for a complex global society. While interacting with faculty, which includes five Nobel laureates, eight MacArthur "Genius Grant" fellows, two U.S. Professors of the Year and four National Medal of Science winners, students develop a broad understanding of the world, strong leadership skills and an enhanced ability to think critically.
The Jennie Smoly Caruthers Biotechnology building (JSCBB) was designed to facilitate collaborations between scientists and students from multiple disciplines to address critical challenges in the biosciences. The building hosts more than 60 faculty members and more than 500 researchers and support staff. Many of CU's leading researchers have labs in the building, including Distinguished Professors Marvin Caruthers, Tom Cech and Kristi Anseth. The building was named after Jennie Smoly Caruthers, a former adjunct professor in CU-Boulder's department of Chemistry and Biochemistry, and researcher in the MCD Biology department. She was also a biotechnology patent expert. Marvin Caruthers dedicated the building in her name.
This building received a LEED Platinum certification - a benchmark for sustainable building design, construction, operation and maintenance – and is one of few laboratory buildings to receive this certification. The building's mechanical and electrical systems, in particular, incorporate significant energy saving and energy recovering models. Many of the building materials were sustainably acquired including wood, tile and stone. All of the sandstone used for the surrounding landscaping is local, quarried in Lyons, Colorado and the brick was produced in Lakewood. The first phase of the project (the first four wings) was completed in 2012 and now houses the university departments of Biochemistry, Colorado Initiative in Molecular Biotechnology, and Chemical & Biological Engineering. The facility supports the unique needs of these units and foster interactive and interdisciplinary research teams, graduate and undergraduate discovery learning as well as collaboration with industry partners. The building is the flagship for redevelopment and expansion of the East Campus at CU-Boulder.
PROJECT DESCRIPTION – ABOUT THE E-WING ADDITION
The E-Wing project is an approximate 60,000 square foot addition onto the existing JSCBB. The design of the building will reflect the highly complex issues of advanced research facilities including but not limited to: environmental control and quality, vibration and acoustical sensitivity, support of changing and sensitive equipment, support of technically complex communications and data systems, and the provision of redundancy and sustainability. The new wing will add additional lab space, offices, and a "connector"/gathering area where the new wing meets with the existing JSCBB.
The landscape design for this addition works with the existing site design, environment factors and sustainability goals. The E-wing building addition creates two additional courtyards that have been designed as outdoor 'rooms', each with unique personalities that create opportunities for students, visitors and faculty to study, relax or share ideas, furthering the 'creative collision' concept of spaces and uses. The design of these new spaces utilizes established hardscape and softscape palettes created from the initial building and landscape design. Plants are xeric and regionally adapted for low water use. Bioswales and a raised planters 'raingarden' slow and cleanse storm water prior to entering underground pipes. Bicycles and pedestrians will access the site with safety, comfort and ease.
Located to the west of the new building addition, the northwest courtyard is intended as a multiuse outdoor space and art garden. Multi-colored paving extends the color and pattern used elsewhere around the building, creating both a clear pedestrian circulation area as well as a place of pause for study or small group gathering. Large planting beds with evergreens and ornamental grasses provide the opportunity for the adapted native planting palette to shine. These bermed planting beds create a sense of seclusion and quiet for pedestrian seat wall spaces. The evergreens trees help to buffer the wind and shade the strong afternoon western sun. Exterior electrical outlets have been strategically located in bollards near seat walls to support the use of students, staff and visitors' digital devices. From within the courtyard space, long views of the Flatirons to the west are stunning, and short views look out into a future East Campus Quad space.
BUDGET: $110,000
The public art budget is $110,000. All costs associated with the public art project including, but not limited to, artist design fee, structural engineering, insurance, materials, fabrication, transportation, installation, building or site modifications, travel to and from the site, per diem expenses, project documentation, contingency to cover unexpected expenses and any other costs related to the project. Selected semi-finalists will be invited to propose artwork for one or all of the locations listed below. Out-of-state semi-finalist artists will receive $1,500 and in-state semi-finalists will receive $1,000 as an honorarium for the creation of a design proposal.
OPPORTUNITIES
FOR PUBLIC ART
The Art Selection panel is looking to commission an outdoor artwork for the exterior Northwest courtyard of the JSC Biotechnology building. This courtyard will be built out with the addition of the E-Wing. This courtyard was designed with the intention to be an art garden, and the space includes seat walls, exterior study spaces, and access to an entryway into a main connector space between the E-Wing and the current building. The courtyard contains three large pine trees for shade and wind protection – these will be 8'- 10' when planted, and will eventually be 30-40'. An artwork or artworks in this Northwest courtyard will draw in from the current grassy area and eventual quad. This side of the building will become the side with the most public use and the more social feel.
The Committee would be interested in something that was kinetic or environmentally responsive - selected artist could consider the environmental factors of the courtyard – sun, wind, exposure, etc - and artwork should try to use these elements in some way rather than fighting them. Artists should consider the building's goals of cross-collaboration, the focus on a hybrid/interdisciplinary approach, sustainability and technology. As the courtyard will be a place of study and relaxation for students, the Committee would also be interested in artworks that showcase nature and the interconnectedness of art and nature.
The Selection Committee will consider the following:
Artistic excellence
Technical competence
Conceptual compatibility
Scale, material, form and content
Appropriate relationship to the function of the site
Contribution to diversity of the State's public art collection
Structural and surface integrity
Resistance to general wear, vandalism, or theft
Ease of maintenance, minimal and low cost maintenance
Compliance with applicable public safety codes.
More images of the building and courtyard available
here
.
COLORADO ART IN PUBLIC PLACES PROGRAM
All works of art purchased or commissioned pursuant to this request are owned by the State of Colorado via the University of Colorado Boulder. De-accession of the public art, if necessary, will follow the policies and procedures established by the Colorado Creative Industries.
ELIGIBILITY
All applicants must be legal residents of the United States. The artists or artist teams must have the skills and experience commensurate with the responsibility of successfully completing a major public art installation. The Program is open to all artists regardless of race, color, creed, gender, gender variance, national origin, age, religion, marital status, political opinion or affiliation, or mental or physical handicap.
SELECTION
PROCESS AND SCHEDULE
The Art Selection Committee will review all complete submittals. A short list of semi­finalists will be invited to prepare and present a final proposal in person. Final selection(s) will be made from the semi­finalists' proposals. The schedule is as follows:
April 18, 2016
- Deadline for receipt of submittal via CaFÉ™ system
May 2016 –
Selection panel meets to select Semi-Finalists
May 2016
- Notification of Semi-Finalist selection
APPLICATION PROCESS
All applications for this project are being accepted through CaFÉ (
www.callforentry.org
). No hard copy submissions will be accepted. The applicant will be asked to submit six digital images of art (see below for more information), a resume, and a brief statement of interest. There is no application fee to apply or to use the CaFÉ™ online application system. Applications must be submitted through CaFÉ™ to be considered.
Digital Images
. In order to be considered for this project, the applicant must electronically submit
six
digital images of previously completed artworks through the CaFÉ™ system.
Instructions on how to use CaFÉ™ and format images can be found at
www.callforentry.org/image_prep.phtml
. Assistance in using the CaFÉ™ system is available during regular business hours by calling 303-­629-­1166, 1­-888-­562-­7232 or e­mail
cafe@westaf.org
.
Resume
: Submit a current résumé, via CaFÉ™, that outlines your professional accomplishments as an artist. If applying as a team, please submit a resume for each artist, with the lead artist first.
Statement of Interest
: A statement of interest in 250 words or less must be submitted via CaFÉ™. It should briefly outline interest in the specific opportunity and applicable experience.
QUESTIONS
nnIf you require more information or clarification, please contact Ruth Bruno, Public Art Program Manager, Colorado Creative Industries at 303­-892-3813 or
ruth.bruno@state.co.us
.
ADDITIONAL SOURCES OF INFORMATION
https://jscbb.colorado.edu/
http://www.hdrinc.com/portfolio/jennie-smoly-caruthers-systems-biotechnology-building
http://www.ramsa.com/en/projects-search/academic/jennie-smoly-caruthers-biotechnology-building.html
Print this Page
View Legal Agreement