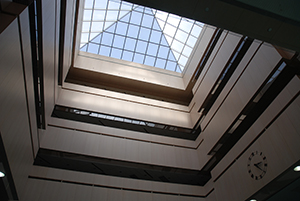 ProMedica Atrium Project
1838 Parkwood Ave.
Suite 120
Toledo, OH 43604
Contact Email:
nmattimoe@theartscommission.org
Call Type:
Public Art
Eligibility:
National
State:
Ohio
Entry Deadline:
4/29/16
Application Closed
REQUIREMENTS:
Media
Images - Minimum: 10, Maximum: 10
Video - Minimum: 0, Maximum: 3
Total Media - Minimum: 10, Maximum: 13
REQUEST FOR QUALIFICATIONS
Promedica Atrium Project
Funded by ProMedica
Administered by The Arts Commission
PROJECT INTENT
The Arts Commission of Greater Toledo and ProMedica Health Systems has convened a Design Review Board to commission a large, hanging, glass installation to be installed in a 4-story atrium in the new headquarters for ProMedica. The work will be a central feature to the building and part of additions and renovations to the new campus.
To view ProMedica's mission and values visit:
http://www.promedica.org/Pages/aboutus/default.aspx
BUDGET
The budget for this project is $75-100,000. This includes all costs associated with the project including, but not limited to: artist's design fee, travel, materials, community engagement initiatives, documentation, transportation and installation of the work.
ELIGIBILITY
The project is open to all artists residing in the United States, age 18 and over, regardless of race, color, religion, national origin, gender, age, military status, sexual orientation, marital status, or physical or mental disability. Artist teams are eligible to apply, including teams of artists from multiple disciplines.
TIME LINE
March 28, 2016 RFQ Direct Call Launched
April 29, 2016 Deadline for Submission of Qualifications
May 4, 2016 Start RFQ Review
May 16, 2016 Finalists Notified / Schedule Site Visits
June 16, 2016 Site Visits Begin
July 28, 2016 Proposals Due / Finalist Presentations
August 8, 2016 Winner is Announced / Commission Awarded
September 6, 2016 Final Design Submitted
April 1, 2017 Build Phase Starts
The Arts Commission reserves the right to change the project timeline. Depending on the schedule of the selected artist(s) and that of The Arts Commission, the project start date will be mutually agreed upon.
HOW TO APPLY
Artists and artist teams who are interested in this project must prepare and submit the following items.
REQUIRED MATERIALS
Letter of Interest: The letter should be no more than one page and should explain the artist's interest in the project.
Resume: If submitting as a team, one resume for each team member should be submitted.
10 Digital Images: Submit 10 digital images of your professional work.
Number Order:
Please note that the Design Review Board will review a limited portfolio in round one of the selection process. In this round, candidates will either move on to round two or be eliminated based on images 01, 02, and 03 of their portfolio. Candidates should organize their images accordingly and ensure that their body of work is best represented in these first 3 images.
3 Professional References: Submit a list of at least three professional references that have an intimate knowledge of the artist's work and working methods. The list must include complete addresses, telephone numbers and email addresses.
OPTIONAL MATERIALS
Statement of intent (1 page maximum): Individuals or teams may choose to include a short written statement discussing concepts for this project. Individuals or teams may briefly outline a specific idea for a project or may discuss a less formalized direction for a work. Please do not include budgets, sketches, models or renderings at the preliminary stage. NOTE: Panel members will be aware that the statement of intent is an optional component and it will not count against an artist or team not to include one. This is provided as an option in order to benefit emerging artists with fewer qualifications.
Video (up to 3): Submissions may include up to 3 video examples of work that is kinetic.

WHERE TO SUBMIT MATERIALS
All materials are submitted at
https://www.callforentry.org/festivals_unique_info.php?ID=3410
. Applications are due by 11:59pm on April 29, 2016.
FINALISTS
During the preliminary selection meeting, three to five artists or artist teams will be chosen as finalists by the design review board and invited to submit a proposal for consideration. Each finalist will receive $2,500 in compensation for all expenses related to the development of the proposal. Up to $1,000 will be made available for expenses related to site visits, including travel and lodging. Artists will be notified of their status by phone or email no later than May 16, 2016. Artists are responsible for providing accurate contact information to The Arts Commission. A phone or video-conference interview may also be conducted at the discretion of the design review board during the final artist selection meeting.
SITE INFO
Location: 310 N. Summit St., Toledo, OH
Google Map:
https://goo.gl/maps/9GaDS9amkVL2
Print this Page
View Legal Agreement