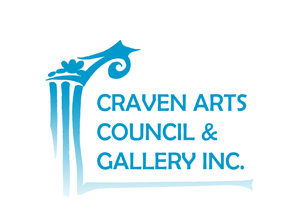 2016 Bank of the Arts National Juried Exhibition
Physical & Shipping Address:
317 Middle St., New Bern, NC 28560
Mailing Address (Correspondence and checks only): P.O. Box 596 New Bern, NC 28563
Contact Email:
cravenarts@cravenarts.org
Call Type:
Exhibitions
Eligibility:
National
State:
North Carolina
Entry Deadline:
9/11/16
Application Closed
REQUIREMENTS:
Media
Images - Minimum: 1, Maximum: 3
Video - Minimum: 0, Maximum: 3
Total Media - Minimum: 1, Maximum: 3
Entry Fee (Craven Arts Council & Gallery Inc. Entry Fee): $30.00

The historic city of New Bern, the first colonial capital of North Carolina, has become a prime destination for retirees, families and tourists alike. New Bern's rich history and beautiful geographic setting have combined to create a cultural environment that has attracted an active art community supported by an enthusiastic group of collectors and donors.

This year's exhibition, October 8 - November 26, comes with an expansion on the same poetry "twist" that was so well received in past years. "Ekphrastic Poetry" is a collaborative project in the truest sense. In conjunction with "PulitzerNC: The Power of Words," the Craven Arts Council will host workshops and events promoting dialogue between literary and visual arts. Groups locally and across the state will be encouraged to view the work on display at the Bank of the Arts or online and use the visual imagery as an inspiration to create their own poetry. The resulting literary work will be juried by Pultizer Finalist Alan Shapiro, and selected entries will be read aloud at the November 11 Artwalk. The Craven Arts Council will also publish a book of the poetry alongside the artwork that inspired it.

This year's juried exhibition offers $6,000 in awards, including the addition of three $1,000 honoraria for outdoor sculpture. The show's juror will be Larry Wheeler, Director of the NC Museum of Art. An opening reception will be held during our downtown New Bern ArtWalk on October 14, an evening when galleries, shops and restaurants celebrate the arts.


Categories
2D (paintings, mixed media)

Photography

Contemporary Crafts (pottery, jewelry, textiles, wood, glass and metal art)

Indoor Sculpture

Outdoor Sculpture

Awards
$1,500 Purchase Award (indoor)

Four $250 Best-in-Category Awards (indoor)

Five $100 Merit Awards (indoor)

Three $1,000 honoraria (outdoor)

Juror

Larry Wheeler is the current director of the North Carolina Museum of Art. Since securing the position in 1994, Dr. Wheeler has overseen the Museum's 2006 expansion, the acquisition of 29 Rodin sculptures, and numerous additions to its modern and contemporary collections. In addition to awards on the state, national and international level, Dr. Wheeler has been called "the godfather of the Triangle's cultural boom," for his melding of "arts, politics and commerce into a powerful new cultural force." Lawrence Wheeler grew up in Lakeland, Florida. He has Bachelor of Arts degrees in History and French from Pfeiffer College, and a Masters of Arts and Ph.D. in European history from the University of Georgia.


Entry and Fee

A maximum total of three works (indoor, outdoor, or combination) may be submitted to the Craven Arts Council & Gallery through CaFE™ for $30. All fees are due upon application. Mail checks to Craven Arts Council & Gallery, P.O. Box 596, New Bern, NC 28563 and make payable to the Craven Arts Council & Gallery; or pay by credit card through the CaFE™ Web page. Entries must be received by 11:59 p.m. Eastern Time, September 11, 2016.

Notification

Notification of results will be made on Friday, September 16, 2016, through CaFE™; or you may call the Craven Arts Council & Gallery that day from 10 a.m. to 5 p.m. at 252-638-2577.

Eligibility

All artists 18 years or older may submit works for this show. Only original works of art not previously shown at the Craven Arts Council & Gallery and created within the last three years are eligible. These works must fit into one of five categories: 2D, Contemporary Craft (pottery, textiles, jewelry, metal art and wood), Photography, Gallery Sculpture, and Outdoor Sculpture. All work to be hung must be professionally framed and/or securely wired. If subject to damage, the piece must be framed under Plexiglas or glass. No clip mounting or saw-tooth hangers will be accepted.
Three-dimensional work must sit solidly on a flat surface or be properly mounted for hanging. If works are not adequately prepared for display, they will be withdrawn from jurying. Hanging pieces must not exceed 8 feet (96 inches) in any direction. While there are no size restrictions on non-hanging items, it should be kept in mind that entries must be transportable and able to be displayed in a conventional-sized gallery. Gallery sculpture must not exceed 100 lbs. All outdoor work must be able to withstand outdoor conditions in a coastal region for one year and pose no threat to public safety. When necessary, works will be secured to concrete pads. Artists of selected pieces must provide installation instructions and equipment needed.


Liability

The Craven Arts Council & Gallery staff will exercise the best possible care in handling all works. Craven Arts Council & Gallery assumes responsibility for insuring up to 70% of the consignment value - not to exceed $2,500 - for all work accepted for the length of the exhibit. The artist is responsible for the cost of shipping to/from the Craven Arts Council & Gallery and for shipping insurance. Craven Arts Council & Gallery reserves the right to refuse any entry and to withdraw any work from the exhibition at its discretion. Craven Arts Council & Gallery also reserves the right to photograph and reproduce any entry submitted to be used for educational or publicity purposes. The receipt of an entry in the Bank of the Arts Annual Juried Exhibition will constitute agreement by the artist with all conditions set forth in this prospectus.

Sale of Work

All entries are available for sale with a 30% commission taken by the Craven Arts Council & Gallery. No NFS (not for sale) or POR (price on request) pieces will be accepted. Works must have prices listed and will be sold as exhibited. New Bern is a tourist center; therefore, some art may leave on day of purchase.

Delivery/Pickup of Accepted Works

Accepted works should arrive at the Craven Arts Council between September 17, 2016, and October 6, 2016. The artist will be responsible for all shipping costs and arrangements to and from the Craven Arts Council & Gallery. Shipped entries must be sent in reusable containers. The Craven Arts Council will pack each piece in its original packing when available. Artists are responsible for arranging return shipping to the address of origin through their local UPS/FedEx/USPS or other shipping office at the close of the exhibition. Shipping insurance is the responsibility of the artist. The Craven Arts Council & Gallery will not accept monies for shipping and is not responsible for works lost, stolen or damaged once picked up by the shipper.
Check your local shipper for prepaid return labels, call tag systems and printable internet shipping labels.

Artists may include the return label with the shipment of the work to the Craven Arts Council & Gallery or provide the Arts Council with a prepaid label at the close of the exhibition.
At the conclusion of the exhibit, accepted entries may be picked up at the Bank of the Arts, 317 Middle Street, New Bern, NC 28560, on Tuesday, November 29th, 2016, through Saturday,December 3rd, 2016, from 10 a.m. to 5 p.m. Artists who wish to have their artwork shipped back to them must provide return shipping fees including insurance.

Outdoor Sculpture will be displayed by the Craven Arts Council for one year. Outdoor work may be picked up Sept 30th 2017 and October 1st 2017.

All work not picked up by January 2, 2017, becomes the property of the Craven Arts Council & Gallery.
Print this Page
View Legal Agreement