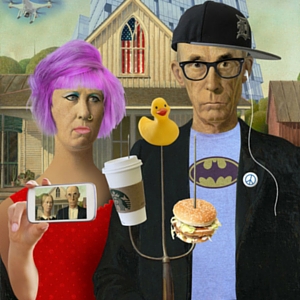 Real American
Ann Arbor Art Center
117 W. Liberty St.
Ann Arbor, MI 48104
Contact Email:
exhibitions@annarborartcenter.org
Call Type:
Exhibitions
Eligibility:
National
State:
Michigan
Entry Deadline:
6/12/16
Application Closed
REQUIREMENTS:
Media
Images - Minimum: 1, Maximum: 3
Video - Minimum: 0, Maximum: 1
Total Media - Minimum: 1, Maximum: 3
Entry Fee (Real American): $35.00

What is "Real American"? We seek to explore then generational, ethnographic, cultural, and anthropological ideals of what the word American means. From fresh apple pie to Budweiser, the Star Spangled Banner to Party in the USA, what is the modern American experience? Are we entering the sci-fi World of Tomorrow, longing for the Norman Rockwell past, or painting ourselves into an Idiocracy? If our culture is our biggest export, what kind of image are we presenting to the world? This exhibition seeks artworks that span the spectrum from whimsical to austere, nostalgic to provocative. Artworks may consist of images from popular and visual culture, contain everyday objects assembled in unexpected ways, or incorporate stars and stripes.

All artistic mediums are welcome.

Awards:
$500 Best In Show
$200 2nd Place
$100 3rd Place
Two Honorable Mentions

Juror: Peter Baker

Peter Baker is an Ann Arbor-based photographer who specializes in editorial, travel, and advertising photography. His clients include Herman Miller, The Wall Street Journal, Bloomberg Businessweek, ESPN The Magazine, National Geographic Traveler, and Popular Mechanics. Peter's work has been featured in numerous exhibitions nationally and internationally, as well as in HOW Magazine, American Photography, and Hemispheres. He also serves as Creative Director at local tech darling Duo Security, and has been involved in creating many arts and culture events in Ann Arbor, MI.

Important Dates:
Entries Submission Deadline: Sunday, June 12
Artists Notified of Juror Selections: Monday, June 20
Accepted Artwork Drop-off Deadline: Tuesday, June 28
Opening Reception: Friday, July 1, 6-9pm
Exhibition Closes: Saturday, August 13
Pick-up of Work: August 14 – August 17

Submission Guidelines:

Artists are invited to submit up to three images as jpeg files per entry. Artworks should have been created within the past three years and not previously shown in any Ann Arbor Art Center exhibitions.

The jurying process is anonymous, however artists must submit a CV and bio as separate documents. Acceptable formats for documents are .doc and .pdf and must be labeled using the following format: Lastname_firstname_CV and Lastname_firstname_Bio

Please Note: This is a juried exhibition and all entries must be submitted digitally for consideration. Submission does not guarantee artwork acceptance. Submission fees are non-refundable. Accepted artworks must arrive "ready to hang" – the Art Center reserves the right to decline artworks that do not meet gallery standards or do not represent artist submission. Artists are expected to provide components necessary for special/nontraditional installations. For shipped artworks, artists are responsible for shipping costs and insurance, if applicable, and encouraged to use plexi glass over traditional glass to ensure safety of artwork in transit.


About the Ann Arbor Art Center:

For 107 years, the Ann Arbor Art Center has been sparking creativity in people of all ages and artistic abilities. Our mission: "to be a contemporary forum for the visual arts through education, exploration, collaboration and exhibition, and to engage minds, expand perspectives and inspire growth in students of all ages, teachers, artists and the community."

Through innovative programming, thought-provoking exhibitions, a gallery shop offering handmade artist work, and a variety of hands-on learning opportunities, the Art Center engages over 50,000 people annually in a variety of ways who are inspired to explore the power of the visual arts.

Visit www.annarborartcenter.org to learn more.
Print this Page
View Legal Agreement