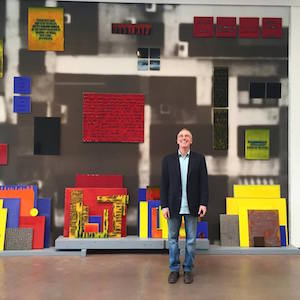 Ceramic Tile 2016
PEWABIC
10125 E Jefferson
Detroit MI 48214
Contact Email:
dcarroll@pewabic.org
Call Type:
Exhibitions
Eligibility:
International
State:
Michigan
Entry Deadline:
10/1/16
Application Closed
REQUIREMENTS:
Media
Images - Minimum: 1, Maximum: 6
Total Media - Minimum: 1, Maximum: 6
Entry Fee (Ceramic Tile): $30.00

PRIZES:
1st Prize: $500
2nd Prize: $250
3rd Prize: $100
IMPORTANT DATES:
Submission Deadline: October 1, 2016
Email Notification by: October 10, 2016
Art Delivery to Pewabic: October 12-25, 2016
Exhibit Opens: November 10, 2016
Artists' Reception: TBA
Exhibit ends: January 8, 2017
Works returned: commencing January 17, 2017
DESCRIPTION:
Pewabic has a 100+ year history producing decorative and architectural ceramic tile. Ceramic Tile 2016 celebrates that history with a call for contemporary ceramic tiles; we are thrilled to announce Bobby Silverman as our juror.

Silverman is an artist and designer who lives and works in New York City. His work has been exhibited internationally and is in many public and private collections including the Museum of Arts and Design, New York City, the European Ceramic Work Center, s'Hertogenbosch,The Netherlands, The Museum of Fine Arts, Houston, and the Renwick Gallery/Smithsonian American Art Museum, Washington ,DC. He has received fellowships from the Louisiana State Council for the Arts, National Endowment for the Arts, New York State Council for the Arts and the Southern Arts Federation/National Endowment of the Arts Fellowship.

Silverman received his MFA from the New York State College of Ceramics at Alfred University, Alfred, NY, his BFA from the Kansas City Art Institute, Kansas City, MO and his BA in Social Geography, Cum Laude, from Clark University Worcester, MA. He has taught and lectured in China, the United States, Europe and the Middle East and is the Principal of Alsio Design, a company that designs and manufactures ceramic tile.

ELIGIBILITY:
Decorative, sculptural and architectural tiles measuring no more than 18" x 18" and 20 lbs. will be considered. Ceramic artists may submit up to three (3) entries in all themes, genres, types of clay and firing methods.

Works selected will be presented in an exhibition opening to the public Thursday, November 10, 2016. Entries must be original works of art created entirely by the entrant and not in violation of any copyright. Artwork must have been completed within the last three years.
REQUIREMENTS:
You may submit up to two images of each work; if submitting more than one image of a work please make certain to clearly label the images "LastName_Title_image1" and "LastName_Title_image2". If the work is untitled please provide some means of identification such as Untitled123.

The inclusion of an artist's statement and/or resumé is optional but encouraged. Reproducible images and artists' biographical information may be used in promotional materials including social media.
Submitted works must be available for sale in this cash & carry exhibition. A 50% commission on sale will be paid to the artist; a completed W9 is required to process all payments.
Work may be hand-delivered or shipped, to be received at Pewabic between October 12 and October 25th. Insurance of the work will be the responsibility of the artist to and from Pewabic. Each artist will be responsible all costs associated with delivery and shipping to and from Pewabic. Artists shipping work must use reusable packing materials.
The exhibition continues through January 8, 2017. Works not sold will be available for pick-up January 17, 2017. Return shipment of all other works will commence January 17, 2017. Any works not picked up or returned by March 1, 2017, through no fault of Pewabic, will be considered abandoned and shall become the property of Pewabic.
Complete instructions will be included with acceptance letter. Pewabic will insure each accepted work for 60% of its value from the time of arrival at Pewabic until it is released to the shipping agent.

Your entry constitutes understanding and agreement with the conditions outlined in this description and associated legal agreement.
ABOUT:Pewabic is a 501(C)(3) nonprofit dedicated to enriching the human spirit with clay. Housed in an 11,800 sq. foot Tudor Revival building designed by notable architect William Buck Stratton, Pewabic continues to build on its legacy as a community of makers and educators focused on progressing the handcrafted process and ceramic education.
Ceramic artist Mary Chase Perry Stratton and entrepreneur Horace James Caulkins – innovators of the early 20th century - founded Pewabic in 1903. Stratton is well known for her distinctive iridescent glaze and tile designs installed in buildings around the United States.
We continue to refine our role in the community through exhibitions, outreach and education, looking for new ways to make ceramics relevant and accessible to people of all ages and skill levels. Like our founder, we are creating our next makers, artists and appreciators.
Print this Page
View Legal Agreement