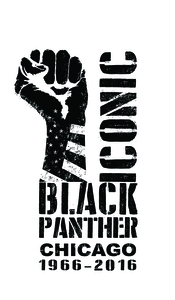 ICONIC: Black Panther Art Exhibition
Contact Email:
sepiaartistcollective@gmail.com
Call Type:
Exhibitions
Eligibility:
Regional
State:
Illinois
Entry Deadline:
5/20/17
Application Closed
REQUIREMENTS:
Media
Images - Minimum: 3, Maximum: 4
Total Media - Minimum: 3, Maximum: 4
Entry Fee (Iconic Black Panther Art Exhibition): $15.00

Media Fee (per sample over minimum):$5.00

ICONIC: BLACK PANTHER
Fine Art Exhibition
Avalon Regal Theater
79th S Stony Island Ave,
Chicago, IL 60619
**BECAUSE OF LARGER THAN EXPECTED RESPONSE, DATES HAVE BEEN EXTENDED. NEW DATES TO BE ANNOUNCED AT CLOSE OF CALL (5/20/17)**
SHOW DESCRIPTION
**Show Dates will be moved to allow for high demand**
ICONIC: Black Panther is a multi-city art exhibit. Each city will host a curated exhibit featuring primarily local artists along with internationally renowned artists, and original art from founding Black Panthers. This art exhibit celebrates the iconic role of the Black Panther party in American History over the past 50 years. Chicago Illinois will host ICONIC: Black Panther at the historic Avalon Regal Theater.
Artwork submitted will be reviewed by a team of established artists, curators, and influential people in the art industry in all four cities.
A diverse group of artists will be accepted into the exhibit. They will be encouraged to explore their own insights into the Black Panther Party, and current societal challenges, be they racial, cultural, class, or gender based.
Requirements:
MEDIA
Painting, drawing, mixed media, photograpy, sculpture*(limited space for sculpture), original prints
SIZE
Each artist will have approx 3'x4' of vertical wall space. Sculpture and larger works will have to be cleared by the curators so that proper space can be alloted.

ENTRY FEE
$15.00 for three slides, $5.00 per additional slide, 4 slides max.

ELIGIBILITY
Open to artists in Chicago and surrounding Cities. Artists within state limits given priority. However in the interest of diversity, open to surrounding states especially if said artist's perspective contributes to diversity of show. Artist is responsible for pick up and delivery of their work.
EXHIBITION DATES
**NEW DATES TO BE DETERMINED/ SHOW MOVED TO FALL**
CATALOGUE
Each accepted artist will be featured in a fully illustrated catalogue of the exhibit. Your submission for consideration indicates acceptance of the additional deadline (TBD) for an updated bio. and a 300 dpi professional scan of your completed work for the show.
DEADLINES
February 10, 2017
: Deadline for submissions
February 24, 2017
: Notification of accepted artists
March 24, 2017
: Deadline for updated bio., head shot and 300 dpi scan of artwork for the show.**required**
DELIVERY OF ARTWORK
May 12, 2017
: Accepted works must arrive, display ready 1p.m.
SALES
All sales will be handled through SEPIA in partnership with their fiscal sponsor for the event. A 50% commission will be charged, which will support political prisoners, Panthers in need and their families. All pieces must remain up for the duration of the exhibition. SEPIA reserves the right to sell accepted works online during the exhibition. Artist understands that show dates may extend. SEPIA will send checks to the artist for the sale of their work at the end of the exhibition.
JURORS
DANNY SIMMONS
Daniel "Danny" Simmons, Jr. is a neo-African abstract expressionist painter and the older brother of hip-hop impresario Russell Simmons and rapper Joseph Simmons ("Reverend Run" of Run–D.M.C.). He is the co-founder and Chairman of Rush Philanthropic Arts Foundation (since 1995), which provides disadvantaged urban youth with arts access and education.[1] As part of Rush Philanthropic, Simmons also founded Rush Arts Gallery and soon thereafter converted part of his loft in Brooklyn into the Corridor Gallery. Both galleries provide exhibition opportunities to early and mid-career artists who do not have commercial representation through galleries or private dealers. Danny is currently overseeing the launch of Rush Philanthropic space in Philadelphia.
MAT GLEASON
Mat Gleason is known as a provocative outsider voice who used his irreverent art journal turned website, the 21 year old Coagula, to tear down what he sees as an insular, pretension heavy art scene. He is founder of the always freely distributed Coagula Art Journal, Founder of Coagula Curatorial Art Gallery, and art critic for Huffington Post.
ISABEL ROJAS WILLIAMS
Isabel Rojas-Williams has actively studied, documented, and lectured on the social-political art movements of Los Angeles. She has taught art history at California State University, Los Angeles, and has been the curator of multiple exhibitions documenting the city's rich legacy of urban art. Rojas-Williams has received numerous awards for her curatorial, civic, and creative contributions to Los Angeles. In 2009, Rojas-Williams was appointed as an advisor for the "Siqueiros Interpretative Center" and served as Mayor Villaraigosa's art liaison (2009-2013) to the Latino Heritage Committee, African American Committee, and Asian American Committee. She is also the vice president of Los Angeles-Mexico Sister Cities program. In her role as the Executive Director of The Mural Conservancy of Los Angeles, Rojas-Williams had a major role in the crafting of the mural ordinance signed by Mayor Garcetti 2013, which lifted the 2002 mural moratorium on private property in Los Angeles. In October 2014 the Los Angeles City Council honored Isabel Rojas-Williams as one of the fifteen "Latinas in the Arts" who has made an impact in the cultural landscape of Los Angeles.
Presented by SEPIA Collective and The Regal Foundation, a 501(c)3 non-profit corporation.
ICONIC: BLACK PANTHER
Print this Page
View Legal Agreement