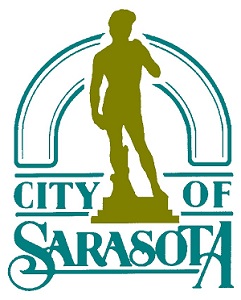 N. Palm Avenue and Cocoanut Avenue Roundabout Artwork Design Competition
Use if accepting check payments from artists.
Contact Email:
clifford.smith@sarasotagov.com
Call Type:
Public Art
Eligibility:
National
State:
Florida
Entry Deadline:
10/31/17
Application Closed
REQUIREMENTS:
Media
Images - Minimum: 4, Maximum: 10
Total Media - Minimum: 4, Maximum: 10
Project Overview
The City of Sarasota, Florida is sponsoring an outdoor landmark sculpture for placement within a future roadway roundabout at the intersection of N. Palm Avenue and Cocoanut Avenue in a downtown location. This project is related to a new public art initiative that is focused on acquiring public works of art that will be permanently displayed in numerous roundabouts that will be constructed during the next decade. The City intends to construct approximately 16 new roundabouts by 2025 which will incorporate public artwork in the center islands. These projects have many stakeholders including: the City Commission, the Public Art Committee, the Neighborhood and Development Services Department and other interested community organizations and individuals. There is no central theme for the overall collection of sculpture in these future roundabouts. This Call to Artists is only for the roundabout to be located at N. Palm Avenue and Cocoanut Avenue; additional Calls to Artists will be issued for other roundabouts in the future as needed.
Of general note: The City of Sarasota is known for its arts and cultural amenities; located on the Gulf coast of Florida, the City is approximately 60 miles south of Tampa. The current resident population of the City is approximately 53,000 full-time residents and Sarasota County population is approximately 390,000 full-time residents.
The first step of this design competition will be the review of application materials with the intent of identifying three artwork proposals most favored by the City's Public Art Committee. Following this initial selection process, three artists who are selected as finalists will be invited to present their proposals in person to the Public Art Committee (finalists will be paid $1,000 honorariums to present their proposals in person and must include a site specific maquette as well as other visual depictions of the proposed artwork). The Public Art Committee will rank the three proposals and make a recommendation to the City Commission, which grants final approval for the commissioning of this work. Only one of the three finalists will be offered this commission.
Design Criteria
Overall design criteria that will help guide the selection of artwork are:
1. Is work that will complement its downtown location
2. Is designed to require minimal maintenance (do not include a water feature)
3. Is a high quality, free-standing outdoor sculpture
4. Is of an original design (not reproduced)
5. Does not draw viewers to it but is appreciated from a distance (i.e. non-interactive)
6. Should not create a distracting situation for drivers using the roundabout
7. Does not exceed 20 feet in height
8. Proposed work should be structurally sound and meet applicable standards of the Florida Building Code in regard to the foundation and wind loading (150 MPH winds); final work will need to be engineered and stamped by a registered Florida engineer
9. The artwork must have a minimum offset of six feet from the edge of the inside travel lane
10. Materials used must meet the demands of Sarasota's subtropical climate (sea salt air)
11. The sculpture must not contain any signs or traffic control features, auditory devices, reflective surfaces, flashing lights, moving parts or moving illumination
12. It must be devoid of advertising, including charitable, fraternal, religious, or political signs, symbols, logos, banners or any other such device
13. The structure may not display messages with text, but can make use of alpha-numeric characters in the design format
14. Lighting of the sculpture must not be directed at motorists, bicyclists or pedestrians
15. The artwork, including any amenities, must not obstruct any signs or interfere with any sight distance, sight triangle or view zone
16. The artwork will have an anti-graffiti coating
17. The artist will provide a two-year warranty on materials and craftsmanship
There is no stated stylistic preference; a full spectrum of high quality outdoor sculpture is anticipated to be of interest to the City.
The commissioned work of art will become part of the City's permanent public art collection. Artists are required to submit qualifications, illustrations (images, renderings), and a brief statement describing an initial concept idea for this project. It is hoped that a full range of art mediums suitable for an outdoor environment and styles will be represented.
This is an intersection of a local road (N. Palm Avenue) and a collector road (Cocoanut Avenue). The roundabout will be a single-lane design. At the time of this Call to Artists issuance, the design plans show a center island with a 24 foot diameter. As the artwork must be at least 6 feet away from the travel lane, an artist has an area with a maximum diameter of 12 feet in which to create a sculpture.
The three finalists will make in-person presentations to the Public Art Committee at a Special Public Art meeting which will be open to the public. Public comment will be allowed during the meeting. Artist honorariums of $1,000.00 (one-thousand dollars) will be paid to the three finalists. Presentations must include a site specific maquette as well as other visual depictions of the proposed artwork.
For general information regarding the City's public art program and images of completed works within the City's collection, please visit http://sarasotagov.org/PublicArt/index.html.
Artist Eligibility
Artists who have successfully completed projects of similar scale and budget.
Budget
The City's project budget is not to exceed $150,000.00 (One-hundred and fifty-thousand dollars). This artwork budget will reflect all costs associated with the project, including but not limited to such items as: design, engineering (including the foundation), production, transport, installation, site preparation, lighting, travel expenses, and required insurance. It is anticipated that some of the associated artwork project costs such as electrical conduit being run to the sculpture location and a general artwork base platform will be covered within a general roundabout construction budget. If unusual foundation needs are proposed by the artist, these costs must be accounted for within the proposed artwork budget.
Submittal Documents
1. Provide a written description of proposed artwork for this project including the title, type of media, dimensions, weight and fabrication information; upload up to 8 images of the proposed artwork; (please submit only one proposal);
2. Artists are requested to submit a resume outlining their experience;
3. Proposed budget estimate for the project;
4. Upload images of previous artwork listing title, type of media, dimensions, and year of completion or upload artwork from your library/gallery and be sure to include an ID sheet; and
5. 3 or more professional references.
Time-line
Deadline for submission: October 31, 2016
General review of applicants by the Public Art Committee: December, 2016
Finalist presentations to the Public Art Committee: February, 2017
Recommendation of the Public Art Committee presented to City Commission: March, 2017
Artist under contract: April, 2017
Anticipated project completion and installation: TBD, 2017
Selection Process
The City of Sarasota Public Art Committee will review all submitted material and select three artist finalists. The three selected finalists will be paid $1,000.00 honorariums for an in-person presentation of their proposed site specific artwork which shall include a maquette. The three selected artists are responsible for transportation, lodging, and food costs when making their in-person presentation to the Public Art Committee. The Public Art Committee will rank the three finalists' proposals and make a recommendation to the City Commission. The City Commission makes the final determination of the selected artwork.
All applicants will be notified about the outcome of their submissions. Please do not call or e-mail for an update on the status of the submission.
Print this Page
View Legal Agreement