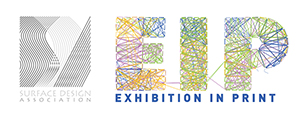 Crafting Community: SDA 2016 Inaugural International Exhibition in Print
Surface Design Association
P.O. Box 20430
Albuquerque, NM 87154
www.surfacedesign.org
Contact Email:
info@surfacedesign.org
Call Type:
Exhibitions
Eligibility:
Unspecified
State:
New Mexico
Entry Deadline:
10/15/16
Application ClosedNumber of Applications Allowed:
3
REQUIREMENTS:
Media
Images - Minimum: 1, Maximum: 3
Total Media - Minimum: 1, Maximum: 3
Entry Fee (SDA Members): $20.00
Entry Fee (SDA Non-Members): $45.00

CRAFTING COMMUNITY: SDA 2016 INAUGURAL INTERNATIONAL EXHBITION IN PRINT
EXHIBITION IN PRINT: SDA member and non-member artists working in or inspired by fiber arts and/or textile media are invited to submit work for a juried issue of the Surface Design Journal entitled Crafting Community: SDA Inaugural International Exhibition in Print. Selected work will appear in print in the winter 2016 issue of the Surface Design Journal (publication date December 23, 2016). www.surfacedesign.org
GOAL: The goal of this exhibition in print is to showcase the breadth and depth of contemporary artists and designers working working with or inspired by fiber/textile materials and techniques. Artists and makers are encouraged to submit work of any size or format that demonstrates the innovative use of textile media, including nontraditional materials and techniques. In addition to traditional 2D and 3D forms, participants are encouraged to submit work that challenges and expands the contemporary definitions of textile/fiber-based art and design, such as digital art (design/animation), time arts (sound/video), performance art, conceptual art, land art, installation art, book art, textile design, fashion design, interior design, product design, and craft-as-social-practice.
Special consideration is given to work engaging the theme of Crafting Community. 2017 will mark Surface Design Association's 40th anniversary of supporting and promoting contemporary textile/fiber-based art and education. Our dedicated SDA community is composed of passionate artists, designers, collectors, curators, educators, and students of all ages from all over the world. Creative practice grows in exciting new ways when we share what—and why—we make. This exhibition in print celebrates the incredible variety of our members' most recent artistic achievements, and warmly invites others to add their voices to this inspiring collective conversation.
Works should be completed on or after January 1, 2013. SDA encourages established, emerging, international and student artists to participate.
JOURNAL OVERVIEW: A single guest juror/curator will work with the SDA Journal Editor, Marci McDade, to select all work for inclusion in a comprehensive print and digital edition of the Journal with full and detailed images as well as artist statements and essays addressing context and evolution of trends in contemporary textile arts.
All SDA members may download the complete Journal from SDA website. Artists whose work is selected will receive one complimentary print copy of the Journal. Print and digital versions of the Journal will be available for purchase on SDA website at www.surfacedesign.org.
JURORS:
Mark Newport (http://www.marknewportartist.com)
Mark Newport was born in Amsterdam, NY and attended the Kansas City Art Institute (BFA) and the School of the Art Institute of Chicago (MFA). Newport's work has been exhibited internationally. Recent awards include grants from the Louis Comfort Tiffany Foundation, Creative Capital Foundation, the Kresge Foundation, and the Arizona Commission on the Arts. Newport's work is in the collections of The Whitney Museum of American Art; The Renwick Gallery of the Smithsonian American Art Museum, the Arizona State University Art Museum, the Cranbrook Art Museum, and The Detroit Institute of Arts. The Duane Reed Gallery and the Greg Kucera Gallery represent his work. Newport is the Artist-in-Residence and Head of Fiber at the Cranbrook Academy of Art, Michigan.
Marci Rae McDade (http://acd-ocac.pnca.edu/marci-rae-mcdade/)
Marci Rae McDade is the editor of Surface Design Journal, former editor of FiberArts magazine. Born in Gary, Indiana, McDade attended Columbia College Chicago (BA in Film/Video Production) and the School of the Art Institute of Chicago (MFA in Fiber and Material Studies). Her fiber-based artwork and independently curated group exhibitions have been exhibited widely in US. McDade also mentors and teaches in the MFA Applied Craft + Design Program, co-sponsored by the Oregon College of Art and Craft and the Pacific Northwest College of Art in her hometown of Portland, Oregon.
ELIGIBILITY AND ENTRY FEE: This exhibition is open to all artists, with discounted entry fee offered to members of Surface Design Association (SDA). Artists may enter up to three pieces/images. 2D and 3D works are eligible, as is documentation of time-based media, performance, or conceptual work. As the call is for an exhibition in print, only photographic documentation of work will be accepted for consideration. Work must have been completed since January 1, 2013. Work executed under classroom/educational guidance or supervision is not eligible.
$20 entry fee for members, up to 3 artworks/images.
$45 entry fee for non-members, up to 3 artworks/images.

To become a member before applying, please follow this link: http://www.surfacedesign.org/support/
ENTRY PROCEDURE: Entries are to be submitted online through CaFÉTM Call for Entry website located at http://TINYURL.COM/ZPNQL2X. The following information is required for submission:
1. Name, address (and shipping address if different), telephone, e-mail.
2. Up to 3 works may be submitted per entry; at least one should be an overal image. The additional 2 can be details of one piece, although artists are encouraged to submit 3 individual works to provide an overview of their creative practice.
3. Images - full and detail - JPEG only; Upload options for image files
• File format: JPEG only
• File dimensions: No smaller than 1920 pixels on the longest side
• File resolution: 72 ppi/dpi (standard web resolution)
• File size: 5 MB maximum
Please note that uploaded images are scaled by the system and two monitor versions are created: a small 100-pixel thumbnail and a large 700-pixel image. These images are available for you to preview in your portfolio after you upload.
5. A brief artist statement (75-150 words, maximum).
PHOTOGRAPHIC GUIDELINES: As this call is for an exhibition in print, the quality of photographic documentation will impact the assessment of your work for inclusion in the Journal. The most common error in images is background. Backgrounds should be neutral. Many artists use a graded black to white background. Under no circumstances should the background contain a color or a pattern; this distracts from the work. If you are doing your own photography and use an ironed sheet or other fabric as a background, Photoshop or a similar software program can be used to manipulate the background. The Internet abounds with articles on photographing your own work. A professional photographer is always a good investment. Your photographs should give a sense of how your piece "sits" or "hangs." While the call encourages 1 overall image, the artist may choose to submit a detail as one of her or his 3 images for submission.If you choose to submit a detail: detail photographs can show the technical excellence of the work; they can highlight special areas that might not be obvious in the full shot of the work.
AWARDS: SDA Awards for Excellence will be recognized in the following areas. Award honorees will be featured in Crafting Community: SDA Inaugural International Exhibition in Print:
International Innovation
Next Generation (Student Award)
Surface Design
Conceptual Craft
Craft & Community
Figure & Fiber
Tradition In Technique
Innovation In Technique
IMPORTANT DATES:
July 15-October 15: CALL FOR ENTRY
October 31: NOTIFICATION OF ACCEPTANCE
November 10: Selected artists provide high-res images for publication
December 23, 2016: Publication of Winter Journal, Crafting Community: SDA Inaugural International Exhibition in Print
Surface Design Association, a 501c3 non-profit textile arts organization founded in 1977, is dedicated to promoting awareness and appreciation of textile-inspired art and design through member-supported benefits including publications, exhibitions and conferences. Visit us at www.surfacedesign.org.
For questions, contact info@surfacedesign.org or call 707-829-3110.
Print this Page
View Legal Agreement