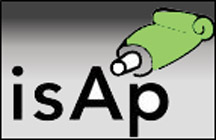 1st Annual Online All-Member Show
c/o Ara Leites, Treasurer
168 Oxford Way
Santa Cruz, CA 95060-6447
Contact Email:
show@isap-online.com
Call Type:
Exhibitions
Eligibility:
International
State:
California
Entry Deadline:
10/30/16
Application Closed
REQUIREMENTS:
Media
Images - Minimum: 1, Maximum: 2
Total Media - Minimum: 1, Maximum: 2
Entry Fee (1st Annual Online All-Member Show): $35.00

International Society of Acrylic Painters
1st Annual Online All-Member Exhibition

Timetable:
September 5, 2016..........Entries open on callforentry.org
October 16, 2016............Show closes to entries (EXTENDED TO 10/30/16)
October 23, 2016….…….Jurying of entries (MOVED TO 11/06/16)
November 6, 2016……….Notice of acceptance* (MOVED TO 11/20/16)
November 13-20, 2016….Posting of Show/Awards on ISAP website (MOVED TO 11/27/16 - 12/4/16)
*Please note! You will receive an email from CaFE indicating which of your entries was accepted.

Information on this Show:
Two paintings per artist may be entered, digital entries only.
$35 for up to two entries, payable thru PayPal.
Only one entry per artist will be accepted.
Submitted digital image must be no smaller than 1920 pixels on the longest side, jpeg format only, 72 ppi/dpi resolution, 5 MB maximum file size. Create or log in to your account at www.callforentry.org for complete information and media preparation tutorial.

Paul Jackson will be the juror for both show acceptance and awards.

No more than 80 paintings will be accepted.

Cash Awards:

Best of Show $800.00
First Place $700.00
Second Place $500.00
Third Place $300.00
Fourth Place $200.00
Fifth Place $100.00
Honorable Mention (4) $ 50.00 each
Important…Please read carefully!
There are no size restrictions or shipping of entries but entries can NOT have been accepted in any other ISAP show. Images can already be sold but you are encouraged to put a price on your work. This work must conform to the concept of being 80% acrylic on any surface. It is understood that the work is subject to the conditions of the show and reproduction will be archived on the ISAP website. No refunds. Pay attention to directions and digital requirements. No work completed in workshops or classes by any instructor PLEASE! Inappropriate subject matter may result in non-acceptance by either ISAP or the juror or both. All results are final.

Juror Paul Jackson
Paul Jackson is a classically trained American watercolorist and aerial filmmaker with a Master's degree in painting and illustration. His passion for discovery and adventure has fueled his inspiration and art career for more than 30 years. His deep portfolio of watercolors tells tales of a life lived out loud and in full color.
Honored by the American Watercolor Society with signature membership at the age of 30, Paul has received top honors in national and international competitions, contributed his art to a vast library of magazines and books and shared his creative influence to many corners of the earth. He is also a Signature member of the National Watercolor Society and an Honor Member of the Missouri Watercolor Society.
Jackson frequently serves as judge for national and international art competitions. In 2009 he served as the invited juror for the American Watercolor Society's 142nd annual international exhibition and will serve as a juror for the National Watercolor Society's annual exhibition in 2016.
Jackson is also a highly sought-after teacher and public speaker, conducting workshops and performances across the United States and around the world. His infectious passion for art, vast knowledge of the medium and energetic teaching style make his workshops engaging, informative and entertaining.
Paul designed the Missouri State Commemorative Quarter for the US Mint, has painted portraits for Presidents, Governors and Supreme Court Justices, was the Grand Prize winner in the Paint Your Way to Paris competition and has been featured as one of the Master Painters of the World in International Artists Magazine. Other media featuring Jackson's work include the Artist's Magazine, American Artist, Watercolor magazine, Watercolor Magic, Watercolor Artist, Forbes Magazine, The New York Times, The Wall Street Journal, the Washington Post, NPR, CBS News.
Paul Jackson is the author of Painting Spectacular Light Effects in Watercolor, 2000 North Light Books and The Wandering Watercolorist, 2013 Chameleon Press. He travels with his wife and muse, Marla. Their home studio, "the Avalanche Ranch" is in Columbia, Missouri.
Print this Page
View Legal Agreement