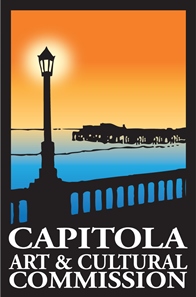 Capitolas Sidewalk Railing Art Project
City of Capitola
420 Capitola Avenue
Capitola, CA 95010
Contact Email:
llaurent@ci.capitola.ca.us
Call Type:
Public Art
Eligibility:
Regional
State:
California
Entry Deadline:
10/31/16
Application Closed
REQUIREMENTS:
Media
Images - Minimum: 3, Maximum: 6
Total Media - Minimum: 3, Maximum: 6
OPEN CALL TO SUBMIT QUALIFICATIONS FOR THE CAPITOLA'S SIDEWALK RAILING ART PROJECT
SUBMITTAL DEADLINE – Monday October 31, 2016, 11:00 p.m. PDT
This is an online application process only.
On behalf of the City of Capitola and the Capitola Art and Cultural Commission is seeking an artist or artist team to create a Sidewalk Railing Art Project.

This is known as the Capitola's Sidewalk Railing Art Project.
SITE & PROJECT DESCRIPTION
Capitola's Sidewalk Railing Art Project is located on one of the primary entry routes to Capitola Village. Capitola Village is located along a wide beach with a breathtaking view of the Monterey Bay and is home to numerous craft galleries, boutiques and restaurants. It is here where many events take place such as the Begonia Festival, Annual Art and Wine Festival, Twilight Concerts and Art shows. In addition to the events, Capitola Beach is a destination spot for tourists, the railing will be visible to many thousands of people.The railing art project is needed to protect pedestrians from a steep embankment to the street.
The railing is approximately 90 feet long and should be a minimum 36 inches high from the side walk to the top of the railing. The project should follow the natural slope of the existing sidewalk (see engineers drawing) The railing is on the street side of a 54-inch-wide sidewalk. Currently there is a galvanized safety railing installed along the middle 38-foot section of the project area, the railing art project will replace this existing safety railing. Artist should ensure their concept meets all ADA requirements as well as all local building codes (see attached relevant codes). The materials used should be weather resistant such as in stainless steel, bronze, copper, brass or galvanized steel or rusted steel, ie. Core 10.
PUBLIC ART PROJECT BUDGET
The public art project budget is $30,000.
The project budget includes all expenses related to the research, investigation, design, fabrication of the artwork including, but not limited to: design time and fees; design documents, renderings and/or other media as required to communicate artist's concept design development to stakeholders and approving bodies; signed and certified structural, and/or other construction/engineering drawings and specifications, that may be required for fabrication; fabrication of the artwork; transportation of materials, transportation and accommodations for artist(s); insurance and all other project related expenses. The artist will the City in the installation of the artwork.
ARTIST ELIGIBILITY
This opportunity is open to artists working or living along the west coast of the United States in California, Oregon and Washington. Applicants must be able to demonstrate that they have all necessary permits to work in the United States at the time of submittal of qualifications.
SELECTION PROCESS AND EVALUATION CRITERIA
This is a concept proposal selection; the process for this project has two phases:
Phase One: Review of submittals and selection of finalists
A Capitola's Sidewalk Railing Art Project Committee that includes members of the Art and Cultural Commission, community members, representatives of the retail district, and visual arts professionals will review submittals and recommend up to four finalists.
Phase Two: Development and Presentation of Concept Proposals by Finalists and Concept Proposal Selection.
The selected finalists will be asked to prepare a detailed concept proposal for the project.
It is expected that each finalist will make a concept proposal presentation in-person to the Public Art Project Committee. The concept proposal presentation session will be scheduled to accommodate the selected finalists if possible, but final date selection will be at the discretion of the City.
CRITERIA
Consideration of artists in the selection process will include but is not limited to the following:
Aesthetic

excellence

of past projects

Appropriateness of prior concepts as they relate to Public Art and the

Capitola's Sidewalk Railing Art Project goals and setting

Experience developing artworks in outdoor environments

Experience in construction materials and methods appropriate to the scope of the project
CONTRACT
The City of Capitola will contract with the artist in a single agreement using a standard design-fabrication agreement. A prototype of this agreement will be available to the selected finalists. Final award shall be contingent upon selected artist accepting Terms and Conditions of the agreement in substantial conformity to the terms listed in the prototype.
The selected artist must comply with any local business licensing requirements.
APPLICATION REQUIREMENTS
APPLICATION DEADLINE
Submissions (described below) must be received as a complete application in CaFÉ™ by no later than 11 p.m. PDT on Thursday, October 31, 2016.
APPLICATION PROCESS
All materials will be submitted online, via CaFÉ™ (www.callforentry.org). There is no application fee to apply or to use the CaFÉ™. To view the application, go to www.callforentry.org , register a username and password, navigate to "Apply to Calls", and search the list for "Capitola's Sidewalk Railing Art". Assistance in using the CaFÉ™ system is available during regular business hours via e-mail at cafe@westaf.org.
REQUIRED APPLICATION MATERIALS
The application submission must include the information and materials described below all of which are required to constitute a complete application. Please review carefully as incomplete applications will not be eligible for consideration and will not be reviewed.
1. Summary of Experience: Submission shall include a brief summary of relevant
past experience, (1000 character limit for each team member).
2. Résumé + References: Submission shall include a current résumé that outlines your professional accomplishments as an artist (maximum of 6000 characters/equivalent of 2 pages; if a team, then 6000 characters for each team member.) Please include a separate page with 2 references of your professional work.
3. Images of Past Work: Submission shall include visual representations of past artwork that demonstrate your qualifications for this project. In order to be considered for this project, the applicant shall submit a total of 6 digital images that represent no more than 5 previously completed projects; each image must include information about: a) location of work, b) year of completion and c) cost of work; if the image is of work created by an artist beside or in addition to yourself, include a clear statement about your actual role in the creation of the work.
4. Descriptions of Past Work: Submission shall include a list of the submitted project images with descriptions that clearly explain both the projects and images. Please indicate title, date, location, dimensions, significant materials, and budget if a public commission. If you were the member of a team, please indicate your role in the project.
FOR QUESTIONS ON THIS RFQ:
Please contact Larry Laurent, Assistant to the City Manager, via email at llaurent@ci.capitola.ca.us if you have questions about the project opportunity.
FOR QUESTIONS ON CaFÉ™: Please contact CaFÉ™

Additional Documents, please see the City of Capitola Website

http://www.cityofcapitola.org/acc/page/capitola-sidewalk-art-railing-project
Print this Page
View Legal Agreement