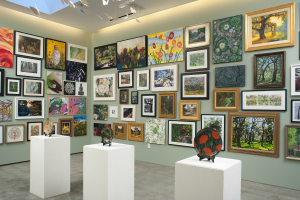 Portraits of the Garden II: BLOOM!
Descanso Gardens
1418 Descanso Drive,
La Cañada Flintridge 91011
Contact Email:
gallery@descansogardens.org
Call Type:
Exhibitions
Eligibility:
National
State:
California
Entry Deadline:
1/13/17
Application Closed
REQUIREMENTS:
Media
Images - Minimum: 1, Maximum: 3
Video - Minimum: 0, Maximum: 3
Total Media - Minimum: 1, Maximum: 3
Entry Fee (Portraits of the Garden II: Bloom): $60.00

A public garden since 1953, Descanso Gardens is an urban retreat of year-round natural beauty, internationally renowned botanical collections, evocative native landscapes and spectacular seasonal horticultural displays. It opened the Sturt Haaga Gallery in 2011, created by repurposing an historic building with a modern addition. Funding for the gallery and its programming has come entirely from private sources, inspired by a lead gift from Heather and Paul Haaga. Since its opening, the Sturt Haaga Gallery's curatorial direction has been toward group shows and artwork that speaks broadly to the subjects of plants, botany, nature, ecologies, living communities and processes, landscape, land use, and the changing relationships of humans and nature. Our purpose is to offer visitors inspiration and new ways to see and think about the natural world as represented by this botanic garden and historic site.
"Portraits of the Garden: BLOOM!," the gallery's second invitational/juried exhibition, opens March 1, 2017. "BLOOM!" will concentrate on perhaps the most compelling phase of plant life, the flower, and invite artists to not only represent the flower in their artwork but also to suggest the flower's crucial role in reproduction, evolutionary change, and at the center of an intricate and beautiful web of life that includes pollinators of all kinds (including we humans). The emergence of the flowering plants in deep time comes relatively recently in the 4-billion-year story of life on earth. The appearance of flowers marked the beginning of an astonishing period of evolutionary diversification in virtually every major family of life. The "flower" means both food and sex — two of the most powerful of the life forces. The "flower" also means beauty, color, form, fragrance, improbable diversity, abundance, and transience. Of all the reasons people cite for visiting a botanical garden, to view and enjoy the flowers is by far the most popular response given.

With "Portraits of the Garden II: BLOOM!," our hope is to quite literally convert the halls and walls of the Sturt Haaga Gallery into a most extraordinary bouquet of flowers — one large enough for people to physically enter, become immersed in and enjoy. This exhibition is supported, in part, by the Los Angeles County Board of Supervisors through the Los Angeles County Arts Commission.

Artwork of any style and genre will be considered but the key to the selection process will be art that not only depicts flowers and floral forms but also suggest the flower's central role in the life cycles of plants from the tiniest primrose to the mightiest of the oaks, and as a biological intersection among literally tens of thousands of other species of life, from the smallest microbes that inhabit the soil to the largest and most present of the herbivores. Artworks can therefore be representational, metaphorical or abstract. Jurors will be asked to give priority in their deliberations to artworks that delve into the specifics to be found at Descanso Gardens and that create an experiential connection for the visitor between their garden experiences and their gallery experience.
The works selected for "Portraits of the Garden II: BLOOM!" will be hung "salon-style" in all three of the gallery spaces within the Sturt Haaga Gallery. It is our hope and expectation, based upon our experience with the first "Portraits" show, that we will be exhibiting a relatively large number of pieces with different techniques, attitudes, and approaches.
Descanso Member Discount:
Descanso Gardens members in good standing will receive a 75 percent discount on the entry fee. Members will be notified of the code through a members-only email.
Exhibition and Artwork Requirements:
All work must be original and created by the artist/applicant.
All 2D and low-relief media will be considered. Most artworks selected will be wall mounted, "salon-style," but there will be a small amount of space for 3D and/or pedestal-mounted works.
All works submitted for consideration and jurying must be ready for exhibition. Descanso Gardens will not be responsible for mounting, matting, framing, or otherwise preparing selected work for the exhibition.
All artworks selected by the jury for display must remain in the show for its duration, which is March 7 through May 28, 2017.
Artists whose work is selected for inclusion will be responsible for delivering the selected work to Descanso Gardens, 1418 Descanso Drive, La Cañada Flintridge, CA, 91011, and retrieving the artwork from the same location when the exhibition closes.
Judging priority will be given to 2D work that fits within the dimensions 24" x 36" x 6" (deep).
Judging priority will be given to 3D work that fits within the dimensions 24" x 24" x 12" (height).
The presentation of video or digital work must be accompanied by a suitable wall-mountable monitor, capable of playing DVD's or computer files from a thumb drive. Video should be appropriate for a roving gallery audience, rather than a theater-style screening. Sound may be experienced only with headphones.
Jurors:
Works will be juried by a panel of three jurors from the greater Los Angeles area with specific expertise in the visual arts and representative of a variety of tastes. They will not be connected to Descanso Gardens or the Sturt Haaga Gallery, but will, rather, be independent experts. The jurors' decisions about the inclusion or exclusion of individual artworks for the exhibition will be final.
Learn more about Descanso Gardens and the Sturt Haaga Gallery at: www.descansogardens.org/
Print this Page
View Legal Agreement