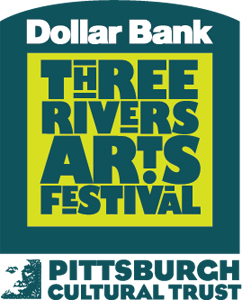 Dollar Bank Three Rivers Arts Festival - Juried Visual Art Exhibition 2017
Pittsburgh Cultural Trust
Attn: Ivette Spradlin
803 Liberty Avenue
Pittsburgh, PA 15222
THE JURY WILL REVIEW ON-LINE SUBMISSIONS ONLY. APPLICATIONS FOR SOUND/VIDEO WORK SHOULD INCLUDE LINK TO ONLINE EXCERPTS OR FILES FOR CONSIDERATION.
Contact Email:
spradlin@trustarts.org
Call Type:
Exhibitions
Eligibility:
Regional
State:
Pennsylvania
Entry Deadline:
1/17/17
Application Closed
REQUIREMENTS:
Media
Images - Minimum: 1, Maximum: 3
Audio - Minimum: 0, Maximum: 3
Video - Minimum: 0, Maximum: 3
Total Media - Minimum: 1, Maximum: 3
The Juried Visual Art Exhibition welcomes thousands of visitors over the course of ten days. Often reviewed by esteemed art critics, artworks may be featured in Festival press coverage, as well as purchased by festival attendees for personal and corporate collections. Select JVAE Artists have also been recruited to exhibit in solo and group shows as part of the Pittsburgh Cultural Trust's gallery system as well as other gallery opportunities citywide. All accepted artists will be invited to the private preview of the exhibition as well as a public reception. There is no application fee, and admission to the exhibition is free and open to the public. Please review eligibility, rules, and procedures before applying.
The Awards
Best in Show – $2500 (as selected by all three jurors)
Juror's Choice – $500 (3 total awards - 1 from each juror)
People's Choice – $500 (as voted on by the general public)
2017 Jurors
Lee Parker is the founder and Executive Director of Neu Kirche Contemporary, a non-profit cultural center on Pittsburgh's Northside, committed to supporting women in the arts. NK's programs are mission driven, including residency programs, exhibitions, workshops and various events that are open to the public. Following an exchange to Carnegie Mellon University in 2012, she left her New Zealand home of twenty years and settled in Pittsburgh with her family. Her work is focused on socially engaged activities that connect artists with communities. Lee is a member of the Neu Kirche board, on the advisory board of Rivers of Steel Arts, a member of the 2016 Re:NEW Festival committee, a founding board member of the East Allegheny Business Association and serves on the Spring Garden, East Deutschtown Gateway Steering Committee.
John Peña is a multidisciplinary artist who makes art as a way of exploring the natural world and his daily interactions. A few of John's projects include: racing with clouds, sending a letter to the Pacific Ocean every day for the last twelve years and creating a pirate radio station that played extinct birds sounds. He currently make daily drawings and three-dimensional word balloons out of plaster. John has exhibited artworks at The Mattress Factory Museum in Pittsburgh, Kevin Kavanaugh Gallery in Dublin, Kate Werble Gallery in New York City, and The Bumbershoot Arts Festival in Seattle, WA. John has attended a number of residencies including The Skowhegan School of Painting and Sculpture, Bemis Center for Contemporary Arts & The Fine Arts Work Center in Provincetown. John currently lives in Pittsburgh, PA.
Lenore D. Thomas is a mixed-media artist whose current prints and paintings explore abstract forms that layer upon each other to create imagery suggestive of landscape. She is simultaneously interested in the flatness generated by color and the sense of space and perspective created by the abstracted forms. Her artwork has been shown in group and solo exhibitions nationally and internationally including New York City, Los Angeles, Chicago, San Francisco, Estonia, China, Argentina, Portugal and Malaysia. She has been a resident fellow at the Vermont Studio Center in Johnson, Vermont, Anchor Graphics in Chicago, Illinois and the Bemis Center for Contemporary Arts in Omaha, Nebraska. In 2014 she was awarded a Flight School Fellowship, a professional development program that works with Creative Capital and is sponsored by the Richard King Mellon Foundation. Thomas received her MFA in Fine Arts from the University of Wisconsin-Madison and a BA in Religious Studies and Fine Arts from Lawrence University in Appleton, Wisconsin. She is currently living in Pittsburgh, Pennsylvania where she is an Associate Professor and Advisor in the Department of Studio Arts at the University of Pittsburgh.
Other recent jurors include:
Linda Benedict-Jones, Curator of Photography, Carnegie Museum of Art
Jason Busch, The Alan G. and Jane A. Leghman Curator of Decorative Arts, Carnegie Museum of Art
John Carson, Regina Gouger Miller Department Head, School of Art, Carnegie Mellon University
Nicholas Chambers, The Milton Fine Curator of Art, The Andy Warhol Museum
Rachel Delphia, The Alan G. and Jane A. Lehman Curator of Decorative Arts and Design, Carnegie Museum of Art
Betty Douglas, Artist/owner of Douglas Art Gallery, Rochester, PA
Casey Droege, Co-founder of CSA PGH, and Founder of Six x Ate
Aaron Henderson, Assistant Professor, Studio Arts Department, University of Pittsburgh
Murray Horne, Curator, Wood Street Galleries/Pittsburgh Cultural Trust
Kate Lydon, Director of Exhibitions, Society of Contemporary Craft
Michael Olyjnik, Co-Director, Mattress Factory
Cecile Shellman, Artistic Director of Visual Arts and Exhibitions, August Wilson Center
Astria Suparak, independent curator
Adam Welch, Curator, Pittsburgh Center for the Arts and Pittsburgh Filmmakers
Lauren Wetmore, Curatorial Assistant, 2013 Carnegie International
Print this Page
View Legal Agreement