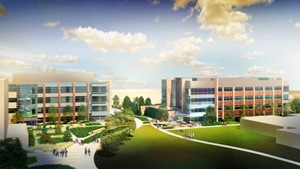 Colorado State University - Chemistry Building and Science Quad Request for Qualifications
Contact Email:
ruth.bruno@state.co.us
Call Type:
Public Art
Eligibility:
National
State:
Colorado
Entry Deadline:
11/7/16
Application Closed
REQUIREMENTS:
Media Images:6


Qualifications are requested from artists and/or artist teams interested in creating a site-specific exterior public artwork or series of artworks for Colorado State University's new Chemistry Building and Science Mall.
DEADLINE FOR SUBMITTAL: Monday, November 7, 2016 11:59 pm MST
TOTAL ART BUDGET: $ 284,000
ABOUT COLORADO STATE UNIVERSITY
Colorado State University's (CSU) roots go back to 1870, when the institution was founded as the Agricultural College of Colorado. The school first opened its doors to students in 1879 with President Elijah Edwards and two faculty members. From these humble origins, a world-class institution grew. Today, Colorado State University has more than 27,000 students, and is a Carnegie Class I research institution with annual research expenditures topping $330 million. The university has approximately 1,550 faculty in eight colleges and 55 academic departments and boasts more than 170,000 living alumni. Included in this list are everything from state governors, heads of corporations, and Olympic gold medalists, to teachers, researchers, artists and many other leaders in society. It has a total undergraduate enrollment of 24,433. CSU is located in Fort Collins, a midsize city at the base of the Rocky Mountains, less than an hour north of Denver. CSU offers more than 150 degrees in eight colleges, with graduate programs in the schools of business, engineering, and education and the renowned College of Veterinary Medicine and Biomedical Sciences. CSU is considered one of the leading research universities, and faculty and students work together to explore fields such as atmospheric science, infectious diseases, clean energy technologies and environmental science. In 2015, CSU became the first and only campus to earn the STARS Platinum rating for sustainability, providing a vivid example of commitment to their mission. Students at CSU learn side-by-side with faculty mentors who are recognized internationally as leaders in their fields. The University emphasizes the importance of active learning, providing opportunities for field experience, laboratory research, internships, and study abroad.

PROJECT DESCRIPTION – ABOUT CHEMISTRY BUILDING AND SCIENCE MALL
Colorado State University is committed to excellence, setting the standard for public research universities in teaching and research for the benefit of the citizens of Colorado, the United States and the world. Within Colorado State University's College of Natural Sciences, the departments of Chemistry, Biology, and Biochemistry & Molecular Biology, plus the Biocore Program are experiencing progressively problematic quality and quantity of space issues due to continued enrollment increases, anticipated growth and in the case of Chemistry, outdated aging instructional facilities. The new Chemistry Building will add a new 60,000 GSF state-of-the-art research building to house a number of the hood intensive synthetic chemistry programs. The building will include 12,000 SF of lab space for new and current synthetic organic programs, 8,000 SF of lab space for new and current synthetic inorganic materials programs, and 5,000 SF of lab space for polymer chemists. The new building will be located just east of the current Microbiology building, and just west of the new Biology building. Both buildings will be a part of the science mall, located along the south side of Pitkin Street. The science mall was designed to be one of the gateways to campus, according to University officials. It is currently made up of Yates Hall, Microbiology, Anatomy-Zoology, Environmental Health, Pathology and the Painter Center. With continued development on campus, CSU looks forward to making this mall area into a green, quad space. Through the quad area, the plan projects braided pathways, inspired by DNA molecules, and intended to create efficiency for pedestrian traffic accessing the buildings on the mall.
BUDGET: $284,000
The public art budget is $284,000. All costs associated with the public art project including, but not limited to, artist design fee, structural engineering, insurance, materials, fabrication, transportation, installation, building or site modifications, travel to and from the site, per diem expenses, project documentation, contingency to cover unexpected expenses and any other costs related to the project are covered by this budget. Selected semi-finalists will be invited to propose artwork for the location listed below. Out-of-state semi-finalist artists will receive $1,500 and in-state semi-finalists will receive $1,000 as an honorarium for the creation of a design proposal.
OPPORTUNITIES FOR PUBLIC ART
Through the public art process, the Art Selection Committee will select the finalist artist(s)/team who will work closely with the project architect and Art Selection Committee on the best approach to incorporate artwork outside the exterior of the new Chemistry building. Opportunities include the exterior grass area to the north of the building along Pitkin Street, a main campus artery, and on the south side of the building in the science mall area. The CSU campus currently lacks artwork of scale in the landscape, particular with the increase of development and new buildings. The committee is interested in an artwork or artworks that operate on campus scale and can activate the green space in and around the science quad. Upon completion, the science quad will be one of the few green quads on campus, and will be highly trafficked and active. The committee is open to considering artworks that incorporate technology, kinetic elements, and electrical components. The committee is open to both a single, large scale artwork and multiple artworks in a series engaging with multiple sizes. The artwork(s) should speak to the science quad as a whole, and the entirety of CSU's Natural Sciences programs, so an artwork that can engage within a space with multiple buildings, up to 4 stories, is preferred. Construction of the Chemistry building is slated for April 2017, with site work on the exterior happening in March-May 2017.
The Selection Committee will consider the following:
Artistic excellence

Technical competence

Conceptual compatibility

Scale, material, form and content

Appropriate relationship to the function of the site and the campus as a whole

Structural and surface integrity

Resistance to general wear, vandalism, or theft

Ease of maintenance, minimal and low cost maintenance

Ability of work to withstand the intense sun and snow, wind and temperature extremes and fluctuations characteristic of Colorado's climate.

Contribution to diversity of the State's public art collection
More images of the site available here.
COLORADO ART IN PUBLIC PLACES PROGRAM
All works of art purchased or commissioned pursuant to this request are owned by the State of Colorado via Colorado State University. De-accession of the public art, if necessary, will follow the policies and procedures established by the Colorado Creative Industries.
ELIGIBILITY
All applicants must be legal residents of the United States. The artists or artist teams must have the skills and experience commensurate with the responsibility of successfully completing a major public art installation. The Program is open to all artists regardless of race, color, creed, gender, gender variance, national origin, age, religion, marital status, political opinion or affiliation, or mental or physical handicap.
SELECTION PROCESS AND SCHEDULE
The Art Selection Committee will review all complete submittals. A short list of semi­finalists will be invited to prepare and present a final proposal in person and be paid an honorarium of $1,000 for in-state artists and $1,500 for out of state artists. Final selection(s) will be made from the semi­finalists' proposals. The schedule is as follows:
November 7, 11:59 pm MST - Deadline for receipt of submittal via CaFÉ™ system
November/December – Selection panel meets to select Semi-Finalists
December - Notification of Semi-Finalist selection
APPLICATION PROCESS
All applications for this project are being accepted through the online platform, CaFÉ™ (www.callforentry.org ). No hard copy or emailed submissions will be accepted. The applicant will be asked to submit six digital images of art (see below for more information), a resume, and a brief statement of interest. There is no application fee to apply or to use the CaFÉ™ online application system.
Digital Images. In order to be considered for this project, the applicant must electronically submit six digital images of previously completed artworks through the CaFÉ™ system.
Instructions on how to use CaFÉ™ and format images can be found at www.callforentry.org/image_prep.phtml. Assistance in using the CaFÉ™ system is available during regular business hours by calling 303­629­1166, 1­888­562­7232 or e­mail cafe@westaf.org.
Resume: Submit a current résumé, via CaFÉ™, that outlines your professional accomplishments as an artist. If applying as a team, please submit a resume for each artist, with the lead artist's resume first.
Statement of Interest: A statement of interest of 250 words or less must be submitted via CaFÉ™. It should briefly outline the interest in the specific opportunity and applicable experience. Please demonstrate an ability to successfully complete a project of this scale.
QUESTIONS
If you require more information or clarification, please contact Ruth Bruno, Public Art Program Manager, Colorado Creative Industries at 303­892-3813 or ruth.bruno@state.co.us .
ADDITIONAL SOURCES OF INFORMATION
http://www.colostate.edu/
http://www.natsci.colostate.edu/
http://www.chem.colostate.edu/new-building/
http://source.colostate.edu/csu-says-thank-you-to-chemistry-research-building-crew-state-of-colorado/
Print this Page
View Legal Agreement