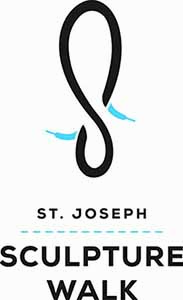 St. Joseph Sculpture Walk 2017
Allied Arts Council
118 South 8 Street
St. Joseph, MO 64501
Contact Email:
teresa.fankhauser@stjoearts.org
Call Type:
Public Art
Eligibility:
Unspecified
State:
Missouri
Entry Deadline:
2/17/17
Application ClosedNumber of Applications Allowed:
4
REQUIREMENTS:
Media
Images - Minimum: 3, Maximum: 3
Total Media - Minimum: 3, Maximum: 3
Entry Fee (St. Joseph Sculpture Walk 2017): $15.00

The Allied Arts Council and the City of Saint Joseph, Missouri seek sculptures to be placed in Downtown Saint Joseph. Regional, national, and international sculpture artists are invited to submit work for this one-year sculpture exhibition scheduled from June 2017-May 2018. Selected sculptures/sculptors will receive a $500 honorarium and all sculptures selected will compete for up to $13,000 in cash prize awards.
The Allied Arts Council will purchase a sculpture to become a permanent part of Saint Joseph's public art collection. Only pieces priced $15,000 or less will be considered for purchase. The Allied Arts Council will receive a 25% commission on any sculpture sold and on any commissioned sculptures.
DEADLINE FOR SUBMISSION: February 17, 2017
Submission details: Artists must own the rights to the artwork and the sculpture must be available for the duration of the one-year contract. All submissions must be professionally constructed of durable materials that will withstand the elements. All durable outdoor media are encouraged. Please attach three images per submission that clearly show a front and back view, and one detail shot. Artists may submit up to four (4) sculptures for consideration, but each submission must have three images attached. Please give all dimensions and a stated insurance value for the artwork. There are presently no restrictions on size; however, artists should be aware that sculptures will be placed within well-traveled streetscapes. The installation method for each sculpture should be welded tabs or similar easy-install method.
Selected artists are responsible for transportation of the artwork to and from the installation site. The Allied Arts Council is responsible for all costs for materials and workmanship for the initial installation of the artwork, including site preparation, plinth, and clean up. Additionally, the Allied Arts Council will provide up to $5,000 in liability insurance and inland marine (collision and comprehensive) insurance coverage on all sculptures for the duration of the exhibition.
The artists' reception and awards ceremony is Friday, June 9, 2017. Following the reception, patrons are invited to take the first official sculpture walk.
MISSION OF PUBLIC ART IN SAINT JOSEPH, MISSOURI:
Saint Joseph, Missouri is a unique blend of natural beauty, rich cultural heritage, and beautiful, historic architecture. The mission of the Saint Joseph Sculpture Walk is to be an important, nationally recognized platform for sculpture while educating and inspiring the Saint Joseph community and its many visitors.
We aim to promote and provide public art that:
Enhances our natural and cultural environment;

Reflects our community values, the diversity of our neighborhoods, the richness of our history, and the promise of our future;

Is in context and harmony with its setting; and

Promotes the vitality of our public spaces.
CALENDAR:
Deadline for entry: February 3, 2017
Jury dates: February 13 – 17, 2017
Notification of acceptance on or before: March 1, 2017
Contracts returned to Allied Arts Council: March 30, 2017
Artwork Installation: May 29 – June 8, 2017 (If you need assistance installing your sculpture we will have specific dates and times when this service will be available.)
Opening reception and Awards Announcement: June 9, 2017
People's Choice Award Voting Period: June 2017 - January 2018
People's Choice Award Announcement: February 2018
Exhibition closes: May 14, 2018
De-installation: May 15- 26, 2018 (If you need assistance removing your sculpture we will have specific dates and times when this service will be available.)
CHECKLIST FOR ENTRY:
__ Application
__ Three jpeg images per entry. If you provide a sketch of your sculpture it must be accompanied with a photo of one or two of your other original sculptures that show a good example of the quality of your work.
File dimensions: No smaller than 1920 pixels on the longest side
File resolution: 72 ppi/dpi (standard web resolution)·
File size: 5 MB maximum
__ CV/Resume or short biography
__ $15.00 non-refundable fee due per entry. A maximum of four (4) sculptures may be submitted for consideration. Complete an application for each sculpture.

Email complete applications along with digital files to teresa.fankhauser@stjoearts.org.

Mail payment to:
Allied Arts Council
118 South 8th Street
St. Joseph, MO 64501
Payment must be received by the February 3 deadline or application will not be considered.

"Financial assistance provided by the St. Joseph, MO Visitors Bureau." http://www.stjomo.com/
Print this Page
View Legal Agreement