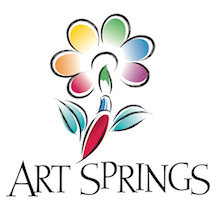 Art Springs 2017
Hot Springs Area Cultural Alliance
PO Box 21358
Hot Springs, AR 71903
Contact Email:
rbutterfield@cablelynx.com
Call Type:
Festivals
Eligibility:
Regional
State:
Arkansas
Entry Deadline:
2/20/17
Application Closed
REQUIREMENTS:
Media
Images - Minimum: 4, Maximum: 6
Total Media - Minimum: 4, Maximum: 6
Entry Fee (Art Springs 2017): $20.00

Art Springs is the free 2-day outdoor festival portion of the annual Hot Springs celebration – Arts & The Park. Art Springs is a juried festival bursting with Arkansas artists and fine artisans. Art Springs is held at the Hill Wheatley Plaza in downtown historic Hot Springs and is open from 10 am to 6 pm on Saturday, May 6 and 10 am – 4 pm on Sunday, May 7, 2017.
Historic Hot Springs with its National Park attracts visitors from Arkansas, Oklahoma, Missouri, Texas, Tennesee and Louisiana, as well as visitors from other states and countries. Art Springs 2016 attendance was over 3,500. Art Springs includes artist and fine craft booths, a children's art activity area, art demonstrations, and free family-friendly entertainment. Food trucks and beverages will be available.
Application Requirements:
Any artist, 18 years or older who resides in the State of Arkansas, is welcome to apply. There is a $20 fee to apply. Applications must be received by February 17, 2017 to be considered. Booth fees must be paid in full by to April 1, 2017.
Selection Process
Participation in Art Springs 2017 is through a juried process consisting of a panel of 3-4 jurors. The panel will review all submitted applications and select artists who are based in Arkansas. Consideration may be given to applicants with ties to the greater Hot Springs area, area of art, willingness to demonstrate and the date of application. Invitations to selected artists will be sent to each applicant via email no later than February 5, 2017. Artists must confirm their participation by March 1, 2017.
Participation Requirements
The call is open to all Arkansas artists 18 years or older. Artists must submit 4 - 6 images representative of the work they wish to exhibit. All art must be original and created by the applicant.
All jewelry must be hand-crafted and contain no more than 40% of purchased components (fittings, beads, etc).
Reproductions (e.g. cards, prints) may comprise no more than 25% of inventory. Artists may only exhibit works in the medium they were juried into. Artists may sell only accurate representations of what their submitted photos depict. The Hot Springs Area Cultural Alliance (Promoter) shall have the right to use all submitted photos in promotion and advertisement of the show.
Artist must be in attendance for the duration of Art Springs. Artists are encouraged to demonstrate their art in their booth.
Booth Information
A single booth is 10' x 10'. A double booth is 20' wide x 10' deep. Up to 40 booths may be assigned.
Booth fees
cover both days
Single booth - $75/ no electric; $95/with electric (limited availability)
Double booth - $150/no electric; $190/with electric (limited availability).
Due to limited double booths and booths with electricity, apply as soon as possible. The Promoter will assign all booth spaces. Date of application, art category, willingness to demonstrate and ties to Hot Springs may be used as a consideration.
Artists are responsible for their own tents, tables, chairs, displays, grounded extension cords and dollies/carts. Tents and all materials must fit in the assigned booth space. White tents are preferred.
Artists must provide their own booth sign clearly identifying the name of the artist and/or studio.
The venue is black top/concrete. Tents may not be anchored to the ground. Tents must be weighted down. Hot Springs can be quite windy. Artists must provide their own weights for their tents.
All tables must be draped to the ground. All boxes and packing materials must be hidden from view.
There will be a stage with on-going live entertainment. No televisions, radios, cd players, etc. are permitted from 10 am - 6 pm. No generators are permitted.
All prices must be clearly marked. No Sales or Discount signs permitted.
Artists are responsible for paying sales taxes in accordance with Arkansas Department of Revenue collection agent's guide sheets. Sales tax information packets will be given to exhibiting artists.
Artists are responsible for the delivery, handling, erection and removal of their work and exhibit tent, tables, chairs, and equipment.
Artists are responsible for keeping their area clean including during tear down at the end of the day. Trash barrels will be available.
There will be security overnight however artists are encouraged to use sides of tents, lowering tents overnight, and securing inventory.
The event will proceed rain or shine. The event may be moved to a nearby covered venue on Exchange Street. The Promoter will notify artists via text message and email by 8 pm the night of May 6. In case of inclement weather, the Promoter will follow local weather radar and determine early closure of the show to allow artist to remove work/exhibits.
There will be no refunds or credits given.
Days of Art Springs
:
Artists check in at the Cultural Alliance Hub.
Set up is 7:00 am – 9:45 am, Saturday, May 6, 2017.
All vehicles must be moved off the show grounds by 8:30 am. Artist parking areas are within walking distance of the show grounds.
Open hours: Saturday, May 6, 10 am – 6 pm; Sunday, May 7, 10 am – 4 pm.
Tear down Sunday, May 7: 4 – 6 pm.
Print this Page
View Legal Agreement