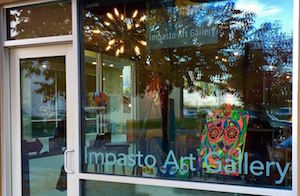 CityScapes
2015 Ionosphere #104 Longmont, CO 80504
Contact Email:
info@AmyMathews.com
Call Type:
Exhibitions
Eligibility:
National
State:
Colorado
Event Dates:
3/3/17 - 4/14/17
Entry Deadline:
2/10/17
Application Closed
REQUIREMENTS:
Media
Images - Minimum: 1, Maximum: 3
Total Media - Minimum: 1, Maximum: 3
Entry Fee (CityScapes): $35.00

THEME: CitiScapes

Impasto Art Gallery is looking for works inspired by the love of the city. What is your favorite city, skyline or feelings evoked by your favorite city?

This group exhibition is an opportunity for artists to exhibit and sell their work in Prospect New Town's own urban chic Impasto Art Gallery. Impasto Art Gallery will sponsor an opening reception night for artists and collectors including wine and appetizers. Impasto Art Gallery also showcases the exhibition online with a modern presentation and convenient online shopping. Every day of the show we feature and promote artist's work from the exhibition through our social media channels.

Impasto Art Gallery is owned and operated by fellow artist, Amy Mathews. To learn more about the gallery, stop by in person or visit online at ImpastoArt.com

IMPORTANT DATES

EVENT DATES: March 3rd - April 14
ENTRY DEADLINE: Feb. 10th
ARTISTS NOTIFIED: jury results sent via email.
OPENING NIGHT: March 3rd 6pm-9pm
Art delivery in person days/times:
Feb. 13, 15, 17, 20, 22, 24, 27 between 12-3pm or Feb. 18th 10am-1pm
Art must be rec'd by gallery(either hand delivered or shipped by FedEx or UPS):
Feb. 27th
Art pick up days/times: April 15th 10am -1pm or April 17th or 18th 10-3pm
Unsold Art shipped back: April 15th - 18th
* Impasto Art Gallery reserves right to change above dates/times as needed.

REQUIREMENTS
- Open to all artists.
- No reproductions will be accepted. Each entry must be original in concept and composition and be executed solely by the submitting artist.
- Due to space constraints artwork cannot be accepted that exceeds 36 inches in any dimension including the frame.
- All local and national professional and amateur and multiple art mediums will be considered in this call for art.
- Acceptable mediums include: photography, fabric, mixed media, new media, all types of paintings (acrylic, oil, watercolor), drawings, ink, graphite, pastels, colored pencil, encaustic, fiber arts and alike.
- Mediums such as jewelry, video and sculpture are excluded at this time.
- The work must be wired and ready to hang on the wall to be considered.
- Selected artists will be required to sign an artist agreement.
- Selected artists must send artwork by FedEx or UPS (no USPS). Scheduled in-person delivery is also available.
- Impasto Art Gallery will take 30% commission on all pieces sold during retail and online exhibition.
- At conclusion of exhibit, unsold art must either be picked up (during days/times selected by Impasto Art Gallery) or shipped back to artist by Impasto Art Gallery (artist provides pre-paid return label).

FRAMING/DISPLAY

All artwork must be framed and ready for display according to the following criteria:
- Two-dimensional works must have secure hanging wire on the back.
No eyehooks, saw tooth hangers or Uni-Frames.
- Work must be completely dry upon receipt.
- Potentially smearable work on paper must be glazed for protection.
- Triptych and diptychs need to be able to be hung with one hanger.
- Three-dimensional works must be able to be displayed without intervention from Impasto Art Gallery staff.
- Impasto Art Gallery reserves the right to reject any work that is deemed too fragile, entails inordinate difficulty in handling or display, or contains subject matter deemed inappropriate for a family audience.

JURORS
Each show is juried by a juror of Impasto Art Gallery's choosing. Impasto Art Gallery retains rights for all final jury selections.

ENTRY FEE
$35.00 for up to three works, non-refundable.

PLEASE NOTE: All artists who sell artwork will be contacted by Impasto Art Gallery and must complete a W-9 form prior to payment.
Print this Page
View Legal Agreement