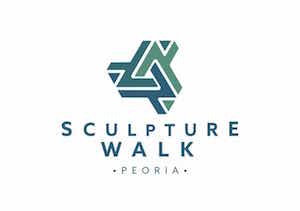 2017 Sculpture Walk Peoria
ArtsPartners of Central Illinois
820 SW Adams Street
Peoria, IL 61602
Contact Email:
sculpture@sculpturewalkpeoria.org
Call Type:
Public Art
Eligibility:
International
State:
Illinois
Entry Deadline:
1/20/17
Application Closed
REQUIREMENTS:
Media
Images - Minimum: 1, Maximum: 9
Total Media - Minimum: 1, Maximum: 9
Entry Fee (ArtsPartners of Central Illinois: 2017 Sculpture Walk Peoria): $20.00

The Third Annual Sculpture Walk Peoria Exhibition for 2017.
Sculpture Walk Peoria is currently accepting submissions for an outdoor sculpture exhibition in 2017.
Sculpture Walk Peoria is an annual, juried, outdoor exhibit offering local, regional, national, and international sculptors opportunities to showcase and sell their creations, while enhancing the cultural environment of Peoria and providing opportunities to educate the public. The 2015 Sculpture Walk Peoria had a goal of launching with 10 sculptures and our successful fundraising supported 15 sculptures for the inaugural sculpture walk. 2016 Sculpture Walk Peoria has 16 sculptures. Our goal for 2017 Sculpture Walk Peoria is 17 sculptures to be installed in June 2017.
All sculptures are to be for sale. As of November 1, 2016, we have sold 4 sculptures from 2015 Sculpture Walk Peoria and 1 sculpture from 2016 Sculpture Walk Peoria. We anticipate additional sales.
Sculptures will be placed in highly visible locations along the newly renovated Washington Street and Adams Street in Peoria, IL, between Liberty and Elm Street in the Peoria Warehouse District. The Peoria Warehouse District has been included on the National Register of Historic Places. Peoria, Illinois is a city of 119,000 with a regional population of about 400,000, located 2 ½ hours from Chicago, 2 ½ hours from St. Louis and 3 hours from Indianapolis. For more information about Peoria please see: www.peoria.org
Sculpture Walk Peoria is an initiative of ArtsPartners of Central Illinois with the full support of the City of Peoria and private businesses. This is our third annual event and we are seeking professional sculpture appropriate for public viewing from local, regional, national, and international artists. Sculptures are owned by the artist and loaned to the exhibit for one year with a possible negotiated one-year extension option. All sculpture must be made of materials that can withstand harsh Midwest weather and not require any maintenance other than occasional washing with a water spray. The Honorarium is $1,500 dollars, payable $1,000 on delivery and $500 at pickup of the sculpture. There will be an additional $2,500 People's Choice Award given to one artist in November 2017.
Please visit www.sculpturewalkpeoria.org for more information.
GENERAL GUIDELINES:
Sculpture will be bolted to either the concrete sidewalk or a limestone base with concrete anchors. Sculpture Walk Peoria will provide a boom truck on June 1, 2017 or June 2, 2017, and additional labor to install, if required. NOTE: Use of a boom truck is confined to June 1 and June 2 only. All finalists will be asked to describe the installation requirements and any special equipment that may be required. All sculptures must be installed by June 2, 2017 for the opening at 10 AM Saturday, June 3, 2017.
In addition to the help with the installation, artist benefits include the following:
… A $1,500 artist's honorarium ($1,000 upon installation by June 2, 2017, and $500 upon removal in May 2018) plus up to $500 in mileage reimbursement (can be applied to travel for sculpture installation as well as removal, at $0.50 per mile, round trip, not to exceed a total of $500 per artist for 2017 Sculpture Walk Peoria), two hotel room nights, and events with donors, artists, the public and local leaders
… An additional $2,500 People's Choice Award given to one artist in November 2017
… Volunteers to help with the sculpture installation
… Photographs of installation and opening events
… A "concierge" assigned to each artist to help with logistics while the artist is in Peoria
…An artists' reception with donors on Friday evening, June 2, 2017
… The opportunity to interact directly with the public for about 2 hours on Saturday morning, June 3, 2017, the artist is expected to describe their sculpture to the pubic during the opening event. One sculpture was sold during the 2016 Sculpture Walk Peoria opening event.
… Free hotel accommodations for 2 nights
The sculpture must be for sale and the artist must price the work. Sculpture Walk Peoria through ArtsPartners of Central Illinois will receive a commission of 20% of the sales price for any sculpture sold during the exhibition. As of November 2016, four sculptures from 2015 Sculpture Walk Peoria have been sold and one sculpture from 2016 Sculpture Walk Peoria has been sold. We anticipate the sale of additional sculptures. The press release for each sale can be seen at: http://www.sculpturewalkpeoria.org/about-the-walk/press-releases/
The artist must deliver the work to the site on an agreed date between May 30, 2017, and June 2, 2017. The artist must pick up the artwork on an agreed date between May 9, 2018 and June 1, 2018. Early pickup of the work is not permitted without written agreement from Sculpture Walk Peoria.
Sculpture pad size is approximately 5 feet x 5 feet; a limited number of larger sites are available.
There is no age restriction on the artwork, but sculpture must appear as new. Jury will give priority to newer sculptures when making the final selections. The artist must bring the sculpture that was selected, no substitutions.
Sculptures are selected using a juried sculpture selection process and the selections of the jury are final. The jury will be approximately 10 jurors with about 5 having an art/art leadership background and about 5 having a business/community leadership background. The 2016 jury included nationally/regionally known artists/sculptors, an Illinois state senator and the Executive Director of the Peoria Riverfront Museum. The 2017 will be similarly configured.
Submissions will be evaluated on artistic merit, creativity, public safety, appropriateness, and durability in the outdoors. Further instructions will be provided if selected.
Required Artist Information: artist's resume, photos of a maximum of three sculptures (with maximum of three images of each), and a brief description of each sculpture submitted (500 words max). One application per artist.
The call for entry on the Call for Entry website (www.callforentry.org) has complete information needed to apply. A $20 application fee applies.
TIMELINE:
Friday, January 20, 2017: Deadline for submissions
Friday, February 10, 2017. Notification to artists as finalist or alternate
Monday, March 6, 2017: Notification to artists of selections
May 30 or 31, 2017 or June 1 or 2, 2017: Delivery and installation of sculptures to Peoria, IL, on agreed date (NOTE: If your sculpture requires use of a boom truck for installation, you must install on either Thursday, June 1, 2017 or Friday, June 2, 2017.)
Friday evening, June 2, 2017: Event with donors, volunteers and sculptors
Saturday morning, June 3, 2017: Artists describe their sculpture to the public
Wednesday, November 8, 2017: People's Choice Award announcement
May 9, 2018 to June 1, 2018: De-installation and artists pickup sculpture on agreed date
Print this Page
View Legal Agreement