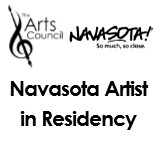 Navasota Artist in Residency Spring 2017
2275 Dartmouth Street
College Station, TX 77840
Contact Email:
programs@acbv.org
Call Type:
Residencies
Eligibility:
International
State:
Texas
Event Dates:
2/27/17 - 8/7/17
Entry Deadline:
1/16/17
Application Closed
REQUIREMENTS:
Media
Images - Minimum: 1, Maximum: 6
Total Media - Minimum: 1, Maximum: 6
Entry Fee (Entry Fee - Make checks payable to The Arts Council): $25.00

The Artists in Residence will have an opportunity to live and work in the historic Horlock Home in Navasota, Texas which includes living and studio space for each of the three participating artist as well as a retail gallery space. The term of each residency is roughly six (6) months. The City of Navasota will provide amenities including internet, cable, electricity, retail space and live/work space free of charge to selected artists with the purpose of providing artists the opportunity to create and sell their work.
Who is Eligible?
Any artist is eligible to apply.

Applicants must be artists who concentrate in one of the following areas:

2-D Mixed Media
3-D Mixed Media
Drawing
Fiber arts
Literature
Music
Painting
Poetry
Photography
Printmaking
Sculpture
Ceramics
Digital Media

Applicants must be available to live in Navasota for the entire six (6) month term of the residency. Applicants must be fluent in English, have reliable transportation, and be eligible to live in the United States for the entire term of the residency program.
What do the City of Navasota and The Arts Council offer?
The City of Navasota and The Arts Council will offer up to three selected artists studio space, living space, retail space and utilities rent free for the term of the residency. Selected artists are required to supply their own materials, equipment, food, and transportation.
The City of Navasota and The Arts Council will offer PR opportunities to all participating artists. Opportunities will include radio interviews, promotion at Arts Council events, inclusion in newsletters, attendance at Arts Council events, Horlock House Open Studio event, etc.
What is required of the artist?
Living/Working Arrangements

The artist must live and work in the Horlock House in Navasota, Texas for entire term of the residency.
The artist will be provided free utilities and living, studio, and retail space, but is responsible for all groceries, equipment, and supplies necessary for the production of their artwork.
The artist will be responsible for all transportation to, from, and during the residency. As Navasota is a more rural location, public transporation is limited, and applicants must bring their own vehicles.
The artist is responsible for the upkeep of the living and working quarters.
The artist must be the sole occupant of their residency location. No pets are allowed.
The artists must keep the Horlock Gallery open to the public Wednesday through Sunday 9:00am-6:00pm. All three artists will be required to work shifts in the gallery each week.
All participating artists must be able to pass a background check.
Artists may not hold a full-time or part-time job during this residency program.

Teaching Opportunities

The City of Navasota and The Arts Council may have paid teaching opportunities available for participating artists.

Shows/Sales

Any pieces sold by the artist in gallery shows and at the Horlock House will be a 70/30 split, with 70% going to artist and 30% going to The Arts Council. Artist must follow sales procedures of The Arts Council, including documenting and collecting sales tax.
Artist is responsible for managing the Horlock House Gallery including displaying works, sales, etc.
Submission, Deadlines, & Interviews
Applications will be juried and finalists will be selected for a Skype interview.
Final decisions will be made in late-January 2017.
Residency term runs from February 27th, 2017 to August 7, 2017.
Print this Page
View Legal Agreement