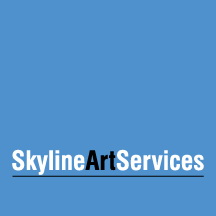 Skyline Art Services General Submissions for Artist 2016-17
6955 Portwest Dr. Suite 160
Houston, TX 77024
Contact Email:
artist@skylineartservices.com
Call Type:
Unspecified
Eligibility:
Unspecified
State:
Texas
Entry Deadline:
Rolling
REQUIREMENTS:
Media
Images - Minimum: 5, Maximum: 10
Video - Minimum: 0, Maximum: 2
Total Media - Minimum: 5, Maximum: 10
Skyline Art Services welcomes submissions from artists interested in working with us. We wish to add artists to our roster so that our projects are fresh and unique to each client's needs.
"General Introduction for Artists" (download complete document)
Interested artists should first spend time to understand the sort of work we do and to decide if we might be a fit. Our website shows many examples of the sorts of projects we handle, and the sort of artwork we tend to sell. More information about each of the subjects below can be found on our "General Introduction for Artists." Artists who are conversant with the terms and standards established in our field, which are described in the General Introduction, will have a greater chance of finding work with us.
Our Markets
Skyline Art Services seeks artists in most visual media for permanent installation in healthcare, corporate, and residential spaces. The largest part of our work is in healthcare environments, so artists should determine how closely their work conforms to those needs. Our list of corporate clients is growing as well. In any case, the artists can help us understand how best to consider their work according to common requirements of each sector.
Media and dimensions
Typical media that we work with include, but are not limited to: painting, sculpture, photography, and mixed media works in two dimensions or three dimensions. Most often, dimensional works are wall-hanging, but we also seek artists creating floor-standing work, mobiles, and kinetic sculpture. We will accept submissions in ceramic, glass, metal, paper, and textile. We also seek work in digital and new media.
Because many of the spaces we are designing for are public and common areas, the work tends to run to large scale, from at least 3" for the shortest dimension on up to wall-covering murals.
Reproductions
Fine art printing and reproductions are a necessary and significant part of our work. All artists in two-dimensional media should let us know in their submissions materials whether they will consider selling reproductions of their work. Additionally, logistical efficiency compels us to handle as much printing as possible ourselves. We ask artists to let us know whether they will consider licensing their work to Skyline Art Services.
Commissions and specification
While we do at times find suitable pieces in an artist's collection of available work, it is far more common to commission new work according to the requirements of the space we are designing. Artists should be able to explain whether and how they handle commissions, including lead time. Explain what sorts of specifications can be requested on new work, including color, dimension, subject and style. Typically, we commission new work based on, and adapted from, examples of past work.
Pricing
Artists should state their pricing information up front whenever possible, observing the distinction between wholesale or net costs as compared to retail pricing.
Print this Page
View Legal Agreement