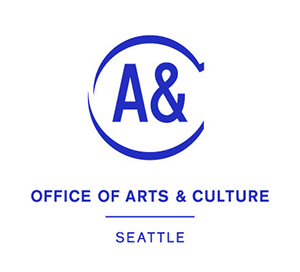 City of Seattle: Center City Connector - Streetcar Public Art Project
Contact Email:
kristen.ramirez@seattle.gov
Call Type:
Public Art
Eligibility:
National
State:
Washington
Entry Deadline:
2/21/17
Application Closed
REQUIREMENTS:
Media
Images - Minimum: 16, Maximum: 16
Total Media - Minimum: 16, Maximum: 16
INTRODUCTION
The Seattle Office of Arts & Culture, in partnership with Seattle Department of Transportation (SDOT), seeks an artist or artist team to develop site-specific, permanent artworks along the route of the future Center City Connector Streetcar. The desired artwork will celebrate a sense of place, promote wayfinding, and create a visual identity for the Center City Connector. The selected artist will work with SDOT and SDOT consultants from design through construction of the new streetcar line.

SCOPE OF WORK
The artist(s) will work with project design consultants, SDOT, community representatives and ARTS to develop permanent public artwork(s) for the Center City Connector. Working closely with the SDOT design team and consultants, the commissioned artist will develop serial or episodic artworks for the streetcar stops. The stations are located at Stewart St. & 2nd/3rd Ave., Pike St. & 1stAve., Madison St. & 1st Ave. and Pioneer Square. The desired artwork will promote discovery from station to station, and utilize durable and lasting materials. Exact site locations shall be determined through collaboration and coordination with the project team. The selected artist will consider the history, multiple uses, and busy right-of-way along this corridor to design and implement site-responsive artwork(s). Site considerations for the 12' wide station stops include creating work that complies with the Americans with Disabilities Act, while coexisting with other objects in the right-of-way, including garbage/recycling containers, ticket machines, ticket readers, trees and landscaping, and the streetcar shelter. Possible artwork directions include inlays of metal, terrazzo, tile, or other durable materials, small sculptural gestures, or creative elements that are integrated into the infrastructure of the station platforms. Artwork may also be integrated in station railings, project poles, or in adjacent city property at the Westlake, Stewart, and Pike Stations.
BACKGROUND
The City of Seattle is building a modern streetcar system that will provide new urban mobility options, support economic growth and strengthen connections among the places where people live, work and socialize. The Center City Connector is a segment of Seattle's streetcar system that will link the South Lake Union and First Hill Streetcar lines, creating a system that will connect over a dozen Seattle neighborhoods in Seattle's Center City. By linking existing streetcar investments, the Connector will provide a streetcar system that is highly legible, easy-to-use for a variety of trip purposes, and that serves major visitor destinations, employment centers and areas where the city is experiencing significant growth. The streetcar system is projected to carry more than 20,000 average weekday riders.
The Center City Connector will serve the City of Seattle's three inter-modal hub areas: Westlake Intermodal Hub, Colman Dock Intermodal Hub, and King Street Intermodal Hub. The Connector will also provide convenient transfers to: the Third Avenue transit corridor at both ends of downtown Seattle; Link Light Rail at multiple downtown transit tunnel stations; Sounder Commuter Rail at King Street Station; and ferry and water taxi docks.
Project Timeline
60% design- Fall 2016
100% design- December 2017
Construction begins- mid-2018
Other Information
Center City Connector
ELIGIBILITY
This is a national call open to professional artists or artist teams residing in the United States. Artists with no prior public art experience are not eligible to apply. The Office of Arts & Culture encourages diversity in its collection. Artists whose work is well-represented in the city's collection are eligible to apply, but the artist selection panel will consider artistic diversity as one factor in the selection process. Students are not eligible to apply.
BUDGET
The total artwork project budget is estimated to be $250,000. The total project budget is all inclusive of travel expenses, taxes and other project costs. Contracting will be done in two phases: design for $38,000 and fabrication and installation for $212,000. Current Washington state sales/use tax rates apply to all artist contracts issued during the project, regardless of where the artist resides (for out-of-state residents, use taxes are deducted from the above stated amounts and remitted directly to the state).
APPLICATION DEADLINE AND TIMELINE
Tuesday, February 21, 2017 - 11 p.m. PST – deadline for application
February and March, 2017 – peer panel meets once to review applications, again to interview finalists
April 2017 – selected artist contracted

APPLICATION REQUIREMENTS
All applications must be submitted digitally through the CaFÉTM online system. Applications must include:
Letter of interest

(not to exceed 2,000 characters).

Please provide a statement describing your interest in this project and artistic vision for the Center City streetcar corridor, addressing how you are qualified, as well as your interest in transportation, urban planning, and community engagement

Résumé

Three references

Up to

16 images

.

Where possible, submit examples of projects completed in the streetscape

Image Identification List

(not to exceed 500 characters for each image). Do not omit the Image Identification List or your application will be incomplete.
SELECTION CRITERIA
The artist will be selected on the basis of the following criteria:
Quality of concept, design and craftsmanship of past works.

Visual and technical sophistication.

Creativity of approach.

Relevance of Letter of Interest.

T

he ability to produce durable outdoor art.

A proven ability to coordinate and collaborate with project managers, design professionals and community stakeholders.

Demonstrated ability to complete projects on time and within budget.

SELECTION PROCESS
The selection will take place in two parts. In the first round of the selection process, a panel of arts professionals, client representatives and community members will review the applicants' images, qualifications and other materials. The panelists will identify up to four finalists to interview. During the second round of the selection process, finalists will be interviewed and the panel will select one artist to be awarded the commission.
NOTIFICATION RESULTS
Applicants will be notified of the panel's decision by e-mail in March 2017. The Office of Arts & Culture reserves the right not to select any of the applicants.
WE'RE HERE TO HELP!
Print this Page
View Legal Agreement