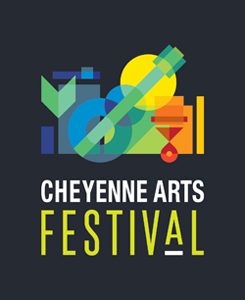 6th Annual Cheyenne Arts Festival
Cheyenne Arts Festival
c/o Arts Cheyenne
P.O. Box 247
Cheyenne, WY 82003
Contact Email:
info@artscheyenne.com
Call Type:
Festivals
Eligibility:
National
State:
Wyoming
Entry Deadline:
6/16/17
Application Closed
REQUIREMENTS:
Media
Images - Minimum: 4, Maximum: 6
Total Media - Minimum: 4, Maximum: 6
Entry Fee (6th Annual Cheyenne Arts Festival): $25.00

The 6th Annual Cheyenne Arts Festival (CAF)
August 18, 2017, 5:00 pm - 9:00 pm
August 19, 2017, 9:00 am - 10:00 pm
August 20, 2017, 11:00 am - 4:00 pm
The Festival is located at the historic Cheyenne Depot and Depot Plaza in Downtown Cheyenne.
The CAF is a production of Arts Cheyenne, with key sponsorship from the Cheyenne Downtown Development Authority/Main Street and and the Wyoming Arts Council.
Visual Artist Entry Deadline
June 16, 2017
(Please provide 4 images of your creative work and 1 image of your typical artist exhibit space setup.)
Call for Submissions
Southeast Wyoming, northern Colorado, and western Nebraska residents have a strong interest in celebrating local creativity and art. The 6th Annual Cheyenne Arts Festival continues to be that celebration and showcase. To make the 2017 CAF even more successful for visual artists, the Festival will feature:
almost 5,000 square feet of indoor, air-conditioned space for juried visual artists who prefer a controlled environment; an outdoor setting for juried artists is also provided.
a welcome reception for visual artists and patrons
a purchase awards program with more than $5,000 in guaranteed sales
a two-day music and dance performance schedule
hands-on art workshops for young people
an Artisan Boulevard with plenty of food and beverages
Visual Artist Exhibit Space
An exhibit space fee of $225 per 10x10' indoor or outdoor space is collected after your acceptance into the Festival. Artist sharing is allowed, up to two artists per exhibit space. No commission is taken on works sold. Accepted artists will be notified by May 15, 2017 and your exhibit space will be assigned by July 1, 2017.
Exhibit Space Amenities
Indoors - Artists are responsible for their own display walls, tables and chairs. Electrical power is provided for indoor and outdoor exhibit spaces, but you MUST provide your own extension cords and power strips. Artists must provide extension cords of appropriate gauge for electrical draw needs. Each indoor/outdoor exhibit space is limited to 5 amps or 550 watts. Indoor lighting is functional only and largely incandescent. Artists should bring their own additional lighting to best showcase your artwork.
Outdoors - Artists are responsible for bringing their own canopies, display walls, tables and chairs.
Displays - Artists are responsible for their own display materials, including seating and tables.
Signage - Each Artist is provided with an exhibitor sign listing the Artist(s) name, exhibit space number, medium and hometown.
Volunteers - CAF volunteers are available to provide exhibit space sitting and to assist with unloading, setup, breakdown and load-out. Food is available in the Festival's Artisan Boulevard or in many nearby restaurants.
SPECIAL NOTE FOR WYOMING VISITORS!!
For the first time since 1918, a total solar eclipse is coming to Wyoming. On August 21, 2017, the day after the Cheyenne Arts Festival ends, the eclipse will make its way across the beautiful Wyoming skies. Eclipse enthusiasts and travelers from around the world are making their plans to convene in Wyoming to experience one of the most breathtaking sights on earth in one of the most beautiful places in the world . . and for artists, the visual opportunities will be unbeatable.
The eclipse's path of totality will make its way through the entire central region of Wyoming as it spans more than 365 miles—from Torrington and Lusk on the east side of the state to Wilson and Jackson on the west side of the state—providing visitors the opportunity to see this natural phenomenom in some of the nation's most stunning landcapes. Areas and communities located directly under the path will experience the eclipse for approximately two-and-a-half minutes, while it will be viewable for a lesser duration of time in communities located roughly 30 - 50 miles from the center of totality, but still in the eclipse's path. Plus, this once-in-a-lifetime solar eclipse will pass over six Wyoming state parks and historic sites where astronomy experts will be on hand with telescopes to share insights and educational opportunities.
With wide-open spaces, the lowest light population in the country and abundant public land access—as well as celebratory festivals and events—Wyoming is the perfect destination for viewing the eclipse.
Accommodations in Cheyenne are filling quickly. Please make early plans! Arts Cheyenne will provide additional housing information as we approach the artist application deadline.
Print this Page
View Legal Agreement