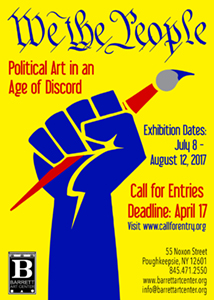 We the People: Art Addressing Political and Social Issues in an Age of Discord
55 Noxon St.
Poughkeepsie, NY 12601
Contact Email:
director@barrettartcenter.org
Call Type:
Exhibitions
Eligibility:
National
State:
New York
Entry Deadline:
4/17/17
Application Closed
REQUIREMENTS:
Media
Images - Minimum: 3, Maximum: 8
Video - Minimum: 0, Maximum: 2
Total Media - Minimum: 3, Maximum: 8
Entry Fee (We the People- Political Art in an Age of Discord): $35.00

Media Fee (per sample over minimum):$5.00

We the People: Political Art in an Age of Discord is a national juried art exhibition that invites artistic expressions of the political. Established and emerging artists are encouraged to submit artworks that engage with a variety of political themes and viewpoints, from the local to the global.

ENTRY DEADLINE: April 17, 2017
Accepted Work Delivered to Barrett Art Center: June 19 – 21, 2017
No exceptions will be made for late deliveries.
Exhibition Dates: July 8 – August 12, 2017
Opening Reception: Saturday, July 8, 2017, 3:00 – 6:00 p.m.

Drawing, painting, pastel, printmaking, photography, digital art, sculpture, fiber, mixed-media works are eligible. We seek 2-D and 3-D artworks as well as small installations that can be accommodated in our atypical venue: the intimate galleries of our landmark 1840's Greek Revival townhouse. Historically used as domestic spaces, our galleries provide a dramatic, visually-compelling presentation of contemporary and cutting-edge work.
BAC is located two hours north of New York City in Poughkeepsie, New York. Each year, BAC hosts four premier national juried exhibitions that showcase the work of established and emerging artists working in an array of medium and genres. Past BAC national show jurors include renowned curators from leading art institutions across the U.S.
AWARDS and PUBLICITY A gallery of all selected works will be displayed on the Barrett Art Center website after the opening. Juror prizes are announced at the opening reception; three cash prizes (amounts to be determined based on entries) and two honorary awards are selected by the juror. Each selected artist who attends the opening reception will be given a brief opportunity to talk about his or her work. In addition to our website, The We the People exhibition is publicized via the Barrett Art Center eNewsletter, in regional press releases and social networking sites on the Internet.
ELIGIBILITY
Open to artists 18 or older.
All work submitted must be original in design, concept and media. Submitted work must have been completed within the last three years.
Eligible media include drawing, painting, pastel, printmaking, photography, digital art, sculpture, fiber, and mixed-media works.
For 2-dimensional artwork: 2-Dimensional work cannot exceed 40 inches along any side, including the frame, if applicable. Work accepted for exhibition must be ready to hang and include all necessary hardware (no saw tooth hangers). Framed work must use plastic or Plexiglass; frames over 12" with glass will NOT be accepted for hanging.
For 3-dimensional artwork: Installation art, sculpture and other 3-Dimensional works must fit within a parameter of 72 in. high by 30 in. wide x 30 in. deep. Work cannot be hung or installed from ceiling. Gallery has limited pedestals for use; accepted artist may need to provide pedestal for mounting accepted work.
SUBMITTING ENTRIES:
Deadline for Submissions: April 17, 2017
Entry Fee for We the People:
For members of Barrett Art Center, entry fee is $30 for up to three (3) works.
[Members, please email us at info@barrettartcenter.org or call 845-471-2550 during office hours for password.]
For non-members of BAC, the entry fee is $35 for up to three (3) works.
Artists may submit additional works at $5 per work, maximum eight (8) works total
Images: Artists may submit one image for each work. For artists who wish to submit an alternate view or a detail image, please incorporate both views as a side-by-side comparison in one image file.
SALES: Barrett Art Center will retain a commission fee for sales conducted during the exhibit and while work is housed at Barrett Art Center for We the People: Political Art in an Age of Discord. Sales commission of 25% will apply to Barrett members, sales commission of 40% will apply to non-members. Non-members are encouraged to sign up for membership to take advantage of commission rates and other membership benefits; please visit www.barrattartcenter.org/membership to become a member.
NOTIFICATION OF ACCEPTANCE: All applicants will be notified of the juror's decision via email through the CaFÉ system by Friday, April 28, 2017.
DELIVERY OF ACCEPTED WORKS: Accepted work must be received (via shipment or personal delivery) by Barrett Art Center between Monday, June 19 and Wednesday June 21. (Detailed instructions for shipping/return shipping/insurance/personal delivery/etc. will be emailed to all accepted artists directly from Barrett Art Center after notification of acceptance in the exhibition.)
QUESTIONS: For more information, contact our staff at the Barrett Art Center by email: info@barrettartcenter.org or call (845) 471-2550. Visit our website for more details: www.barrettartcenter.org
Print this Page
View Legal Agreement